Newfoundland and Labrador Facts and Figures
Provincial Motto:
Quaerite prime regnum dei (Seek ye first the kingdom of God)
Land Area:
Total: 405,720 sq. km
Newfoundland (island section): 111,390 sq. km
Labrador (mainland section): 294,330 sq. km
Geographical Information:
The province consists of two sections, the island of Newfoundland and the mainland portion of Labrador. The most easterly Canadian province, the island is situated at the mouth of the Gulf of St. Lawrence. The province lies between the 46th and 61st parallels; most of the island lies below the 50th parallel.
To view maps of various areas of Newfoundland and Labrador see the Index of Maps Used on the Site.

Population (2016):
Total: 519,716
Labrador: 26,728
Newfoundland: 487,808
Languages Spoken (2016):
English 97.2%
French 0.5%
Other 2.3%
Date entered Confederation with Canada:
Capital City: St. John's
location: Avalon Peninsula
city population (2011): 106,172
metro-area population (2011): 196,966
Average Temperatures:
Government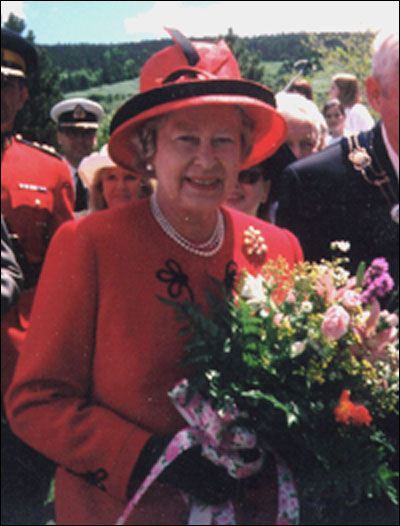 Queen Elizabeth II, St. John's, NL.
Queen Elizabeth II during her 1997 visit to St. John's, NL.
Reproduced by permission of Kimberley Churchill. Photo ©1997.
As the reigning monarch of Great Britain, the Queen is the head of state for Canada. She is represented federally by the Governor General and in each province by a lieutenant governor.
Lieutenant Governor
The present Lieutenant Governor is the Hon. Judy May Foote, who was appointed as the Queen's representative in Newfoundland and Labrador on May 03, 2018. The Lieutenant Governor has a web site at http://www.govhouse.nl.ca/.
Premier
The Hon. Dwight Ball is the current premier of Newfoundland and Labrador, and leader of the Liberal Party. He is the 13th post-confederation premier of the province.