Émile Benoit (1913-1992)
Émile Benoit is doubtless the most renowned individual to emerge from Newfoundland's tiny French-speaking community. Just as locals on the Port-au-Port peninsula regarded him as a fine entertainer, provincial, national and international audiences alike admired his fiddling and recognized him as an accomplished musician. But for years Émile Benoit worked, like most of the people around him, as a fisherman.
After retiring from nearly sixty years of fishing in 1980, he concentrated primarily on his music career with the help of Memorial University of Newfoundland professor of Folklore, Dr. Gerald Thomas, who at that time had already spent several years studying the French-Newfoundland culture on the Port-au-Port peninsula.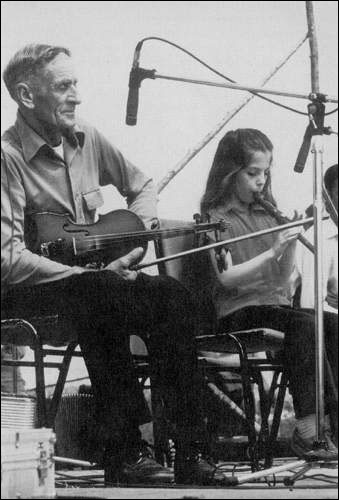 Émile Benoit, n.d.
Benoit performed at a variety of festivals. He is seen here on stage with his daughter Roberta.
From Colin Quigley Music from the Heart: Compositions of a Folk Fiddler (Athens: ©1995) 5.
Personal Life
Émile Joseph Benoit was born March 24 1913 at Black Duck Brook on the Port-au-Port peninsula, a product of the two groups that founded the French culture in Newfoundland and whose descendants continue to propagate the province's French identity to this day: the Acadians and the metropolitan French.
Émile left school after completing only three grades. With the responsibility of being the eldest of three sons, he had to help support the family when his father died at an early age. At the age of nine he had begun fishing with his father, and by the age of fifteen he was fishing with his brother Joachim, then thirteen.
Émile began learning English at the age of twelve and he received his very first real violin at that age as well. He had, however, owned a couple of homemade violins crafted by his father and by his uncle, and it was at that time that developed a rarely paralleled passion for the fiddle.
At twenty-one he married his first wife, Roseanne, and together they had five children. However, Émile's wife died young from tuberculosis, only a couple of weeks after delivering the fifth child, a girl, who also died. The thirty year-old widower raised the remaining four children with the assistance of three sisters who moved in to help out. Seven years later, he married Rita Collier and they had nine children. Émile Benoit died September 2 1992, at the age of 79 in the Sir Thomas Roddick Hospital in Stephenville after a bout with bone cancer.
Music Career
Although his professional music career began in 1973 when he took second place in a violin contest in Stephenville, Émile Benoit's first public music performances date back to his teen years, when he would play weddings and dances for free.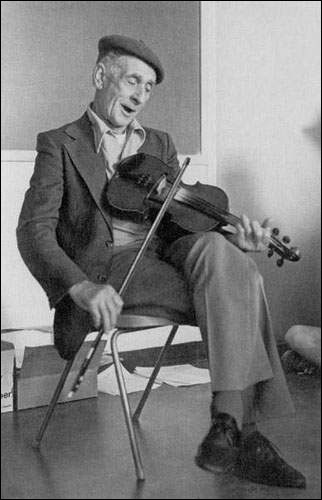 Émile Benoit, n.d.
Émile imitates the 'Sleepy Fiddler.
From Colin Quigley Music from the Heart: Compositions of a Folk Fiddler (Athens: ©1995) 179.
Throughout the 1970s and 1980s Émile brought his foot-tapping musical style to one festival after another, both at home in Newfoundland and around the world: Une Longue Veillée at Cape St. George, the Newfoundland and Labrador Folk Festival in St. John's, the Jazz and Heritage Festival in New Orleans and the Mariposa festival in Toronto, as well as shows in lands as diverse as France, England and Norway.
In 1980 he went on tour with "Pistroli en Atlantique", a group consisting of popular and traditional francophone musicians; his career also saw him perform alongside other traditional Newfoundland artists such as Kelly Russell, Noel Dinn, Pamela Morgan and Jim Payne, all of whom admit to having been shaped in some way or another by his unique style. He appeared on French and English-language television and radio programmes such as Peter Gzowski's Ninety Minutes Live, while at the same time playing the bar scene in St. John's and on his native west coast.
Émile released three albums during his career, starting with Emile's Dream in 1979, It Comes from the Heart in 1982 and Vive la Rose in 1992. These were not, however, the only recordings to exhibit the talent of Émile Benoit; he also appeared in the Walt Disney production Portraits of Canada at Expo 86, and was featured in a BBC-aired film entitled The Magic Fiddle and in From the Heart: Canadian Folk Artists, part of the CBC Spectrum documentary series.
Several awards have been bestowed upon Émile Benoit in recognition of his contribution to both English-Canadian and French-Canadian society. In 1988, Memorial University of Newfoundland awarded Émile Benoit an honourary doctor of laws degree, while in the same year the Fédération des Francophones de Terre-Neuve et du Labrador granted him the Prix Roger Champagne for his contributions to the province's francophone population.
Also in 1988, the Société Nationale de l'Acadie recognized Émile with the Médaille Léger-Comeau, whose past recipients include such distinguished individuals as former French president François Mitterand. Meanwhile, in 1992, Émile was handed a Lifetime Achievement Award by the Newfoundland and Labrador Arts Council.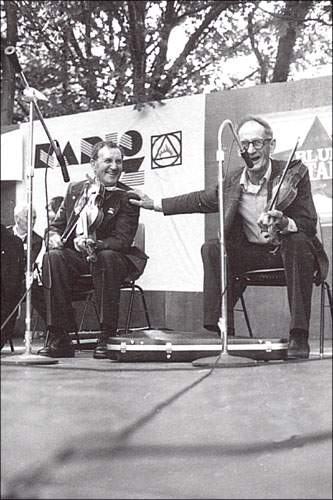 Émile Benoit, 1979
Émile (right) performing with Rufus Guinchard at the St. John's Folk Festival.
Courtesy of Archives and Special Collections (Coll - 154, E 1043), Memorial University of Newfoundland, St. John's, NL.
It is worthy of note that while Émile had no formal training in music and music composition, he was a master of the fiddle and created much of his own music, perhaps as many as 200 songs. Because of his creativity, he was the subject of a doctoral thesis at the University of California entitled "Creative Processes in Musical Composition: French Newfoundland Fiddler Émile Benoit".
Honours continued to come to him even after his death: a seniors' housing facility bearing his name opened in Stephenville Crossing in 1994 and he posthumously won an award at the 1993 East Coast Music Awards.
Émile Benoit was, however, more than a musician. In addition to being a father, a husband, a farmer, a fisherman and a locally reputed jack-of-all-trades which saw him serve as doctor, dentist, veterinarian, carpenter and midwife (he had helped one of his sisters during a rather long and laborious birth by turning the child before delivery), Émile was also a gifted bilingual storyteller.
He was able to recount stories from his youth, and often did so at his shows and public appearances. By his own admission, he may have forgotten some tales he learned as a boy simply because his love for the violin overpowered his love for telling stories. Yet he boasted a large repertoire of tales that he would tell in a style all his own, adding his own personal touch to the features of oral tradition he had learned as a child.
Amongst French Newfoundlanders, opinions of Émile Benoit varied over the years, moving from an early humorous perception to a later open admiration and pride in his achievements. For he has quite possibly left a legacy only rarely said of entire groups of people. Even in the face of impending death he remained true to his love for the violin, performing as late as July 1992, scarcely two months before his death.
Émile Benoit summed up his own character and attested to his sense of humour when he said the following of his mission in life:
"Faire rire le monde et pis assayer d'mette le monde hereux. C'est euh, c'est ma vie ça... je me garâcherais à la mer si j'pouvais vous faire assez, vous faire rire. Ouais, ouais. Pis j'sais pas, j'sais pas m'-nager" (Thomas 1985, 296).

[To make people laugh and to make people happy. That's my life... I would toss myself in the sea if it would make you laugh enough. Yep. And I don't know how to swim].