Higher Education in Newfoundland Pre-1925
The history of higher education in Newfoundland and Labrador prior to the opening of Memorial University College in 1925 is that of the Council of Higher Education (CHE). Formed in 1893 the CHE comprised nearly two dozen representatives of the respective denominations. The CHE encouraged anyone who wished to pursue university-level education in Canada, the United States, or the United Kingdom. Informal agreements with universities were entered into by the CHE. Students who decided to pursue university education had to write the Common Examination (CE), after matriculating from Grade XI. Newfoundland's examination was modeled on the London Common Examination, which universities accepted as a prerequisite for admission.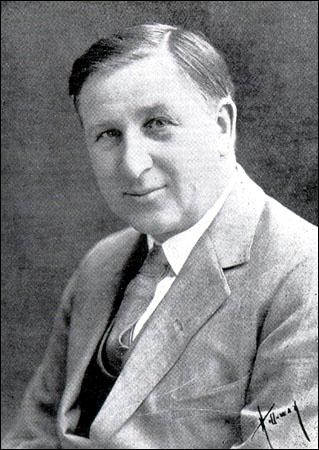 Vincent P. Burke (1878-1953), n.d.
Burke was a member of the Council of Higher Eduction.
Photo by Holloway. From Richard Hibbs, ed., Who's Who in and from Newfoundland 1937 (St. John's, NL: R. Hibbs, 1937) 92.
Qualifying for admission into foreign universities was a major concern for educators and students alike. By using an examination system that was parallel to an already internationally accepted system, universities were able to recognize and accept Newfoundlanders. Matriculating with Grade XI was not an easy task on its own, and those who wanted to enroll in a university had to work extremely hard to prepare for the CE. This was exacerbated by a teaching corps that had few university-trained teachers. Students were advised to spend a year preparing for the CE. An added incentive to do well on the examinations was that the most successful students were given credit for one year of university-level work.
The scope of the CHE included maintaining, as best it could, the Rhodes Scholarship, which allowed one student from Newfoundland to enroll at Oxford University each year. Unfortunately, in 1911 the Rhodes Scholarship Committee informed the CHE that it was dissatisfied with the performance of Newfoundlanders at Oxford. Canadian Rhodes Scholars had already completed two years of university education, while Newfoundlanders had not. The CHE decided that it would be best for the future of higher education in the colony if the first two years of university education could be provided in Newfoundland. To accomplish that goal, the CHE began to plan a two-year college to be operated in St. John's.
Encouraging the youth of Newfoundland and Labrador to attend university was a calculated risk undertaken for the future benefit of the country. The risk was that those who left might not return home, and a portion of students in fact did not return because of a lack of well-paying employment opportunities. The majority, however, did return to Newfoundland, and did find employment in their fields, especially those with specialized skills, such as engineers, doctors, and teachers.