Torbay
Although built in an area local residents considered one of the foggiest places in Newfoundland, the Canadian air base at Torbay (today the St. John's International Airport) quickly became an important link in North American defence during the Second World War. Within a year of opening, its pilots had sighted and attacked more than ten U-boats.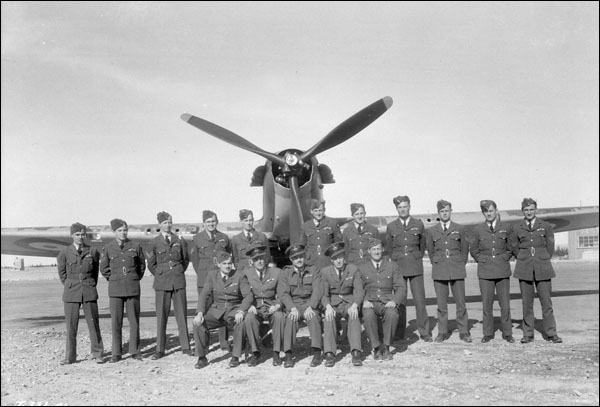 RCAF Pilots at Torbay, 2 October 1942
Pilots of No.125(F) Squadron, Royal Canadian Air Force (RCAF), with a Hawker Hurricane XII aircraft at the Torbay air base.
Photographer unknown. Courtesy of Library and Archives Canada (
PA-133271
), Ottawa, Ontario.
American, British, and Canadian forces all served at Torbay, with the Canadians maintaining the largest presence. During peak war years, the Royal Canadian Air Force (RCAF) stationed more than 2,000 men at the base. Their missions were to provide air cover for Allied convoys, patrol the North Atlantic for U-boats, and protect both St. John's and nearby Bell Island from enemy attack.
Base Origins
As hostilities escalated in Europe during the spring and summer of 1940, both Canada and the Commission of Government recognized a need to establish bases in Newfoundland and Labrador to better defend the Western Hemisphere. An airfield in or near St. John's made sound strategic sense, as the area was highly populated, home to the seat of government, and vulnerable to attack by air or sea. Moreover, its easterly position would allow convoy escorts to fly further into the Atlantic than existing airfields in Canada permitted.
Although local advice recommended building the airport near Cochrane Pond, the RCAF survey team instead selected a site near Torbay, which is more prone to fog. The reasons for this decision are not clear. The Commission of Government approved the RCAF's request to build, but stipulated that Canada would have to assume all expenses and could not use the airfield for civil aviation without prior consent from Newfoundland. The Canadian government agreed to this arrangement, and awarded a contract to the McNamara Construction Company of Toronto.
Work got underway in the spring of 1941 and progressed rapidly. More than 400 labourers worked long shifts to drain swamps, blast rocks, and move earth. By the end of that year, two of the four runways had been completed, alongside a taxi-strip, hangars, a water supply, and various other facilities.
In addition to the Canadian workers, the base also employed numerous Torbay and St. John's residents skilled in carpentry, painting, and other trades. It was a welcome change, as construction work was more stable than the traditional occupations of fishing and farming, and paid much higher wages. The town's economy further benefited from the influx of foreign soldiers who spent money at local businesses.
However, the base caused difficulties for people living on land appropriated by the Canadians. Compensation was paid, but the burdens of having to unexpectedly move were of no small consequence.
RCAF Station Torbay
The first official landing at RCAF Station Torbay occurred unexpectedly on October 31, 1941, before runway construction was complete. A sudden snowstorm prevented a British aircraft from landing at the Gander airbase as scheduled, and had also closed all airports from New York to Montreal. Officials decided that the plane, which had flown from Scotland and was running out of fuel, should land on an unfinished runway at Torbay. However, landing aids were not yet available, so the pilot had to use a local radio station, VONF, as a homing beacon. The aircraft was slightly damaged upon touch-down, but its five crewmembers and 15 passengers escaped uninjured.
When the first RCAF squadron arrived at the base the following month, it faced difficult circumstances. Permanent accommodations were not yet available, so the airmen had temporarily to share small wooden shacks. Washroom facilities consisted of outhouses and washbasins, and airmen drove to St. John's each Saturday for a weekly bath. The winter was particularly trying – when the men woke each morning, it was not uncommon to discover a snowdrift had completely blocked the front door. They had to exit their huts through the back window until the snow was cleared.
Flying out of Torbay was also hazardous for the first few weeks of operation. Radio ranges, direction finding equipment, and naval beacons were not yet fully installed, and the base's first meteorologist, or 'met' man, did not arrive until after two full weeks of flying. As a result, Torbay pilots were forced to make do with brief and often inaccurate weather reports.
However, construction progressed rapidly and conditions soon improved. Workers installed permanent buildings, completed another runway, and built a radio outpost. Additional RCAF squadrons were stationed at Torbay, including fighters, surveillance and weather aircraft. Americans were given free use of the base for military purposes, as were the British.
Although less air traffic passed through Torbay than at other Allied airfields at Gander, Stephenville, Argentia, and Goose Bay, the base played an important role in hemispheric defence. For the duration of the war, Torbay helped provide air cover for convoys and was used as a bad weather alternative for Canadian and American military aircraft.
In 1942, Canada and Newfoundland agreed to provide a commercial air service out of Torbay. The first flight occurred on May 1 and was operated by Trans-Canada Airlines (later Air Canada). On board were five passengers and a three-member crew. The airport's first terminal building, a small wooden structure, was built in 1943 and upgraded in 1958.
Post-War
By 1945, the Torbay airfield sprawled over 1,347 acres of land and had cost the Canadian government more than $11 million. Its facilities included 62 buildings, four runways, each approximately 5000 feet long, and about 56 kilometres of paved roads.
The RCAF closed the base in 1946 and transferred it to the Canadian Department of Transport to operate as a civilian airport. In 1947, the Canadian and Newfoundland governments allowed the United States Air Force to lease a hangar and several other buildings. Two years later, the RCAF stationed a small search and rescue detachment at the airport.
The Cold War renewed military interest in the facility, and on April 1, 1953, the RCAF reopened Station Torbay. The Department of Transport continued to operate the civil air terminal.
Government cutbacks forced the RCAF to close its Torbay base in 1964. It turned the airfield over to the Department of Transport, which renamed it the St. John's Airport. The RCAF also sold many of its buildings to the Government of Newfoundland. In 1986, Air Canada began providing international passenger flights from St. John's to London, England, a service which was unfortunately withdrawn in 2006. The airport became privately managed in 1998, and today operates as a not-for-profit business. Situated approximately five kilometres north of St. John's, it handles domestic, military, government and charter aircraft.