A Lifetime of Writing
From the files of The Gazette May 13, 1999.
Stella Maris Meaney was born in St. John's, Nfld., on May 10, 1910, the youngest of three daughters, and sixth of seven children, born to John Thomas Meaney and Mary Ann Lewis. Her father was a journalist, head of the government's Liquor Control department (1919-1924), and a member of the St. John's City Council (1935-1943). Her mother was a homemaker. Her youngest brother, Edward (1917-1949), died of tuberculosis. While a patient at the St. John's Sanatorium, he founded the Happy Warrior, a magazine dedicated to promoting awareness about that disease, and was a driving force behind the formation of the Tuberculosis Association.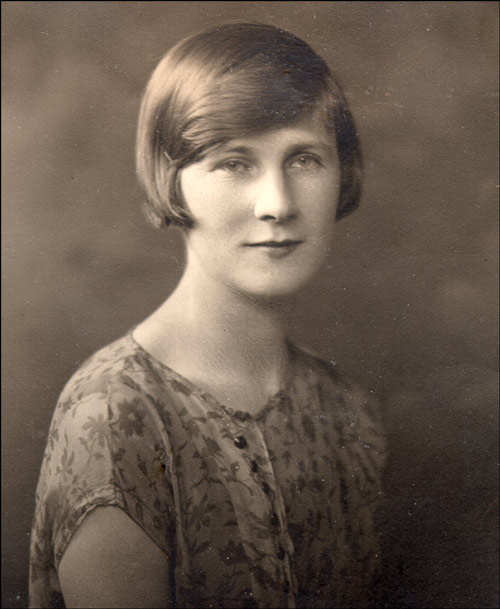 Stella Maris Meaney, n.d.
Courtesy of Archives and Special Collections, Queen Elizabeth II Library, Memorial University of Newfoundland, St. John's, NL.
Stella was educated at Presentation Convent School, St. John's, graduating in 1927. In October 1928, she enrolled at Memorial University College, where she completed the two-year diploma program in 1930. The Cap and Gown, the college yearbook, for 1931 had a special feature on the graduating class of 1930. Of Stella Meaney and her colleagues Annie White and May Temple, it reported that they were "The three Graces. Amongst them they have conquered Latin, French, Greek, German, English and Spanish - and have had a good time doing it."
Sometime after graduating from MUC, Meaney joined the Newfoundland civil service as a stenographer in the pensions division of the Department of Public Health and Welfare. In 1946 she began work as a stenographer with the National Convention, the body elected to debate the possible choices to be included in a referendum to decide Newfoundland's political future. The convention lasted from September 1946 to February 1948, and when the main body was not in session, one of its several committees often was. Meaney was the main stenographer for the convention sessions and the precision of her shorthand was critical in keeping an accurate record of the deliberations. She was part of the support staff who accompanied the Newfoundland delegates to Ottawa in the fall of 1948 to negotiate terms for union between Newfoundland and Canada after the Confederation option had received a majority of votes cast in the July 22, 1948, referendum.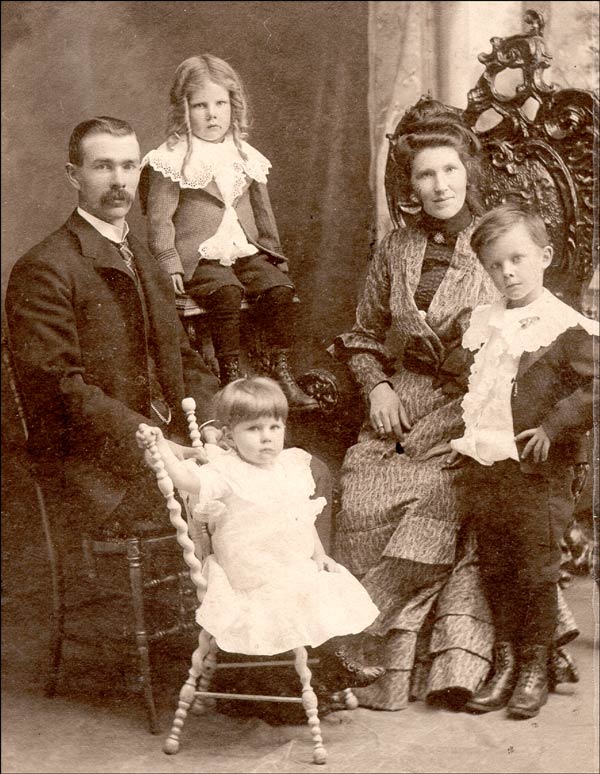 The parents and siblings of Stella Meaney ca. 1900
Courtesy of Archives and Special Collections, Queen Elizabeth II Library, Memorial University of Newfoundland, St. John's, NL.
After Confederation, Meaney became part of the new provincial civil service. She worked as a secretary in the Department of Provincial Affairs and later became secretary at Government House, residence of the lieutenant governors, where she remained until her retirement in 1970.
Stella Meaney married Ronald J. Whelan on August 18, 1953. He was a federal civil servant, who later worked for the provincial Department of Finance. He died in 1970. They had no children.
After her husband's death, Stella Whelan sold their house and eventually moved to St. George's Court, an apartment complex for seniors in St. John's where she shared an apartment with her sister, Margaret, a retired nurse. She remained there until she entered St. Patrick's Mercy Home in 1995.
Whelan may have been a writer all her life. Her poem "The Ballad of the Cathedral" bears the dates 1940-1942, which would indicate it may have been written about that time. Her work was published from at least 1960 when the poem "The Ballad of the Newfoundland Caribou" appeared in the Summer - Autumn edition of Newfoundland Stories & Ballads (Vol. 8:1). Other writings, both poetry and prose, appeared in that magazine throughout the early 1960s. She has also been published in Roman Catholic papers The Monitor and The Catholic Register, and in the St. John's newspaper, The Evening Telegram, particularly in the 1970s and 1980s.
Stella Whelan also entered her poetry in the Newfoundland Government's Arts and Letters Competition, an annual, adjudicated, writing, art and photography competition which attracts hundreds of entrants. She was awarded second prize in 1980 for the poem "The Christmas Tree", third prize in 1978 for "After the Funeral" and honourable mentions in 1977 ("Rituals") and 1987 ("A Community of Firs"). Unfortunately, very little of her writing, apart from the few published items, seems to have survived.
In 1995 illness forced Stella Whelan to move to St. Patrick's Mercy Home, St. John's. Her cousin, Sister Clothilde Meaney, contacted the Centre for Newfoundland Studies to ask if we would be interested in any of the Newfoundland books Whelan had collected. A visit to her apartment resulted in several volumes being added to the library. A small collection of family papers and photographs were also turned over at that time. It included pictures of Stella Whelan, her parents, siblings and friends, of her trips to Ireland, France and California, some of her writings, the Meaney family Bible, containing birth, marriage and death records, and several copies of a newspaper, The Newfoundlander, her father had started in 1934 to protest the introduction of Commission of Government. Stella Whelan died at the Leonard Miller Centre, St. John's, on July 11, 1998.