Bond Rules Despite Challenges
From the files of The Gazette November 4, 1999.
This is the third of a four part series on the life and times of Sir Robert Bond, one of the most influential politicians in Newfoundland history.
Robert Bond was sworn in as prime minister of Newfoundland on March 7, 1900. The House of Assembly was dissolved and a general election called for Nov. 8, 1900. Bond's major campaign issue was renegotiation of the Reid contract. Morine, who had succeeded Winter as Conservative leader, argued in favour of its retention. In an unprecedented electoral victory, Bond's party won 32 of 36 seats in the House of Assembly.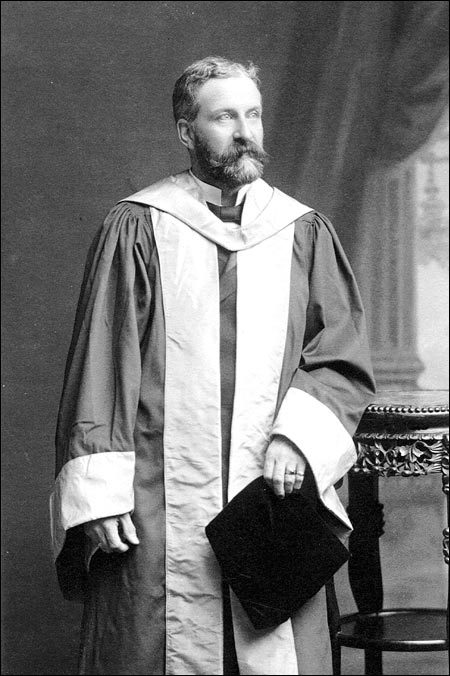 Robert Bond
In 1902, Robert Bond received honourary degrees from the University of Edinburgh and Cambridge University.
Courtesy of Archives and Special Collections (Coll - 237), Queen Elizabeth II Library, Memorial University of Newfoundland, St. John's, NL.
One of Bond's first acts was to renegotiate the contract with Reid who was forced to relinquish ownership of the telegraph service and some of the crown land, and any claim to ownership of the railway. He could operate the railway and the coastal boat service for 50 years, and had to provide streetcar service and electric street-lighting. In return the government gave him back his $1,000,000 and an additional $1,500,000 of taxpayers' money.
The failure to have gained British government approval for the Bond-Blaine Convention had been a major setback in Bond's foreign policy while he was Colonial Secretary in 1890-1891. He retained the post of Colonial Secretary in his own cabinet. In August 1902 he re-established reciprocity negotiations with the United States. He dealt with John Hay, the U. S. Secretary of State; they signed a tentative agreement on Nov. 8, 1902. The Americans were given the right to purchase bait, cure their fish and recruit crew members in Newfoundland, and to have certain manufactured goods admitted duty free to Newfoundland. In return Newfoundland fish and mineral products were to be allowed into the United States without tariffs.
The Bond-Hay Convention received ready approval in Newfoundland and Great Britain, but it hit a stumbling bock in the U. S. Senate where the chair of the foreign relations' committee, Henry Cabot Lodge of Massachusetts, viewed its provisions as detrimental to the New England fisheries. Despite the support of President Theodore Roosevelt, his attempts to broker a mutually-agreeable compromise met with failure. The convention was held up by the American Senate for several years. It eventually passed a modified agreement which Newfoundland could not accept. For a second time, Bond's attempt to establish reciprocity between Newfoundland and the United States met with failure.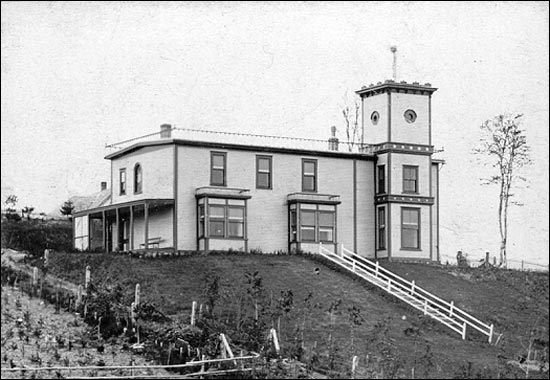 The Grange, Sir Robert Bond's Home in Whitbourne
Courtesy of Archives and Special Collections (Coll - 237), Queen Elizabeth II Library, Memorial University of Newfoundland, St. John's, NL.
Another issue left unresolved from Bond's first term as Colonial Secretary was the French Shore. James Winter had attempted to reach a settlement during his years as prime minister but was unsuccessful. Bond re-opened the question soon after becoming Prime Minister; a settlement was eventually agreed to, with France relinquishing its rights under the Treaty of Utrecht, in return for summer fishing rights and access to Newfoundland ports for bait, supplies and shelter. France also received British territory in Africa as part of the agreement. This Anglo-French Convention was finally signed in April 1904.
It was this success, coupled with a productive fishery, a developing mining sector, advances in education and agriculture, increased shipbuilding and further exploration of the interior, that Bond took with him into the election called for Oct. 31, 1904. His campaign stressed the benefits to Newfoundland since he had first become prime minister in 1900. His opposition was the very disorganized United Opposition Party, consisting of the remnants of the Conservative Party and a number of others who were disenchanted with Bond, including his former mentor, Sir William Whiteway, and former Prime Ministers Goodridge and Winter. Donald Morison resigned his position on the Supreme Court to personally run against Bond in Twillingate. While the Conservatives did manage to retain the four seats they had won in 1900 and to pick up two additional seats, Bond and his Liberal Party still received an overwhelming vote of confidence from the electorate, winning 30 of 36 seats.
Bond's second term began with the same positive note as his first term had ended. In 1905 the government reached an agreement with the Harmsworth newspaper chain of Great Britain and work soon began on the construction of a massive newsprint operation at Grand Falls.
The modified Bond-Hay Convention which passed the U. S. Senate in 1905 was rejected by the Newfoundland legislature. In retaliation, Bond attempted to amend the Foreign Fishing Vessels Act to prevent Americans from obtaining bait and other supplies in Newfoundland. The Americans protested this act to the British government, and Britain, not wanting to upset relations with the United States, disallowed the amendments and guaranteed the Americans the right to procure bait in Newfoundland.
Bond, at the behest of various interests in Newfoundland, challenged legality of Great Britain's imposed regulations in the Newfoundland courts. The courts ruled in Newfoundland's favour, an act which almost caused a major diplomatic incident between Great Britain and the United States. The matter was eventually submitted to and ruled on by the International Tribunal at the Hague, Netherlands.
The failure to achieve reciprocity with the United States was a contributing factor in the eventual fall of the Liberal Party. The party members, for the most part, had a personal loyalty to Bond. The first break in his control over the party was the resignation of Michael Cashin, Liberal member for Ferryland, in 1905. Cashin objected to Bond's tactics in amending the Foreign Fishing Vessels Act, claiming Bond introduced the amendments in the House of Assembly without discussing the matter with the caucus. Cashin crossed the floor to sit with the opposition as an independent.
The reciprocity issue may have been, ultimately, the cause of Bond's downfall. As a result of his refusal to let matters die, and his insistence on challenging the British regulations in the courts, he created enemies in Great Britain and Canada. Many officials in Great Britain were still hoping for Newfoundland's confederation with Canada, as were forces in Canada, including the Governor General, Lord Grey. In Newfoundland the Reids were strong proponents of confederation, and were opponents of Bond, mainly because of his modification of the railway contract with their company. Newfoundland's Governor, Sir William MacGregor, also favoured confederation.
It was difficult for any of these officials to make public statements concerning confederation as they could be accused of interfering with Newfoundland's internal political affairs. Confederation was not a popular issue around which to build a political party, as most Newfoundlanders appeared to be opposed to the idea. The pro-confederates, both inside and outside of Newfoundland, felt that they might be able to convince Newfoundlanders of the benefits of confederation if they could get rid of Bond and replace him with a populist leader who was friendly to their cause. They thought they had found that leader in Edward Patrick Morris.
After Sir Ambrose Shea left Newfoundland politics to become Governor of Bermuda in 1887, the leadership of the Roman Catholic Liberal Party which he had led in the 1885 election devolved to a young man first elected to the House of Assembly in 1885, but one who had made a strong impression and developed a following among St. John's supporters of the party. Perhaps realizing that he could never win the government as leader of a solely Roman Catholic party, in 1889 he joined Whiteway's new Liberal Party, was re-elected in St. John's West and was appointed to Whiteway's cabinet as Minister without Portfolio. Re-elected in 1893, he was one of the Liberals unseated and disqualified under the 1894 election petitions, but returned to the House of Assembly in a by-election in 1895 and was re-appointed to cabinet.
Morris was one of the Liberals elected in opposition in 1897 general election that resulted in Bond becoming party leader. Morris supported the Reid contract, however, and was the leader of a small group of Liberals who broke with Bond's leadership and voted in favour of it. By 1900, he had settled his differences with Bond and returned to the Liberal fold. In March 1900 he entered Bond's first cabinet as Minister without Portfolio, and was re-elected in St. John's West in the general election held later that year. He remained Minister without Portfolio until 1902 when he succeeded Sir William Horwood as Minister of Justice and Attorney General. He was acknowledged to be Bond's second in command.
On July 20, 1907, Morris resigned from cabinet and the Liberal party and crossed the floor to sit as an independent in the House of Assembly. The reason he gave for resigning was a misunderstanding with Public Works Minister George Gushue, but it was thought that there was some sort of arrangement between Morris, the Reid interests, British and Canadian officials that would see them financially supporting Morris in a bid to unseat Bond as Prime Minister in the upcoming election. In return, after his election, Morris would shepherd Newfoundland into confederation. Morris was soon acknowledged as de facto leader of the opposition in the House of Assembly and in February 1908 he and Cashin were joined by another Liberal defector, John R. Bennett, a colleague of Morris's from St. John's West (which elected three members). On March 5, 1908, Morris announced the formation of a new political party, the People's Party. In addition to Cashin and Bennett, four of the six Conservative Party members of the House eventually joined the new party, while the other two did not run in the next election, which Bond called for November 2, 1908.
Archives and Special Collections Table of Contents