Bond's Political Career Winds Down
From the files of The Gazette November 18, 1999.
This is the fourth and final part of a series on the life of Sir Robert Bond.
Bond fought the Nov. 2, 1908, election campaign mainly on his record and the prosperity and stability his government had helped to provide during the previous four years. Edward Morris had an elaborate platform promising a wide range of programs and policies. It was a very hard fought campaign with most of the emphasis on the districts of Conception Bay, where candidates often won or lost by very small margins. When the final results were known, each party had won 18 of the 36 seats in the assembly: a tie.
What followed was a constitutional entanglement, unprecedented in the British Empire. Morris demanded Bond's immediate resignation. Bond argued he had the right to remain in office until he was defeated in the House of Assembly. The major obstacle to calling the House into session was once Bond appointed a speaker from among his members, he would be in a minority, with one seat less than the opposition, as the speaker voted only in case of a tie. The same would be true if Morris were to become Prime Minister. The House was scheduled to open on Feb. 9, 1909, but this was delayed until Feb. 25, as one of Bond's cabinet ministers was out of town.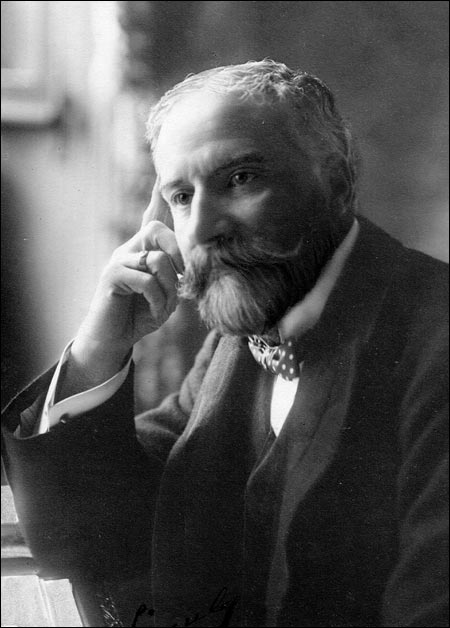 Sir Robert Bond
Courtesy of Archives and Special Collections (Coll - 237), Queen Elizabeth II Library, Memorial University of Newfoundland, St. John's, NL.
In the meantime Bond asked Governor MacGregor for a dissolution of the House and a new election; when the governor refused, Bond resigned. On March 3, after assurances from Morris that he could form an administration, the Governor invited him to become Prime Minister. Morris called the House into session but was unable to elect a speaker. On March 31, the Governor agreed to Morris's request for a dissolution. A new election was scheduled for May 8, 1909.
In this election, Morris had the upper hand. He had the advantages that are part of being the leader of the party in power. Morris was the Prime Minister; Bond was leader of the opposition. And being Prime Minister appears to have paid off: the People's Party picked up eight seats, giving it a clear majority in the House, with 26 seats to Bond's 10. Bond spent the next four years as leader of the opposition, offering alternatives to Morris's legislative platform, but opposition was not a place he enjoyed nor wanted to remain.
Nov. 2, 1908, the same day as the election, the first of two meetings was held in Herring Neck, Twillingate district. Called by William F. Coaker, a St. John's native who had become a farmer on a small island off Twillingate, the meeting's purpose was to interest fishermen and other workers in the possibility of forming a union. Out of these two meetings arose the Fishermen's Protective Union, with Coaker as its president. He and his colleagues spent the next few years organizing locals around the northeast and northern coasts, as far south as Conception Bay and as far north as the top of the Great Northern Peninsula. They also established the Fishermen's Advocate, a newspaper to spread their message, and the Fishermen's Union Trading Company to act as a wholesale supplier and central marketing arm of the union. At its annual convention in 1911, the membership approved the creation of a union political party to field candidates in the next election, expected in 1913.
Coaker and Bond were not strangers. In fact, Coaker had once been president of the Twillingate Liberal Association, and Twillingate was the district Bond represented in the House of Assembly. Bond had helped Coaker obtain a position as a telegraph operator and postmaster at Herring Neck in 1902. There had been a parting of the ways, however, and Bond was quite wary of Coaker when he was approached about a possible coalition between the Liberal Party and the union. An agreement was eventually reached whereby the two parties divided the seats that they would each contest. The union would field nine candidates: Bay de Verde (one of two), Bonavista (three), Fogo (one), Port de Grave (one), Trinity (two of three) and Twillingate (one of three). The Liberal Party would field the candidates for the other 27 seats.
Morris called a general election for Oct. 30, 1913. In what many historians consider to be a grave tactical error, Bond campaigned in the areas in which the union was strong, instead of leaving that area to Coaker, and concentrating his campaign in the marginal seats in Conception Bay. Perhaps his pride would not allow him to believe the union had the strength in rural Newfoundland that it claimed. Morris campaigned strenuously in Conception Bay and along the south coast. Morris's strategy appears to have paid off, for despite losing eight seats (Bay de Verde, Bonavista, Port de Grave and Trinity), the People's Party picked up two seats in Burin and one in St. John's East, to give them a six seat majority. All union candidates, with the exception of one who lost by 10 votes in Bay de Verde, were elected. As a result, the union had one more member than the Liberals and were entitled to be the official opposition party.
Bond did not relish spending another three or four years in opposition. He probably resented the fact that Coaker, his one-time assistant, not only commanded more seats in the House than he did, but that the union also controlled four of the northern seats which elected Liberals, including Bond's own in Twillingate. He was a man of great pride and he did not take rejection kindly. On Jan. 14, 1914, before the House of Assembly opened, Bond resigned his seat. Despite several attempts to lure him back into the fray, particularly in 1919, he never again played any active role in Newfoundland political life.
After Bond retired he moved full-time to his country estate, the Grange, at Whitbourne. Whitbourne was Newfoundland's first inland town. It was established as a railway junction in 1883 when it was decided that the branch line to Harbour Grace would join the main railway line at that point. For a number of years it was known as Harbour Grace Junction. Bond acquired approximately eight square miles of land near Whitbourne shortly after the community was established, and built a small hunting lodge on the site. He later built the Grange, a large Edwardian-style house, which would eventually become his home. Bond spent as much time as he could at the Grange during the intervening years. His mother lived with him there, at least for part of the time, during her latter years, and she died there in 1900. During 1908-1909, his niece Roberta, daughter of his brother George, lived there with Bond while his brother was in China and Japan. Sarah Roberts, his mother's cousin, served as Bond's housekeeper for many years.
At the Grange, Bond attempted to create an English country estate. He planted thousands of flowering plants, shrubs and trees that were not native to Newfoundland. He experimented with various types of vegetables and imported Ayrshire cattle, which he raised for their milk, which he sold. The grounds were laid out with walkways and terraces, and decorated with statuary, urns, and gas lamps. In his will Bond left the estate to the people of Newfoundland, but the government of the day, fearing the cost of upkeep, declined the gift. His brother George lived there until his death in 1933 and his son, Fraser Bond, lived there occasionally until 1949 when he gave title to the new provincial government. Within a year the building had been demolished and the land allowed to return to its natural state.
Robert Bond was made a member of the order of St. Michael and St. George and knighted by the Duke of Cornwall (later King George V) during his visit to St. John's in 1901. On a visit to England the following year to attend the Colonial Conference, he was sworn into the Imperial Privy Council and with it received the title Right Honourable for life. During that 1902 visit he was awarded an honorary doctor of laws degree from the University of Edinburgh and was granted the freedom of the city by London, Bristol, Manchester and Edinburgh. Sir Robert Bond never married. He died, after a short illness, at the Grange on March 17, 1927, and was interred at Whitbourne. On Sept. 7, a stained-glass window was placed in the Anglican Church of St. John the Baptist there in his memory.
The papers of Sir Robert Bond are a mixture of personal and political papers ranging from before his birth to after his death. The papers before his birth relate mainly to his father, John Bond, and include correspondence and a diary. The papers after Bond's death relate to the disposition of his estate and the interpretation of his will. There are papers documenting his education, legal training and practice, financial and business dealings, mineral and timber speculation, various other personal interests, and with the Grange, his estate at Whitbourne. There is extensive correspondence with his brother George, a Methodist clergyman, and with other family members.
The bulk of the papers are concerned with Bond's involvement in Newfoundland politics from 1882 when he was first elected to the Newfoundland House of Assembly to 1914 when he resigned. There are political papers after that date, reflecting his interest in Newfoundland politics even after he had ceased to be an active participant. The political papers cover both constituency and government affairs, and include material related to various election campaigns, the Liberal Party, the fishery, the railway, mineral exploration, the economy, and foreign policy. There is correspondence between Bond and the major political figures of the time, including Sir William Whiteway, Sir William Coaker, Sir Edward Morris, Sir William Horwood, George Shea, Sir Alfred Morine, Governor Sir Cavendish Boyle, Governor William MacGregor, Governor Henry Blake and a host of others. There is also correspondence from his constituents and other Newfoundlanders concerned with national and local issues.
Specific issues documented in these papers include the Bait Act of 1888, the controversy with Great Britain and France over the French Shore, negotiations on free trade with the United States (Bond-Blaine Convention in 1890 and Bond-Hay Convention in 1902), all issues intertwined with the coastal fishery. There is also documentation of Bond's political involvement with education, agricultural and mineral development, trade, native peoples, relations between Newfoundland and Canada, the Bank Crash, and the development of transportation and communication systems. There are extensive newspaper clippings, both in books and loose, which Bond kept; some were grouped by subject, others by date.
Photographs in the collection provide a visual record of Bond from small child to elderly man. Photographs also document the Grange, various Newfoundland communities, special occasions, and family members. Biographers, political historians, social historians, political scientists and researchers interested in almost any aspect of Newfoundland between 1880 and 1930 will find examination of these papers a very worthwhile exercise.
In 1995 Dr. George Nichols, a son of Roberta Bond Nichols, initiated the process whereby Sir Robert Bond's papers were returned to Newfoundland. They had been in the custody of Dr. Frederick Thompson, historian at the Royal Military College, Kingston, for over 30 years. Thompson had borrowed the papers from their owner, Fraser Bond, Sir Robert's nephew, sometime before his death in 1965. It was Thompson's intention to write a biography of Bond, but this project did not come to fruition. Unfortunately, George Nichols died before final arrangements were made for transfer of the papers.
In October 1996, the Centre for Newfoundland Studies was contacted by Randell Nelson, George Nichols's son-in-law, on behalf of Joan E. Nichols, George Nichols's widow, concerning presentation of the Robert Bond papers to Memorial University, and physical transfer took place early the next year.
Archives and Special Collections Table of Contents