Royal Artillery
When war broke out in September 1939, Newfoundland and Labrador lacked any form of ground force to send overseas. Although it had raised, equipped, and maintained the costly Royal Newfoundland Regiment during the First World War, the unit had disbanded in 1919. Since then, the country's economy had deteriorated to the point that it could not afford a similar undertaking during the Second World War.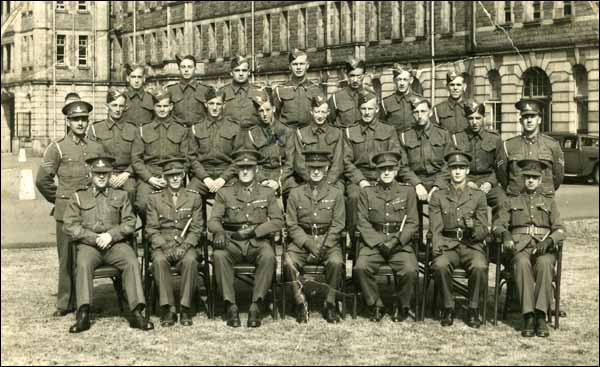 Royal Artillery Trainees, May 1940
Fifteen signal trainees with nine officers outside Redford Barracks at Bollington.
Photographer unknown. Reproduced by permission of Archives and Special Collections (Coll. 217 3.04.001), Queen Elizabeth II Library, Memorial University of Newfoundland, St. John's, NL.
Instead, Britain's Royal Artillery (RA) recruited and trained some 2,343 volunteers from Newfoundland and Labrador at its own expense. These men formed two battalions – the 57th and 59th (Newfoundland) Heavy Regiments. The former fought in North Africa and Italy, while the latter defended Britain's coasts for three years before fighting in France, Belgium, the Netherlands, and Germany.
Recruiting Begins
Shortly after hostilities began, the Commission of Government urged London to begin recruiting large numbers of Newfoundlanders and Labradorians into its armed forces as soon as possible. In the fall of 1939, the British War Office agreed to accept men into its Regular Army for a minimum of seven years' service, but this received much criticism from the island's press, which instead requested an opportunity for volunteers to serve for the duration of war only.
Following some two months of negotiations, the Commission and the War Office agreed in December 1939 to recruit 1,375 men into the RA – a corps of the British Army – where they would form at least one Newfoundland regiment and serve until hostilities ended. However, the Commission delayed recruiting for several weeks, as it did not want to interfere with an ongoing campaign to enlist volunteers into the Royal Navy. On February 6, 1940, Newfoundland and Labrador Governor Sir Humphrey Walwyn issued a proclamation calling for volunteers between the ages of 20 and 35, who weighed at least 112 pounds, stood no less than five feet four inches tall, and were of "sound physique and good eyesight."
The response was enthusiastic, and by mid-February some 400 men had volunteered. The following month, a committee of British military personnel arrived in St. John's to officially enrol recruits and provide preliminary training. On April 25, the first 400 enlistees docked at Liverpool aboard the Duchess of Richmond; other drafts quickly followed, and by the end of 1940, some 1,430 Newfoundlanders and Labradorians had enlisted in the RA – easily surpassing the original quota of 1,357.
57th (Newfoundland) Heavy Regiment
As recruiting unfolded in Newfoundland and Labrador, RA officials in England were busy organizing a new unit to accommodate the new volunteers. By the time the first 400 men arrived in Britain, the 57th Heavy Regiment – which in May added the word 'Newfoundland' to its title – was prepared to accept them into its ranks. The regiment was based at Sussex in Southeast England and fell under the command of Lieutenant Colonel H.G. de Burgh, a veteran gunner of the First World War.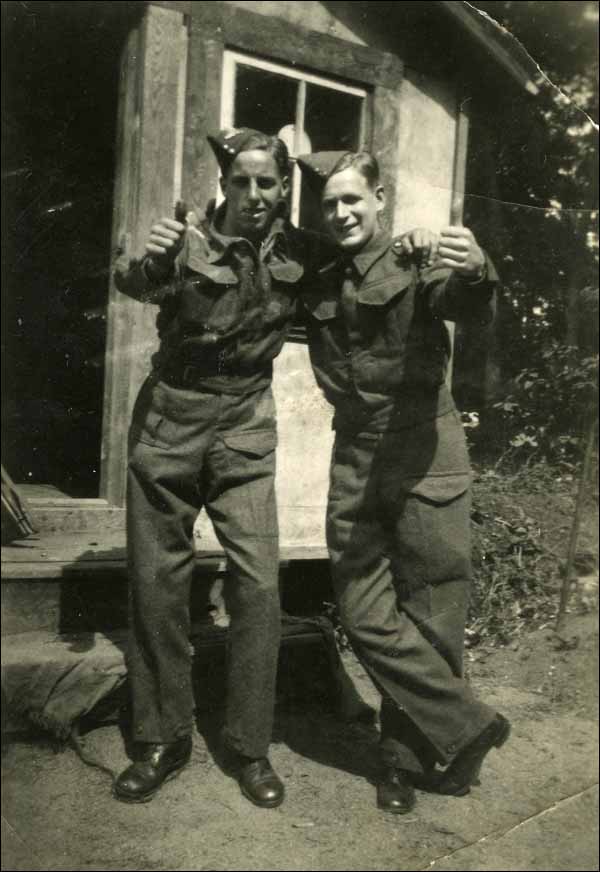 Newfoundland and Labrador Enlistees, ca. 1940
Joseph Kearney (left) and John Pike, two soldiers from Newfoundland and Labrador who joined the Royal Artillery during the Second World War.
Photographer unknown. Reproduced by permission of Archives and Special Collections (Coll. 217 3.04.004), Queen Elizabeth II Library, Memorial University of Newfoundland, St. John's, NL.
When the troops arrived in Sussex, de Burgh separated them into four batteries – A, B, C, and D – and began training exercises. The regiment's daily routine, however, was soon interrupted when German forces invaded Holland, Belgium, Luxembourg, and France in early May. Fearing that Southern England may also be at risk of attack, military officials ordered the regiment to construct and guard road blocks, dig trenches, and prepare gun emplacements.
It was not until June 5, however, that the unit received its first guns – six 9.2-inch howitzers. Resembling large mortars, each of these massive guns could fire 130-kilogram shells across a maximum distance of 9 kilometres. A, B, and C Batteries took two howitzers each, and by mid-June, D Battery had received two six-inch guns, which fired 45-kilogram shells over a 17-kilometre range.
The Commission of Government, meanwhile, continued to send drafts across the Atlantic, and by late June, an additional 360 men had joined the 57th Regiment. Having exceeded its prescribed strength of 22 officers and 773 other ranks, the regiment assumed an operational role. It left Sussex for Norfolk, where soldiers spent the next year guarding England's east coast from enemy invasion.
166th (Newfoundland) Field Regiment
By the middle of 1941, the likelihood of a German advance into England had greatly decreased. The War Office placed a new emphasis on offensive measures and began to build up its field army. Accordingly, the RA converted various defensive regiments into field regiments, and on November 15, the 57th (Newfoundland) Heavy Regiment became the 166th (Newfoundland) Field Regiment.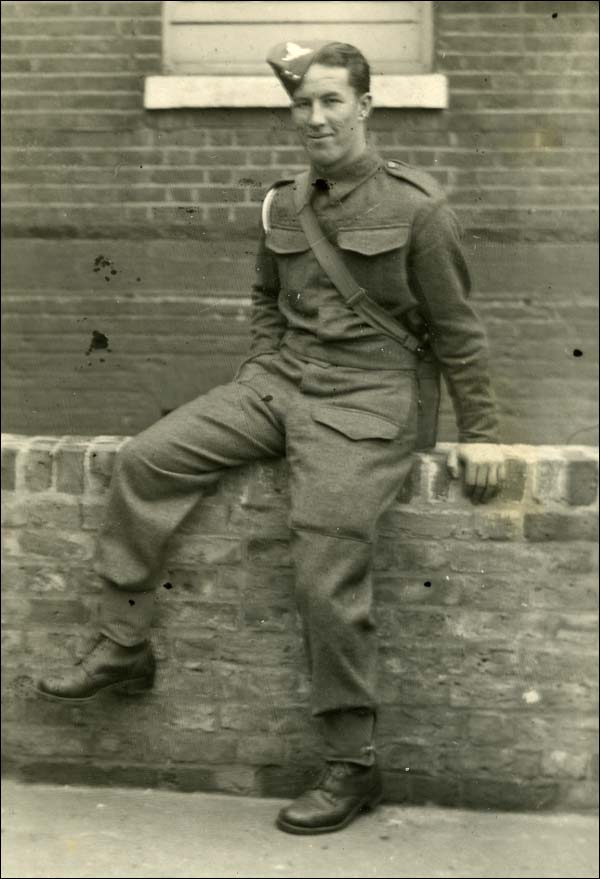 Isaac Saunders, 166th (Newfoundland) Field Regiment, ca. 1940s
Isaac Saunders of Greenspond, Newfoundland fought with the 166th (Newfoundland) Field Regiment during the Second World War.
Photographer unknown. Reproduced by the permission of the Greenspond Historical Society.
Following a year of training, during which regiment members learned how to use their new 25-pounder field guns and received instruction in commando techniques, the unit departed for active service in North Africa. By late February 1943, troops had joined hostilities in Tunisia, where 24 Newfoundlanders were killed in action. The first fatality was Gunner J.J. Flynn of Norris Arm, who died on April 7 after an enemy shell hit his gun shelter.
By the end of May, Allied forces had gained control of North Africa and began planning their invasion of Italy. The 166th joined the campaign in October 1943 and remained in Italy until the summer of 1945. During that time, the regiment fought alongside other Allied forces all along the Italian peninsula. They suffered many casualties, but also won numerous awards. It was during a battle near Rome in March 1944, for example, that three Newfoundlanders – Sergeants M. Sweet and P.A. Jessau, and Gunner A. Benoit – earned the French Croix-de-Guerre with Bronze Star for providing aid under fire to four badly injured gunners with a nearby French unit. Following the rescue, the three Newfoundlanders helped fire the French gun on enemy aircraft.
59th (Newfoundland) Heavy Regiment
While the 166th was fighting in Africa and Italy, a second Newfoundland regiment had been serving in England and parts of Western Europe. Shortly after the 166th (then 57th) Regiment departed Sussex in the summer of 1940, the RA formed the 59th (Newfoundland) Heavy Regiment to accommodate successive drafts of new recruits from Newfoundland and Labrador.
By late June 1941, members of the regiment's four batteries had completed training and assumed an operational role guarding England's south coast from enemy invasion. As hostilities progressed, the War Office shifted its efforts from defence to offence, and in mid-1942 it slightly reduced the 59th Regiment's anti-invasion role and ordered it to begin training for offensive warfare.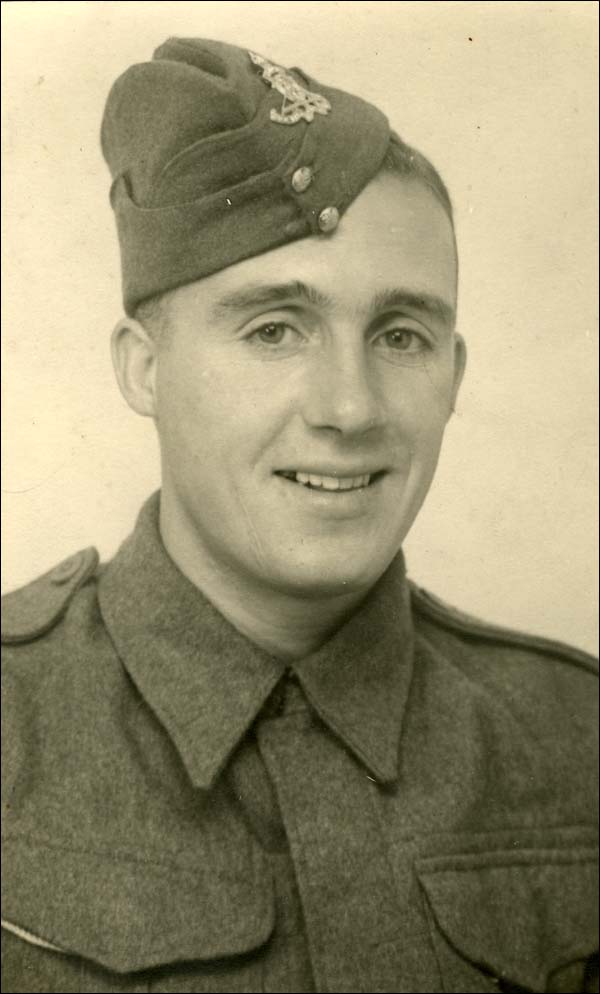 Reginald Meadus, 59th (Newfoundland) Heavy Regiment, ca. 1940s
Reginald Meadus of Greenspond, Newfoundland served with the Royal Artillery's 59th (Newfoundland) Heavy Regiment during the Second World War.
Photographer unknown. Reproduced by the permission of the Greenspond Historical Society.
However, it was not until July 1944 that the regiment departed England for France to take part in the Battle of Normandy. Once there, the artillerymen fought alongside other Allied troops, firing their 7.2-inch howitzers and 155-millimetre guns against German forces. The regiment suffered its first injuries on July 17, when enemy fire wounded 12 men – causing one to lose a leg – and destroyed two guns.
Following the Allied victory in August 1944, the 59th Regiment pressed east and continued fighting in Belgium and the Netherlands before proceeding on to Germany. Gunners with the 59th Regiment fired their last rounds of the war in Hamburg on May 2, 1945, two days before the city's German forces surrendered.
War's End
Shortly after V-E Day on May 8, 1945, the RA took steps to send recruits from Newfoundland and Labrador back home rather than deploy them to the Far East, where the war against Japan was ongoing. On August 7, the Lady Rodney departed Liverpool for St. John's, carrying the first group of 301 artillerymen back home. By mid-October, the vast majority of recruits had returned home.
Throughout the war, artillerymen from Newfoundland and Labrador distinguished themselves as hard-working and brave soldiers who earned high praise from their commanding officers. Members of both regiments received numerous awards, including the Military Cross, British Empire Medal, Distinguished Service Order, and Croix-de-Guerre. The years of combat, however, took their toll, and many men returned home injured, while 87 died in service. The 59th (Newfoundland) Heavy Regiment officially disbanded in August 1945, and the 166th followed suit in October.