Fort Pepperrell, St. John's
As the first American troops arrived in St. John's Harbour on January 29, 1941, hundreds of curious Newfoundlanders lined the waterfront, cheering and waving flags of welcome. They watched in awe as the impressive Edmund B. Alexander – the largest ship to ever visit St. John's up to that point – steamed through the Narrows, carrying almost 1,000 soldiers.
For their part, the Americans were equally curious about the Newfoundlanders and their rugged land. Many of the troops, who had only learned a few hours earlier that they were to build and maintain an army base in this small country, had never even heard of Newfoundland before. Nevertheless, they were to spend the foreseeable future on the island, isolated from friends and family.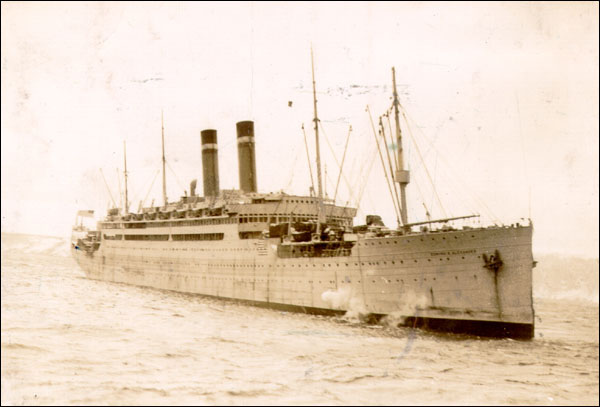 The Edmund B. Alexander, 1941
The Edmund B. Alexander arrived in St. John's harbour on January 29, 1941 carrying almost 1,000 American troops.
Photographer unknown. Reproduced by the permission of the Maritime History Archive (
PF-306.749
), Memorial University of Newfoundland, St. John's, NL.
Pleasantville Selected as Base Site
The United States had acquired rights to build military bases in Newfoundland under its Leased Bases Agreement with the United Kingdom in 1940. In September of that year, a committee of American army and navy personnel toured the island to survey possible base sites.
Within days of their arrival, the group selected an area near St. John's known as Pleasantville for an army base. In all, the Americans requested 198.36 acres on the north shore of Quidi Vidi Lake for the establishment of the army base (later named Fort Pepperrell in honour of Sir William Pepperrell, an Anglo-American soldier who led American colonists in the capture of the fortress of Louisbourg in 1745), 27.57 acres at nearby White Hills for a radio tower and 2.5 acres on St. John's Harbour for an army supply dock. They also requested about 2.5 acres of land on Signal Hill, in part to maintain anti-aircraft guns.

There were numerous reasons supporting the Americans' decision to install a base at Pleasantville: the area boasted a stretch of relatively flat land that could support a military installation, the surrounding cliffs facilitated the area's defence, there was a largely ice-free harbour in St. John's, which also housed the seat of government, and a Canadian air base was being built in nearby Torbay.
Even though the US Army had hired local labourers to begin base construction in October 1940, living quarters were not yet ready when the Edmund B. Alexander arrived in Newfoundland three months later. As a result, the ship remained anchored in St. John's Harbour until July 1941, serving most of that time as a floating barracks for the troops.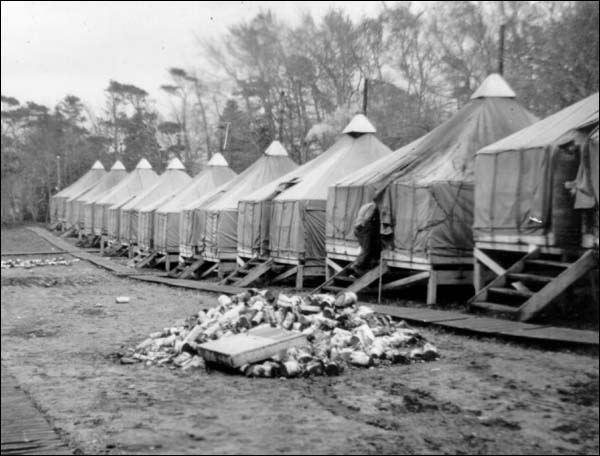 Camp Alexander, 1941
Tents in Camp Alexander served as temporary quarters for American solders waiting for permanent barracks to be built at Fort Pepperrell.
Photographer unknown. Reproduced by the permission of the Maritime History Archive (
PF-306.183
), Memorial University of Newfoundland, St. John's, NL.
The soldiers, meanwhile, began building temporary living quarters on Signal Hill and on 15 acres of land in St. John's west of Carpasian Road and generally north of Pine Bud Avenue, which they named Camp Alexander. By May 20, all the troops had moved into their new land-based quarters, where they would stay until more permanent housing was erected at Fort Pepperrell.
Construction Begins at Pepperrell
That same month, construction truly got underway at the army base, which builders were told should accommodate 3,500 troops, 14,315 square feet of warehouse space, inside storage for 310 vehicles and outside storage space of 20 acres. Additionally, the site was to include a hospital, a power plant, a fire station, a bakery and other facilities necessary for the operation of a permanent army base.
The land on which all this would be built consisted of about 25 privately-owned properties – much of which was farmland – and a German internment camp built after a German freighter, the Christoph V. Doornum, was captured in Botwood at the start of the war and its 25 crew members taken prisoner. All of this, however, was dismantled and replaced by the base.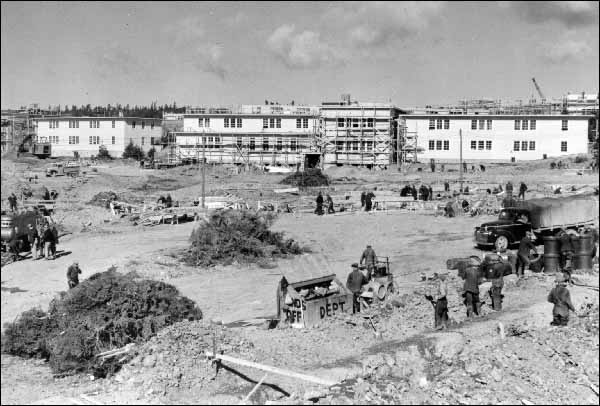 Construction at Pepperrell, 1941
Construction at Fort Pepperrell began in May 1941.
Photographer unknown. Reproduced by the permission of the Maritime History Archive (
PF-306.058
), Memorial University of Newfoundland, St. John's, NL.
The internment camp had been taken down by 1941 and its prisoners moved to Canadian internment camps. The expropriation of farmland on the north shore of Quidi Vidi proved to be a more complicated matter as landowners were often upset by the prospect of having to abandon property that not only served as a home, but often as a livelihood.
The Commission of Government assured all residents that they would be compensated for their loss and that their sacrifices would be an invaluable contribution to the war effort. However, such statements were of little comfort to families who, in the fall of 1940, were given 12 months notice to vacate their land from a government they did not elect.
Although dislocated landowners in St. John's generally received more compensation money than residents elsewhere on the island – cultivated land in St. John's fetched about $400 an acre, while the going rates in Stephenville and Argentia were $250 and $300, respectively – the general feeling was that the payments did not adequately cover the economic and emotional burdens of having to move.
Despite the hardships suffered by displaced landowners, base construction brought much-needed economic prosperity to the city, which was still emerging from decades of poverty following the First World War and the Great Depression. When construction was at its peak, more than 5,000 Newfoundlanders were employed at Fort Pepperrell. Work progressed so rapidly during the summer and fall months of 1941 that, by November 24, troops began moving out of their temporary quarters in Camp Alexander and into the permanent barracks near Quidi Vidi.
America Declares War
The Japanese attack on Pearl Harbour on December 7, 1941 and America's subsequent entry into the war altered Fort Pepperrell's construction schedule considerably. The building of most permanent structures – many of which were to become officers' quarters – was postponed and all temporary buildings were ordered standing. The base was now to accommodate 5,500 troops instead of 3,500 and the construction camp was transformed into troop housing. An additional 1,000 troops were stationed at Signal Hill to operate four anti-aircraft guns and maintain a 24-hour surveillance of the area.
Troops at Fort Pepperrell, meanwhile, engaged in two major functions: training and defence. The bulk of their time was spent in target practice, improving camouflaged positions, building ammunition igloos and performing various army training exercises. They also manned lookout stations and watched for signs of enemy approach. Although never actually engaged in enemy combat, Fort Pepperrell is credited with having helped keep the war largely confined to Europe.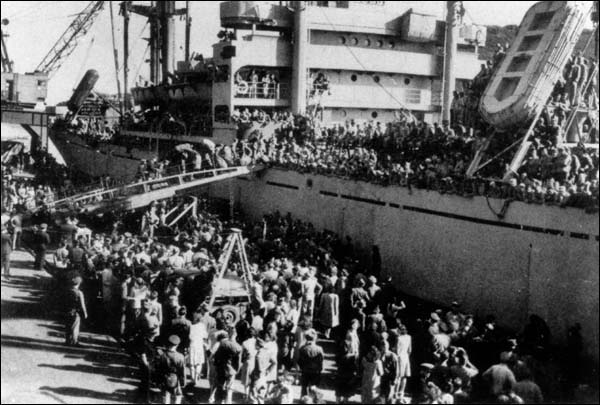 Leaving Pepperrell, 1945
American soldiers prepare to leave Fort Pepperrell aboard the USS Claxmount Victory, August 1945.
Photographer unknown. Reproduced by the permission of the Maritime History Archive (
PF-306.288
), Memorial University of Newfoundland, St. John's, NL.
Following the end of the war, Fort Pepperrell was maintained at reduced strength, and in 1946 became Pepperrell Air Force Base. Its mission was to provide local security, facilitate operations of the Air Transport Command and maintain communications with the US Navy at Argentia and allied nations.
In 1958 it was announced that the base would be phased out and the American military officially withdrew in August 1961. The area adopted its former name of Pleasantville and all of its 208 buildings and facilities were sold to Canada for $1. The area was divided between the federal and provincial governments, with Newfoundland taking ownership of most buildings east of Virginia Waters and Ottawa those to the west.