Other American Stations
America's military presence in Newfoundland during World War II extended beyond its army and naval bases in St. John's, Stephenville and Argentia to include smaller stations scattered across the island.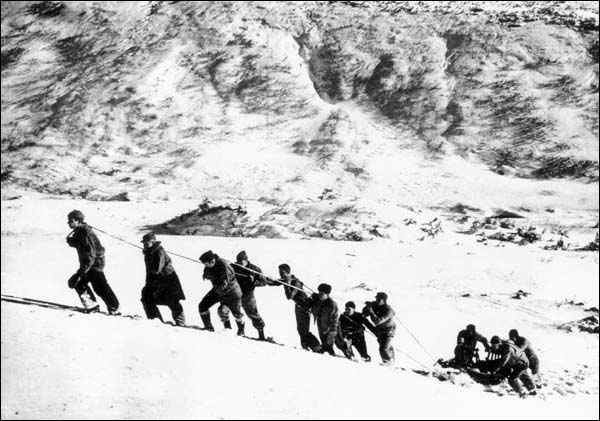 Moving Building Materials, ca. 1942
Workers building a repeater station near St. Andrew's move materials up a steep mountainside.
Photographer unknown. Reproduced by the permission of the Maritime History Archive (
PF-306.1017
), Memorial University, St. John's, NL.
Intended to strengthen the country's defence, these installations included radar sites, radio transmitters, and repeater stations used to establish an island-wide communications network. Certain sites, such as the repeater stations, were large undertakings that required outside help to build while others, including Sandy Cove's radar station, were shrouded in so much secrecy that not even local residents were aware of their functions.
Long Line Repeater Stations
Soon after the construction of American military bases in Newfoundland got underway in early 1941, it became apparent that the island's existing communication system would pose a problem. Newfoundland's telephone service was inconsistent and limited mostly to the larger centres, while no service at all existed in Labrador. It would be impossible for Americans stationed at different bases across the island to adequately communicate with one another, let alone with locations in the United States and Canada.
Consequently, the Americans decided in mid-1941 to establish their own telecommunications network on the island. By April of that year, the US Army had set aside $3.5 million to install aerial cables across the island, with much help from the Bell Telephone Company of Canada.
Daily Maintenance, 1943
Two American soldiers inspect a telephone line. By March 1943, approximately 20,000 telephone poles and 527 miles of cable had been installed across Newfoundland.
Photographer unknown. Reproduced by the permission of the Maritime History Archive (
PF-306.1004
), Memorial University, St. John's, NL.
By March 1943, approximately 20,000 telephone poles and 527 miles of cable had been installed from St. John's to Stephenville, and southwest to St. Andrew's (largely following the same route as the Newfoundland Railway). The installation of the network, called the Long Line System, employed about 300 Bell workers and 700 Newfoundlanders.
Seven manned repeater stations were also built along the length of the cable, approximately 60 miles apart. These stations accommodated between 10 and 15 soldiers who maintained a 24-hour communication service by working in alternating 12-hour shifts. There were also 57 unmanned repeater stations installed at seven-mile intervals across the island.
The war's end in 1945 brought a reduction in manpower to many of the repeater stations, a process which continued as more sophisticated communications equipment was installed at the bases. By 1949, all repeater stations were closed, and either sold to private enterprise or demolished.
Radar Sites
An acronym for Radio Detecting and Ranging, radar's ability to determine the speed, direction and location of ships, aircraft and other moving objects made it an important component of Newfoundland's defence during the Second World War. Although a relatively new technology when the war began, radar's advantages became quickly apparent to the American military, which developed plans to install five radar sites across the island by January 1942 – at Allan's Island, St. Bride's (both near the Argentia base), Torbay (near Fort Pepperrell), Sandy Cove and Bonavista.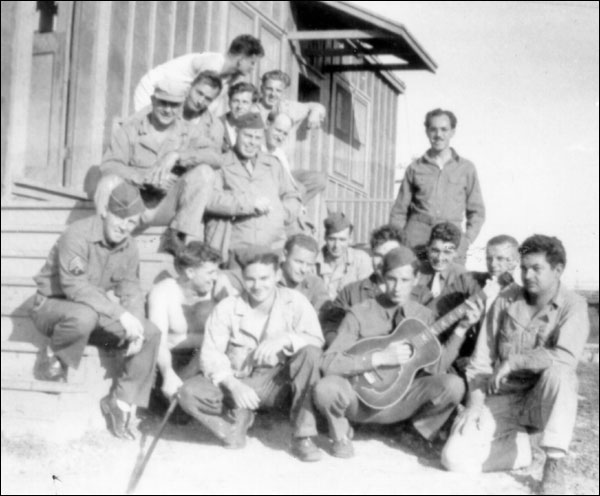 685th Air Warning Squadron, 1943
The Sandy Cove radar site was the most active of all American radar stations in Newfoundland and Labrador during the Second World War.
>Photographer unknown. Reproduced by the permission of the Maritime History Archive (
PF-306.1041
), Memorial University, St. John's, NL.
In the summer of 1942, workers arrived in the small community of Sandy Cove, Fogo Island to build the first radar station in Newfoundland. This site proved to be the most active of all American radar stations on the island, monitoring all air traffic from Gander to Goose Bay, and out into the Atlantic within a 150-mile radius. It also provided early warning of enemy approach to Canadian and American military forces at Gander and Fort Pepperrell.
Construction of the island's four other American radar stations began in the fall of 1942 and was completed by early 1943. The sites' primary roles were to track aircraft movement over and around Newfoundland, and send all data to a plotting centre at Fort Pepperrell. This function was classified 'top secret' by the US military, and Newfoundlanders living near the sites were told until 1944 that the equipment was used to monitor weather.
The importance of ground radar stations decreased near the end of the war when advances in technology made it possible to install radar on Allied aircraft and vessels. The Royal Canadian Air Force assumed control of all American radar stations in May 1944. When the war ended one year later, all the sites were dismantled and turned over to the Newfoundland government.
US Coast Guard and LORAN Stations
Operating under the American Navy, members of the United States Coast Guard also maintained a presence in Newfoundland and Labrador during World War Two. Their mission was to install and maintain the powerful radio transmitters and receivers used to determine the position of a ship or aircraft.
Called LORAN (short for Long Range Navigation), these radio-navigation devices were established at Mouse Island (near Port aux Basques), Twillingate and Bonavista, and in Labrador at Battle Harbour. The primary mission of all LORAN stations was to monitor U-boat activity and provide navigational aid to Allied vessels. Their operation was classified and the equipment was under 24-hour guard.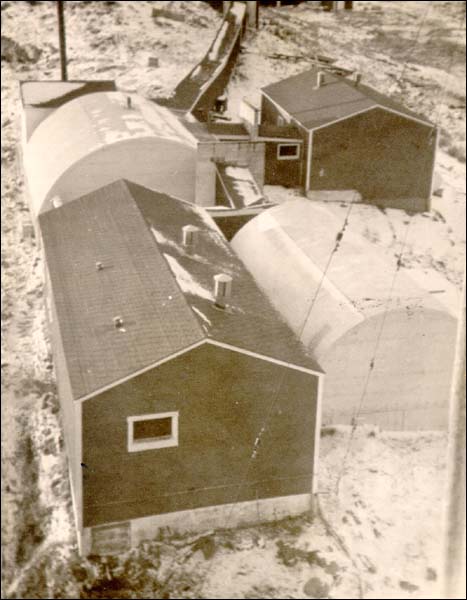 Battle Harbour LORAN Station, 1943
The US Coast Guard established LORAN stations at Mouse Island, Twillingate, Bonavista, and Battle Harbour.
Photographer unknown. Reproduced by the permission of the Maritime History Archive (
PF-306.944.006
), Memorial University, St. John's, NL.
The sites, built in 1942, were intended to be self-contained and employed their own cooks, hospital corpsmen and enginemen, alongside the technicians who operated the transmitters. Approximately 30 Coast Guard personnel worked at each LORAN station.
When the war ended, the US Coast Guard shut down its LORAN station in Twillingate, but continued to operate the other sites in Newfoundland and Labrador until 1953, at which point the Canadian government assumed control.
Wesleyville Direction Finding Station
In 1942, the American military decided to install a special radio beacon on Newfoundland's east coast to help guide Allied aircraft travelling to and from England. Gander airfield had by then become an auxiliary base of the Atlantic Ferry Command, which helped transport newly-built aircraft from North America to Britain. This resulted in increased air traffic over Newfoundland and a need for additional navigational equipment.
The American military selected Wesleyville, Bonavista Bay as a suitable site for the Direction Finding Station because of its easterly position and closeness to Gander. Construction was delayed when the US Army barge carrying equipment for the radio beacon sank while en route to Wesleyville in 1942. It was not until early the next year that the station was fully operational and manned by approximately 20 military communications personnel.
The station's main function was to emit a radio beam towards Preswick, Scotland that Ferry Command pilots could monitor until out of range. It also transmitted weather data to Gander every hour.
Snelgrove Transmitter Station
In 1943, the American Army built a large transmitter station at Snelgrove, near Windsor Lake in St. John's. This installation recorded all U-boat signals and intercepted transmissions from the five American radar stations on the island. The site was manned 24 hours a day by soldiers from Fort Pepperrell who worked in shifts.
All operations at the transmitter were considered top secret and a high wire fence surrounded the installation's four buildings. No civilians worked at the Snelgrove site and only military personnel carrying special security passes were allowed through its fence. The station closed in 1946.