The "New Industries"
If the drive to create "new industries" came from J.R. Smallwood, who appointed himself Minister of Economic Development, his instrument was the Latvian economist Alfred Valdmanis, who became Director of Economic Development in 1950.
Unable to find investors willing to come to Newfoundland, Smallwood encouraged Valdmanis to cultivate his business contacts in Germany, and persuade German businessmen to set up shop in the province. As a result, German firms established thirteen of the sixteen manufacturing plants created in Newfoundland during the 1950s.
Government Plant Construction
Smallwood had set a high priority on building a cement plant on the west coast, and this became the first "new industry." Valdmanis arranged for the German firm MIAG to build the plant (North Star Cement) at Corner Brook. Construction began in 1950. It was paid for by the provincial government, and MIAG operated the plant until 1959. The government also paid for another "new industry" at Corner Brook, a gypsum plant to manufacture plaster and wallboard. This was built by the German firm Benno Schilde.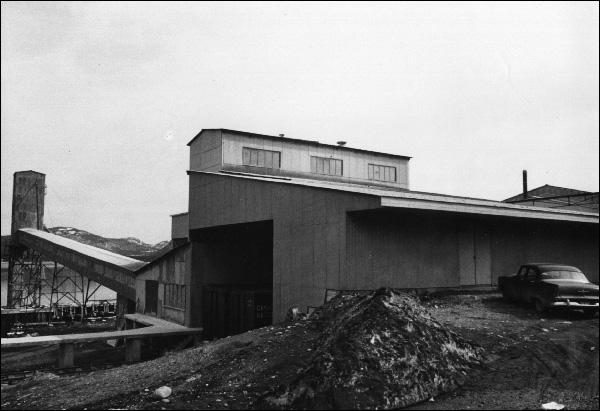 North Star Cement, n.d.
North Star Cement facilities at Corner Brook.
Photograph by Rocky Schulstad. Reproduced by permission of Archives and Special Collections (Coll. 075, 5.04.741), Queen Elizabeth II Library, Memorial University of Newfoundland, St. John's, NL.
These were the only plants to be built entirely by the government, which had counted on selling them to private operators. When this did not happen immediately, the government adopted a new approach: partnership. The government would provide loans and loan guarantees to companies to be incorporated in Newfoundland by German interests, which would in turn bring machinery and expertise. The loans would enable these companies to build and equip their plants and begin operations. This scheme also recognized that German businesses faced restrictions on the export of capital in the postwar period, and could not easily invest their own money abroad.
Chester Dawe
Loans were available to non-Germans as well. In 1951 Newfoundland Hardwoods Ltd. was established at Donovans by the local businessman Chester Dawe to process Newfoundland birch. The founders of Atlantic Films and Electronics Ltd., which also opened in St. John's in 1951, were Latvian refugees who knew Valdmanis. But most of those who took advantage of the government's generosity were Germans, anxious to get a foothold in North America.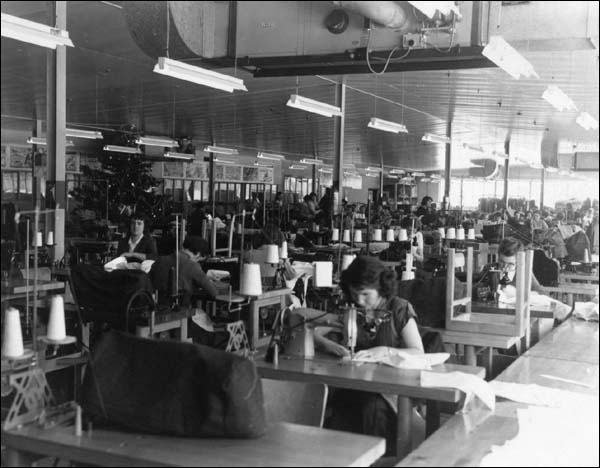 United Cotton Mills Ltd., n.d.
This company was opened in 1951 in St. John's and operated for 35 years until it closed its doors in 1986.
Reproduced by permission of Archives and Special Collections (Coll. 075, 5.05.369), Queen Elizabeth II Library, Memorial University of Newfoundland, St. John's, NL.
German Industry
In 1951 United Cotton Mills was established in St. John's by the German textile industrialists, Raw and Company, to make clothing and other items from imported cotton. In the same year at Octagon Pond, near St. John's, MIAG erected a factory to make machinery - the Canadian Machinery and Industry Construction Ltd. The following year Moser and Sons of Schramberg established Newfoundland Hardboard Inc. next to the Hardwoods plant at Donovans to turn its waste into fiberboard. Also in 1952 Dr. Wilhelm Dorn, originally from Czechoslovakia, was induced to establish Newfoundland Tanneries Ltd. at Carbonear.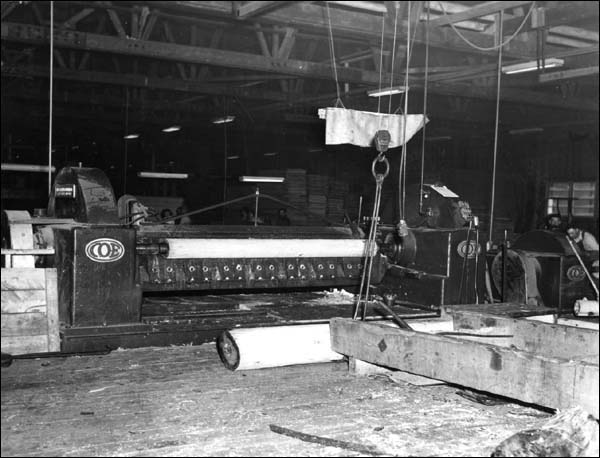 Atlantic Hardboard Industries, n.d.
Interior of the plant at Donovans Industrial Park, near St. John's.
Reproduced by permission of Archives and Special Collections (Coll. 075, 5.05.382), Queen Elizabeth II Library, Memorial University of Newfoundland, St. John's, NL.
More "new industries" followed a tour of Germany by Smallwood and Valdmanis. Some were designed to integrate with the tannery in Carbonear. G. Hahlbrock, of Hamelin Germany, established Atlantic Gloves Ltd. in Carbonear in 1953. Gold Sail Leather Goods Ltd. began operations in Harbour Grace the same year. In 1954, Koch Shoes Ltd. also opened in Harbour Grace.
Valdmanis and Smallwood parted company in 1954, in part because the former began to have doubts about the viability of the industrialization programme. Smallwood did not, and more plants made their appearance. That year a battery manufacturing plant was built at Topsail by Hanning and Kahl; a factory was created at Holyrood by Ludwig Grube to make rubber boots and clothing; and Terra Nova Textiles was established at Harbour Grace by Fritz Stobbe to make work clothes.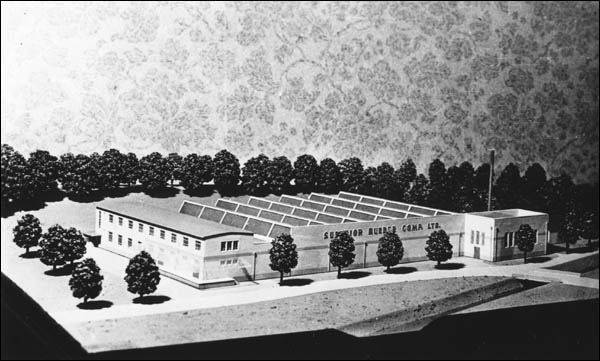 Superior Rubber Co. Ltd. Model, 1951
The rubber factory was built in Holyrood in 1954 and operated until 1956.
Reproduced by permission of Archives and Special Collections (Coll. 075, 5.04.858), Queen Elizabeth II Library, Memorial University of Newfoundland, St. John's, NL.
Two more industries followed. In 1956 Smallwood convinced A. Adler, an English chocolate maker to shut down his factory in England and move it to Bay Roberts. One year later, Eckhardt Knitting Mills, operated by an Austrian manufacturer, was established in Brigus.
Issues with Industrialization
By the end of the 1957-58 financial year, the government was owed $26.3 million by these new enterprises - and had probably spent double that figure. Moreover, most of them were in trouble, in spite of the government's financial generosity. Newfoundland's domestic market was tiny, and the new industries found it difficult to break into markets elsewhere. Transportation costs were high, imported raw materials were expensive, and there was a shortage of skilled labour. Even in Newfoundland, goods from Canada could be sold more cheaply than those produced by local manufacturers - as older industries established before confederation were finding out, to their cost.
In addition, there were complaints about the quality of the leather produced at the Carbonear tannery, and Superior Rubber Ltd. at Holyrood was not only badly managed, but turned out defective boots with second-hand machinery.
In 1957 Smallwood hired an American consulting firm, Arthur D. Little Inc., to study the situation. The report recommended that the Conception Bay leather industries should be closed, the battery plant sold, the textile plants merged, and Newfoundland Hardwoods reorganized. It was pessimistic about the future of the other industries.
There could be no question that Smallwood's programme of forced industrialization had been an expensive failure. At least six of the "new industries" had closed by 1960, others during the years that followed. Only three made it to the 21st century but eventually closed. The North Star Cement plant in Corner Brook was acquired in 2000 by St. Lawrence Cement (now Holcim Inc.), but subsequently closed. Atlantic Gypsum in Corner Brook, operated by Lafarge Canada, closed in 2007 laying off 57 workers. Terra Nova Shoes (formerly Koch Shoes) in Harbour Grace, closed its doors in late 2014.