The London Delegation, 1947
Elected on 19 March, the delegation left for London on 25 April. Its members were Gordon Bradley (chairman), Major Peter Cashin, Malcolm Hollett, A.B. Butt, Chesley Crosbie and William Keough. Bradley and Keough were the only confederates.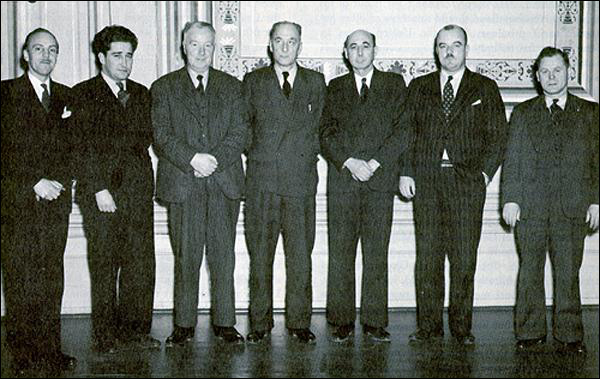 London Delegation Members
From Joseph R. Smallwood, "The Story of Confederation," The Book of Newfoundland, volume III (St. John's, NL: Newfoundland Book Publishers, 1967) 18. Print.
The delegation wanted to find out from the British government what financial and other assistance Newfoundland might receive in the future. Much of the country's debt was held in Britain, in pounds sterling: was there a possibility that some or all of this debt could be cancelled? Newfoundland had made interest-free loans to Britain during the war: could these be set against the sterling debt, or would Britain start paying interest? Was there any possibility of obtaining development loans from Britain?
There were other questions as well. Could Britain help Newfoundland negotiate trade agreements, and itself purchase Newfoundland products? Many Newfoundlanders felt that the 1941 Leased Bases Agreement with the United States was unfair: could the deal be modified, or could Newfoundland be given something in return for making significant concessions? Finally, would Newfoundland have to pay part of the operating loss of the airport at Gander?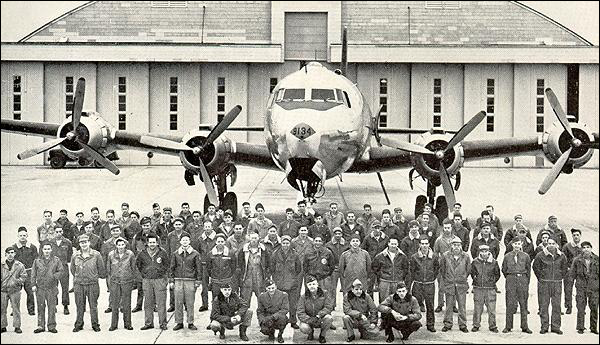 Ernest Harmon Air Force Base, Stephenville
Following the Leased Bases Agreement the Americans constructed several military sites in Newfoundland and Labrador including the Harmon Air Force Base in Stephenville.
Courtesy of the Maritime History Archive (John Cardoulis Collection,1.13.006, Harmonier, US Quarterly Magazine, Dec 1945, 48), Memorial University of Newfoundland, St. John's, NL.
The answers given by Viscount Addison, Dominions Secretary, and other members of the British delegation, disappointed most members of the delegation. This was deliberate, since the British government did not want to encourage Newfoundland to return to responsible government. In summary, Addison indicated that Britain would not provide any significant financial assistance. There was no reason to think that the United States would re-open the bases agreement, and Newfoundland would have to pay one third of the Gander operating loss. Since Britain was short of dollars, it was unlikely to purchase Newfoundland fish or iron ore.
The majority of the delegation did not hide its frustration, and tried to persuade Addison that only responsible government and commission government should be on the referendum ballot. The final meeting on 7 May was tense. Addison refused to compromise on any issue. If Newfoundland returned to responsible government, the British would relinquish its financial obligations. Only if it remained under Commission would Britain "regard itself as responsible for Newfoundland's financial stability." "I hope", Addison concluded, "that you will think of us as kindly as you can when you get back."
But most members of the delegation were hurt and angered by their treatment in London, and made this clear when they reported to the Convention later in May. Britain seemed to have abandoned Newfoundland. It was a difficult reality to grasp.