History of the Vote
Today, Canadian citizens aged 18 and older have the right to vote in federal, provincial, and municipal elections. This is known as universal suffrage. In the past, the right to vote was much more limited. People have been excluded from voting based on their gender, geographic location, and economic status. Women in Newfoundland, for example, could not vote until 1925, and the first election did not take place in Labrador until 1946.
Early Forms of Non-Elected Government
Newfoundland did not have an elected government until 1855. Although the island came to the attention of European nations in the 16th century, they valued it primarily as a seasonal fishing station and not as a place of permanent residence. Settlement was slow to develop during the first 200 years of the migratory fishery, and so too was the need for a local government.

Trinity, NL, ca. 18th Century
Maritime History Archive (
PF-327.1152
), Memorial University, St. John's, NL.
At first, fishing admirals ruled British citizens in Newfoundland and Labrador, but as the island's resident population expanded, it demanded a more formal system of government. In 1729, Britain appointed a governor to administer Newfoundland's political, legal, and military affairs. Most governors were present on the island for only part of the year, usually during the peak of the fishing season from July until November. This changed in 1817, when the British government made the governorship a year-round position.
By then, Newfoundland's permanent population had expanded considerably and some residents believed the system of government had become outdated. A reform movement called for the establishment of a local legislature that the people could elect, as in other colonies of settlement, including Nova Scotia, New Brunswick, and Prince Edward Island.
Until then, all Newfoundland government officials had been appointed by the British crown and were therefore formally answerable to London instead of the local public. The reform movement achieved a degree of success in 1832, when Britain granted the colony representative government. Under this system, eligible voters could elect representatives to a House of Assembly, although the Legislative and Executive Councils were still appointed.
The Vote Arrives
The right to vote had come to Newfoundland - but not to all of it. The island was divided into nine districts: St, John's, Conception Bay, Placentia-St. Mary's, Bonavista Bay, Trinity Bay, Ferryland, Twillingate-Fogo, Burin, and Fortune Bay. Each district was represented by one elected member in the House of Assembly, with the exception of Conception Bay (four), St. John's (three), and Placentia-St. Mary's (two). The south coast west of Fortune Bay, the French Treaty Shore, and Labrador were not given representatives.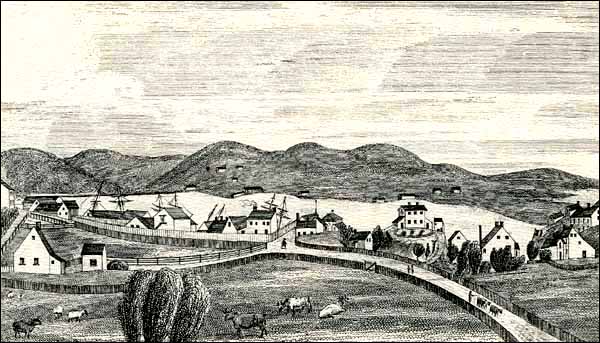 NW arm of Trinity, NL, 1846
The electoral district of Trinity Bay Stretched from Bay de Verde Head to Cape Bonavista.
From Charles de Volpi, Newfoundland: a Pictorial Record (Sherbrooke, Quebec: Longman, Canada Limited, 1972) 27. Print.
Residents were eligible to vote if they were male British subjects, aged 21 or older, and had lived on the island as tenants or property owners for at least one full year before the election took place. Candidates had to meet the same requirements, except they had to have lived in Newfoundland for the two years preceding the election.
The first general election took place in the fall of 1832. There was no secret ballot. Individuals had to declare their vote in public at a polling station. This left voters vulnerable to intimidation or bribery. Fish merchants, clergy and others could easily use their influence to affect election outcomes.
Polling stations were few in number and often quite far apart. Voters might have to travel a considerable distance, which could affect the turnout. Moreover, polling did not occur simultaneously, on the same day, in all districts, as is the case today. In 1832, polling in Conception Bay lasted from 31 October until 3 November, while voting in St. John's did not begin until 5 November.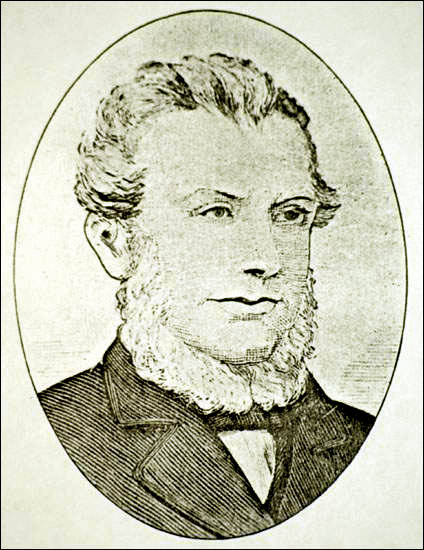 John Kent (1805-1872), n.d.
Kent was one of the candidates to Newfoundland's first House of Assembly in the 1832 general election.
Artist unknown. From Benevolent Irish Society (St. John's, NL), Benevolent Irish Society of St. John's, NL, 1806-1906 (Guy & Co., 1906) 124.
As a result of tumultuous election proceedings in some districts, the British government in 1842 made some alterations to the system. The franchise was narrowed. Voters now had to have lived in their district for two years, and had to own or rent property worth at least £500 in towns and 40 shillings in outports. Real power in the colony remained with the appointed Executive Council.
The Vote Expands
The situation changed in 1855, when the British government granted Newfoundland responsible government. This meant that the Executive Council, headed by the Premier (later known as the Prime Minister), had to be supported by a majority of elected members in the House of Assembly, as is the case today. For the first time in its history, Newfoundland's government was elected by some of the people.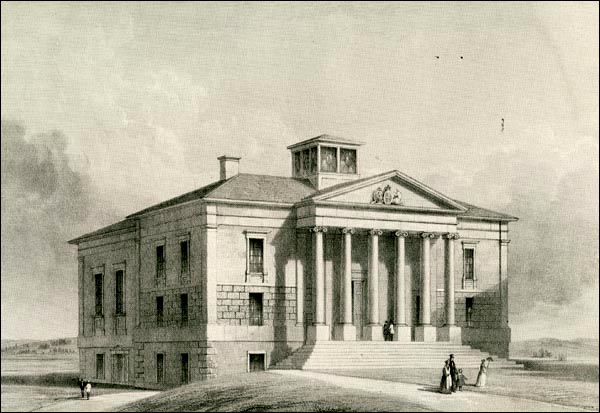 Colonial Building, St. John's, 1851
The Colonial Building housed both branches of the Newfoundland Legislature after it opened in 1850.
From Charles de Volpi, Newfoundland: a Pictorial Record (Sherbrooke, Quebec: Longman Canada Limited, ©1972) 72. Print.
The number of seats in the House of Assembly was doubled from 15 to 30. St. John's was given six seats, divided equally between its new East and West districts. Conception Bay's representation increased to seven, spread over five districts: Harbour Grace (two), Harbour Main (two), Carbonear (one), Bay de Verde (one), and Port de Grave (one). Bonavista Bay, Trinity Bay, and Placentia Bay-St. Mary's each sent three members to the House of Assembly, while Burin, Ferryland, and Twillingate-Fogo each elected two. Fortune Bay retained its single seat and the final one went to Burgeo and LaPoile, a new district created on the southwest coast. The French Shore and Labrador remained unrepresented.
The number and distribution of seats expanded in the coming years. One was added in 1873 (Twillingate-Fogo), and two in 1882, for the new districts of St. George's and St. Barbe on the French Shore. Three more were created in 1885, bringing the total number to 36 - Harbour Grace and Bay de Verde each received one new member and the third seat went to the new district of Fogo.
The secret ballot was introduced in 1887, later than in Canada and the United Kingdom. It was first used at a by-election in 1888 and at the 1889 general election. The 1888 Elections Act had changed eligibility requirements for both voters and candidates. Candidates had to be male British subjects, 21 years or older, who had lived in the colony for at least two years and earned a minimum annual income of $480 or owned property worth at least $2,400. Voters also had to be male British subjects and at least 21 years old. However, their minimum term of residency was only one year and there were no restrictions based on income or property. This was a significant expansion of the electorate, since all adult males were now included.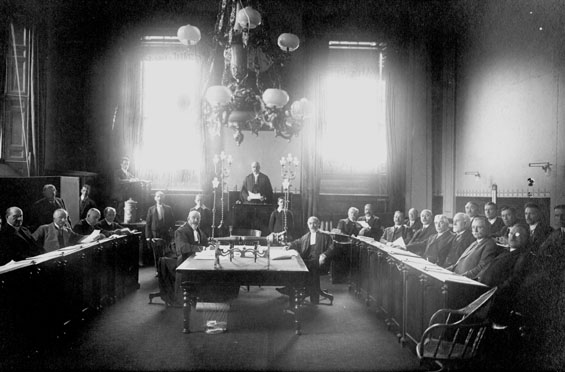 House of Assembly, ca. 1914
Courtesy of The Rooms Provincial Archives Division (C 1-207), St. John's, NL.
The electorate almost doubled in 1925, when women won the right to vote and run for political office. Suffragists had endured years of mockery and opposition while fighting for enfranchisement and their victory was a major step forward for women's rights and democracy in general. It was not, however, a complete victory - while men could vote at age 21, women had to be 25.
On 29 October 1928, 52,343 Newfoundland women cast ballots in their first general election - representing a 90 per cent voter turnout rate. Lady Helena Squires became the first woman to sit in the House of Assembly after winning a 1930 by-election.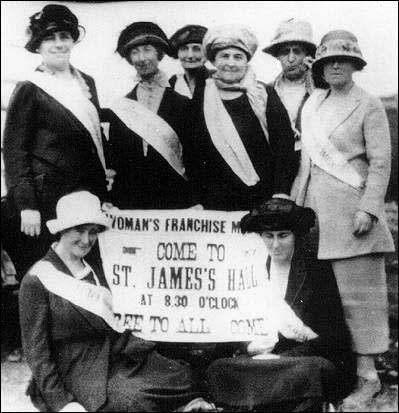 Newfoundland Suffragists, ca. 1920s
Women in Newfoundland won the right to vote and run for public office in April 1925 after decades of lobbying government officials and promoting their cause on the public stage.
Archives and Special Collections Division (Collection 158 8.11), Queen Elizabeth II Library, Memorial University of Newfoundland, St. John's, NL.
In 1925, the government increased the number of seats in the House of Assembly to 40. Bell Island became a separate district and extra seats were created on the west coast to better represent its growing population - a result of the region's burgeoning pulp and paper industry. The increase was short-lived. In 1932, as a result of financial difficulties during the Great Depression, the size of the Assembly was reduced to 27.
The Vote Contracts
The following years brought tremendous financial difficulties to the colony. The cost of building the railway and the First World War plunged Newfoundland in debt; conditions worsened as the world entered the Great Depression in 1929. In an attempt to reduce public spending, the Newfoundland government decreased the number of seats in the House of Assembly to 27 in 1932.
Two years later, the colony voluntarily suspended its right to self-government when it swore in the British-appointed Commission of Government. The change followed years of economic hardship and political scandal, which had taken its toll on the people and prompted many to believe that party politics were inept and inherently corrupt. The Amulree Report supported this view by failing to attribute any of the colony's problems to the Great Depression.
By 1933, the country owed close to $100 million and faced bankruptcy. Britain feared that if one of its colonies defaulted on a loan it could negatively impact the Commonwealth; it agreed to support Newfoundland, but wanted greater political control over the colony to protect its investment. As a result, the Commission was sworn in on 16 February 1934 and Newfoundland was no longer a self-governing nation.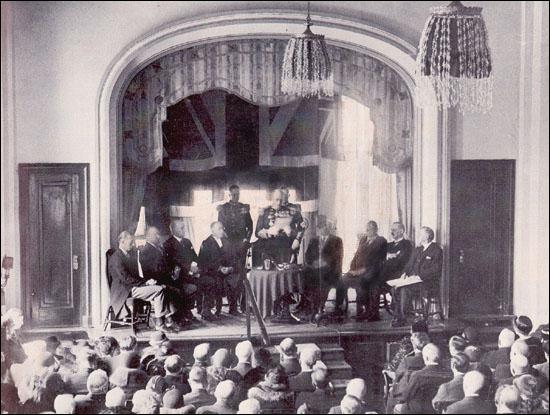 Inauguration of the Commission of Government, 16 February 1934
Courtesy of The Rooms Provincial Archives Division (B 4-137), St. John's, NL.
The wartime prosperity of the 1940s, however, did much to bolster the colony's economy and by 1945 Newfoundland was again financially independent. It was ready to assume a new form of government, but what form would that be? Many advocated a return to responsible government, while others believed confederation with Canada was a more financially-sound choice.
The Vote Returns
On 11 December 1945, Britain announced that there would be an elected National Convention. The public returned to the polls on 21 June 1946 - its first general election since 1932.
The franchise was expanded to all adults in both Newfoundland and Labrador, who voted in 45 single-member electoral districts - 44 on the island and one for Labrador. Labradorians voted for the first time.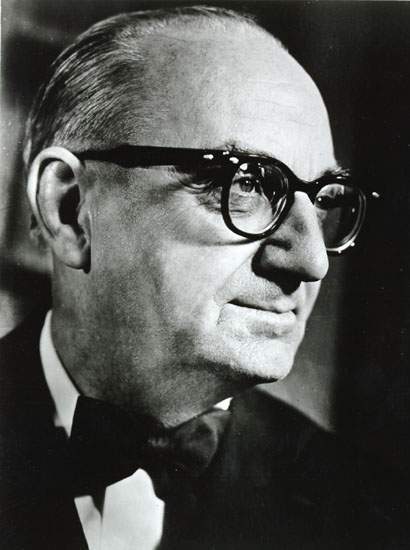 Joseph R. Smallwood (1900-1991), n.d.
Smallwood led the campaign for Confederation and helped negotiate the Terms of Union. He also served as the first premier of the Canadian province of Newfoundland.
Courtesy of Archives and Special Collections (J.R. Smallwood Collection 075, 5.05.061), Queen Elizabeth II Library, Memorial University of Newfoundland, St. John's, NL.
After 1949, when Newfoundland and Labrador became a province of Canada, both the federal and provincial franchises included all residents over the age of 21. In 1970, the minimum voting age was lowered to 18 years, and in 1982, the right to vote was entrenched in the Canadian Charter of Rights and Freedoms. Once a privilege, voting had become a right.