A Newfoundlander to be Proud Of
From the files of The Gazette Febuary 19, 1998.
On a summer morning in July 1994, I received a telephone call from one of my favourite people: Grace Sparkes. Could I, would I, come and collect her personal papers? I made arrangements to go that day and brought back to the archives several cartons of her correspondence, writings, official records and other documentation of her long and productive life.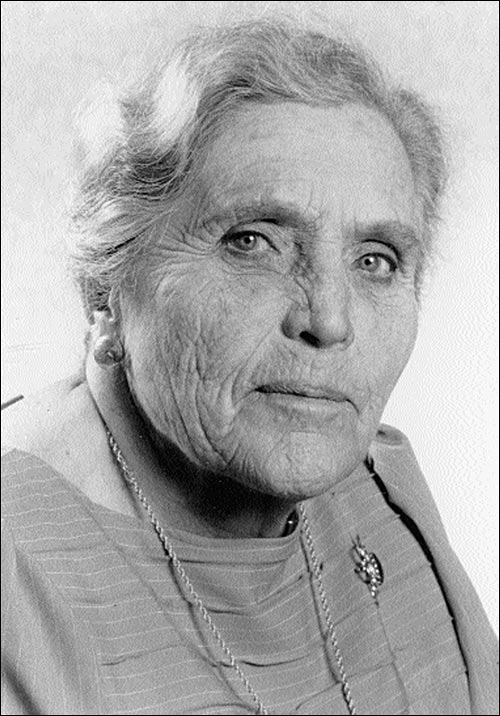 Grace Sparkes
©1998 Photographic Services, Memorial University, St. John's, NL.
Grace Margaret Patten was born in Grand Bank on Feb. 19, 1908, the youngest of 10 children born to Elizabeth Hickman and John B. Patten. Her father was an outport businessman, who operated schooners and employed many men and women in the fishery. Her mother was an educated woman who raised her large family, but still found time for community and church work.
Both parents believed in the value of education. Grace attended the Methodist Academy in Grand Bank, graduating in 1924. Then, like many of her brothers, sisters and cousins, she enrolled in Mount Alison University in New Brunswick. She was convocated in 1928 with a Bachelor of Arts degree, major in Biology, and was immediately accepted into the University of Toronto medical school. After completing one year at the school, she was forced to withdraw for financial reasons. Her father's death in 1927, coupled with exorbitant death duties, had put a severe drain on family finances. The decision to leave medical school was not easy, as she had wanted to be a doctor for a long time, but she made it and got on with her life.
In 1929, she returned to Newfoundland and, after teacher training at Memorial University College, she went teaching in Grand Bank, partly to be near her widowed mother. Two years later she was approached by Dr. Charles Parsons, who asked if she would come to Twillingate to teach the many children from the northeast coast who were forced into lengthy stays in hospital. She agreed and spent the next three years as teacher and later as housekeeper at the Twillingate hospital.
Grace Patten returned to Grand Bank in 1934, and it was there she renewed her friendship with Gerry Sparkes, whom she had known at university. He was now the dentist in Grand Bank, and they soon fell in love and were married. They eventually moved to St. John's where their daughter, Doris, was born in 1942.
When Grace Sparkes moved to St. John's, NL was under the political jurisdiction of the Commission of Government. She soon got to know many of the people involved in the affairs of government and, when the National Convention was called in 1945, she became an ardent supporter of a return to responsible government. She was convinced that Confederation with Canada was a nefarious plot hatched by Canadian and British governments to take care of the "Newfoundland problem." She would have none of that. She campaigned in both referenda for responsible government. Several times she was a victim of "tricks" played y the other side, but she carried on, sometimes at great personal risk.
Responsible government lost to Confederation, but this did not dampen her political spirit or her belief in Newfoundland and Newfoundlanders. In the first Newfoundland provincial election held in May 1949, Grace Sparkes agreed to be the Progressive Conservative candidate in Burin District (which included Grand Bank) because no one else came forward; she firmly believed that no one should be elected by acclamation, that every one should have the opportunity to vote. She ran, not expecting to win, but she did receive approximately 10 per cent of the votes, the average number received by most Conservative candidates outside St. John's. She also agreed to be the federal PC candidate in Burin-Burgeo in the first federal election held in Newfoundland in June 1949, again receiving about 10 per cent of the votes.
In 1949, a few days after Confederation, Grace's husband, Gerry Sparkes, died quite suddenly. She was left a widow with a seven year-old child. She credits the election campaigns that followed shortly thereafter with helping her to get over the shock of her husband's death. Once the elections were over, though, she had to find work. She decided to go back into teaching. After some upgrading, she got a teaching position at Prince of Wales College on LeMarchant Road.
Grace Sparkes was teaching at PWC when Premier Smallwood called a snap election for November 1951. She once again decided to be a candidate in Burin, and arranged with her school board to take two weeks off without pay to campaign and to get a replacement teacher in her place. This time she lost more than the election, however; when the election was over and she was back in St. John's, she was fired by her school board.
Never one to say die, she soon bounced back with a position at the newspaper, The Daily News, where technically she was women's editor, but in reality she was a regular reporter, expected to produce like all the other reporters, and do the women's page as well. She was more than equal to the task. She remained there for seven years, leaving to return to teaching once again, with the same school board which had fired her in 1951. She taught until 1972, ending her career at Prince of Wales Collegiate, a much beloved and respected teacher.
If politics caused turbulence in her life, curling provided an emotional outlet. She took up the sport at Bally Haly Golf and Country Club shortly after her arrival in St. John's, and was an avid curler for over 40 years. While teaching at Prince of Wales, she arranged for ice time at Bally Haly and organized the first school-girl curling teams at the school, teaching the girls the fundamentals of the game herself, after school.
Grace Sparkes has had a lifelong involvement in community service and, with her retirement from teaching, she became more in demand. She was a founding member of Memorial University's alumni association in the 1970s and served as chair of the first major alumni reunion in 1975. In 1974 she was appointed to the university's Board of Regents, serving until 1986.
She has been involved with the Kiwanis Music Festival since it began in the early 1940s, and has served on local and national boards with the United Church of Canada and the National Advisory Council on Aging.
Honors have been various and many. She holds honorary degrees from Mount Alison University (1989) and Memorial (1992), is a member of the Curling Hall of Fame, an honorary life member of Bally Haly Golf and Country Club, and a recipient of the MacDonald-Cartier Award for service to the Progressive Conservative Party of Canada. In 1986 she was named Memorial's Alumna of the Year.
At the age of 78, Grace Sparkes began a new career. She agreed to play Grandma Walcott in CBC television productions based on a number of Ted Russell's radio scripts about the fictional community of Pigeon Inlet. It was a role which fit her like a glove. Her own sense of humour, her wisdom and her love of life came shining through her character.
Now as she turns 90, she is still no more retired than she was at 50. She plays piano for as long as she can each day, usually Bach, spends time with friends and family, is still involved in community work and lives life to the fullest.
Grace Sparkes is a Newfoundlander we can all be proud of. Happy birthday! We hope you live to be a hundred!