Gander
Gander's airport was the largest on the planet in 1940 and played a crucial role in the ferrying of aircraft from North America to Britain during the Second World War. Canadian, American, and British troops all served at Gander, while more than 1,500 Newfoundland civilians found employment there. By 1945, the airfield consisted of four runways, hundreds of buildings – including barracks, hangars, and a hospital – and the most advanced communications system available.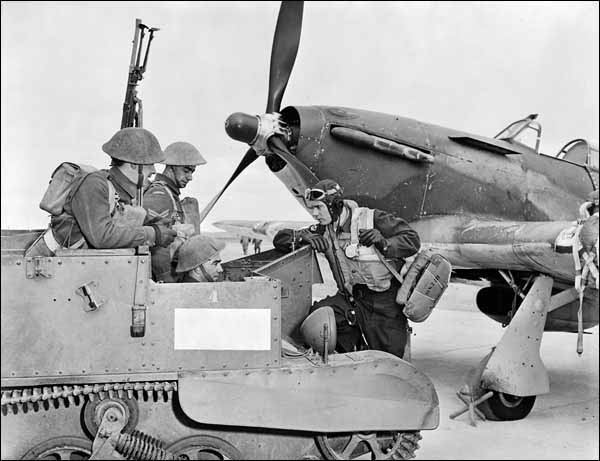 Airman and Infantrymen at RCAF Station, Gander, 1943
Three infantrymen talk with a flight officer. In the background is a Hawker Hurricane XII aircraft.
Photographer unknown. Courtesy of Library and Archives Canada (
PA-210166
).
Just nine years earlier, the site was an undeveloped patch of wetlands and boreal forest. There were no inhabitants, no nearby permanent settlements, and no roads leading to the area. It was not until interest mounted in trans-Atlantic flight during the1930s that the wilderness along Gander Lake became internationally significant.
Airport Origins
As the popularity of passenger flight grew, airlines wanted to offer service between North America and Europe. Government officials from Newfoundland, the United Kingdom, and Canada agreed in 1935 to build an airport near Gander Lake because of its situation near the railway and along the Great Circle Route – the shortest air distance between London and New York.
That summer, a survey team selected a flat and relatively fog-free area on the lake's north shore for construction. Work began almost immediately and progressed rapidly – up to 900 labourers cleared land, filled bogs, and erected buildings. When the airport opened in 1938, its facilities included four runways, a hangar, radio and meteorological equipment, administrative buildings, dormitories, a power plant, a post office, and a movie theatre. It was known as the Newfoundland Airport until 1941, when the Canadian military changed its name to Gander.
The outbreak of war in 1939 made the airport's strategic importance apparent to military and government officials. As the most easterly existing land-based airport in North America at the time, Gander was an ideal refueling point for Allied aircraft traveling to and from Europe; it could also provide the greatest range for surveillance flights patrolling the western Atlantic. Under enemy control, however, the facility would be a liability and provide Nazi forces with an entry point to North America.
Concerned that no plan existed for the airport's active defence, Newfoundland Governor Sir Humphrey Walwyn sent a telegram to Britain's Dominions Secretary, Anthony Eden, on September 15, 1939 requesting that the facility be turned over to the Canadian military for the duration of the war. He suggested a similar course of action for the nearby seaplane base in Botwood. Eden, however, was opposed to this plan and replied in a telegram on November 6 that "it would be undesirable to allow these airports, which are such an important factor in our bargaining position vis-à-vis Pan-American Airways and Unites States, to pass out of our control even temporarily."
RCAF in Gander
London changed its mind in the spring of 1940 after Nazi troops invaded France and hostilities escalated in Europe. By the end of June, Canada had deployed air and army units to Gander. A squadron of five Royal Canadian Air Force (RCAF) bombers arrived in Gander on June 17, and members of Canada's Black Watch (a reserve infantry regiment) arrived the following week. The RCAF's mission in Gander was to defend and patrol the western portion of the Atlantic, provide early warning of enemy approach, and defend Gander in the event of attack. The army was instructed to protect the base from low-level air raids or land attacks.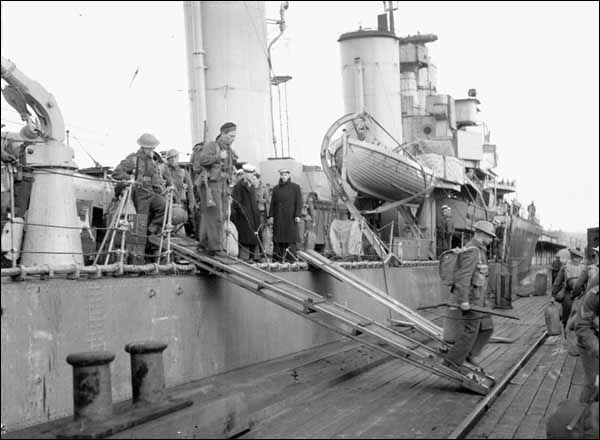 The Black Watch, 1940
Members of the Black Watch Regiment disembark from H.M.C.S. Ottawa at Botwood, NL on June 22, 1940. From Botwood, some members of the Black Watch proceeded to Gander.
Photographer unknown. Courtesy of Library and Archives Canada (
PA-104042
).
The RCAF obtained permission from the Commission of Government in August to expand the airport, and began work almost immediately. At a cost of $1.3 million, it installed additional hangars, barracks, and storage spaces, and upgraded existing utilities.
The base's role expanded dramatically that November, when it became an auxiliary base of the Atlantic Ferry Operation. Early in the war, Britain's Royal Air Force (RAF) had engaged American factories to build additional planes. Instead of dismantling the aircraft and shipping them by sea – where they would take up valuable convoy space and risk attack from U-boats – the RAF decided to fly them across the Atlantic, using airfields in Gander and Goose Bay as stopovers. Ferry Command was established in 1940 to facilitate the system, and on November 10, 1940 the first aircraft – seven Hudson bombers – departed Gander and landed in Ireland 10 hours later. By the end of the war, Gander and Goose Bay had helped deliver some 10,000 aircraft from North America to Europe.
Expansion
As hostilities escalated in Europe during 1941, so too did flying activity at Gander. The RCAF had to once again upgrade facilities to support the hundreds of planes passing through on a daily basis. Workers lengthened runways and built additional hangars, barracks and mess halls. They also installed a hospital, a bakery, a laundry, a heating plant, and warehouses. Upgrades continued throughout the war, and cost the Canadian military more than $20 million.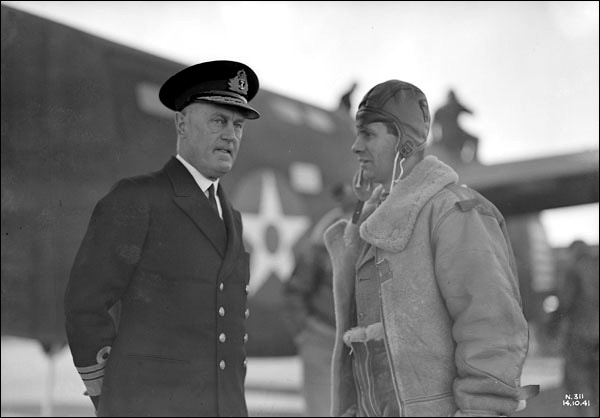 Governor Walwyn at Gander, 1941
Newfoundland and Labrador Governor Sir Humphrey Walwyn (left) speaking with an unidentified airman at RCAF Station, Gander, October 14, 1941.
Photographer unknown. Courtesy of Library and Archives Canada (
PA-191244
).
To further alleviate the strain of increased air activity, the Permanent Joint Board of Defence – a group of military and diplomatic representatives from Canada and the United States – permitted the United States Air Force (USAAF) to station troops at the base and install their own facilities. By the end of 1941, workers had begun to build hangars and more than 100 temporary buildings on what became known as the 'American side' of the base.
The resulting construction boom created much employment for civilian workers who arrived from surrounding communities. During the war, approximately 1,500 Newfoundlanders worked at Gander as technicians, engineers, carpenters, electricians, meteorologists, mechanics, heavy equipment operators, and general labourers. They lived in temporary housing located outside the base and near the railway tracks.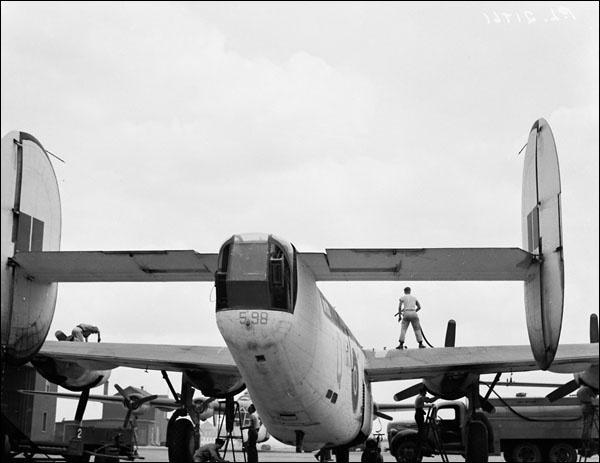 Servicing an Aircraft, Gander, 1943
A ground crew services a Consolidated Liberator aircraft at the RCAF's Gander air base, July 29, 1943.
Photographer unknown. Courtesy of Library and Archives Canada (
PA-037440
).
By 1943, Gander was the largest RCAF base and one of its most active. The airfield played an important role in hemispheric defence, and relayed meteorological and navigational information to all Allied bases in Labrador, Greenland, and Baffin Island. Its greatest contribution was to the Ferry Command, which prompted British Prime Minister Winston Churchill to call it "the largest aircraft carrier in the North Atlantic."
Post-War
After the war, Gander helped transport troops and materials back to Canada and the United States from Europe. The Canadian military returned control of the base to the Commission of Government in 1945 and disbanded RCAF Station Gander. The airport was used for commercial purposes, and became a major refueling site for civilian trans-Atlantic flights. The town of Gander evolved as a direct result of the airport's participation in the war, and inherited churches, schools, libraries, a hospital, an electrical system and other facilities from the RCAF.
Following Confederation, the Canadian Department of Transport assumed control of Gander Airport, which is now part of the country's civil air navigation services provider, known as Nav Canada. On September 11, 2001 Nav Canada personnel stationed at Gander redirected all westbound North Atlantic air traffic and landed 40 planes at Gander, making aviation history.