Eleanor Power (? - 1754)
(From the Women's History Walking Tour Booklet)
Eleanor Power earned the distinction of being the first woman hanged in English Canada, on October 11, 1754. She devised and participated in a plan to rob Magistrate Keen, where she was employed as a washerwoman or maid-of-all work. The resulting robbery netted only some bottles of liquor.

St. John's, ca. 1750
Photo from a painting which was owned by the late former premier J. R. Smallwood. It shows fish flakes in foreground and St. John's in background.
Courtesy of Archives and Special Collections (Geography Collection 137, Photo 467), Queen Elizabeth II Library, Memorial University, St. John's, NL.
Eleanor Power deserted the group after one member decided to take revenge for something the magistrate had done to him. It was on this return trip to the house that William Keen was murdered in his bedroom after the noise of the robbery awakened him.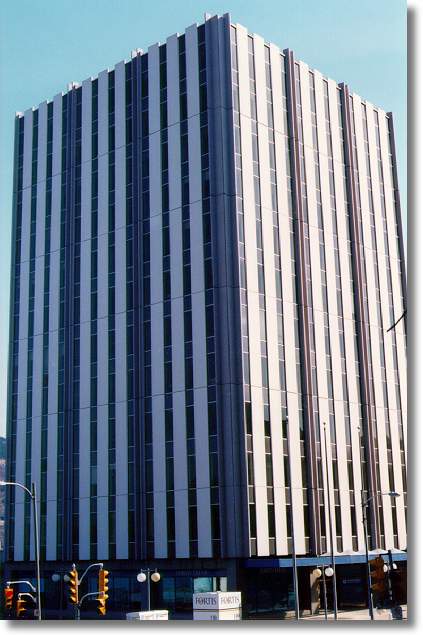 The Fortis Building
The Fortis Building at 139 Water Street stands on the site where the first woman was hanged in English Canada.
© 1998, Lisa LeDrew
Eleanor Power was hanged back to back on the same gallows as her husband on a gibbet erected on the wharf of Magistrate Keen in St. John's - where the Fortis Building stands today. The Powers were taken down and buried near the gallows.