...and oh, what a battle it was!
the debate, motion and vote on Newfoundland's entry into Confederation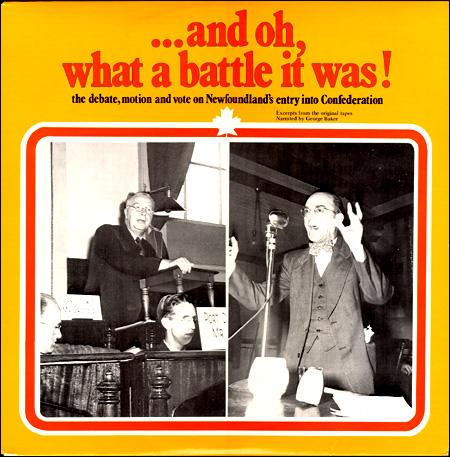 Text on back of album cover:
Emotions and ideas ran deep and hard during the great struggle for Newfoundland's Confederation with Canada. The first and perhaps most important part of this struggle took place during the National Convention (1946-1948).
This album presents excerpts of some of the most impassioned speeches both for and against Confederation which were heard during the convention. As the voices of the past come alive on this recording the listener will be able to conjure up something of the great vision with which earlier Fathers of Confederation must have been imbued and of the opposition they encountered.
That Newfoundland's struggle for Confederation with Canada, propelled relentlessly by Joseph R. SmaIlwood, took place late enough in History to be tape recorded and reproduced in part here should render this album a collector's item_not to be stored in a dusty cupboard, but to be played again and again by present and future generations.
George Baker
Former Chief Clerk, Editor of Hansard
and Chief Legislative Librarian of the
Newfoundland House of Assembly.
Produced by
Maher and Hurley Associates
St. John's, NL
Tracks:
01. Introduction by George Baker. Play Audio (2:03)
02. Debate on Smallwood's Motion (1946) to inquire into possibility of Union with Canada. Play Audio (3:42)
03. Major Peter Cashin's remarks concerning attitude of Commission of Government to delegation from National Convention and Convention's Terms of Reference. Play Audio (4:07)
04. Smallwood's motion to send delegations to London and Ottawa. Play Audio (1:00)
05. Major Cashin's report from London delegation. Play Audio (2:52)
06. Smallwood's tabling of report of Ottawa delegation and raising of point of privilege. Play Audio (5:00)
07. Chairman Gordon Bradley's resignation as Convention Chariman Play Audio (4:08)
08. Motion to put Confederation on Ballot Paper for National Referendum (1948). (Smallwood and Higgins) Play Audio (18:09)