Changing Government 1971-72
On 18 January 1972, Joseph Smallwood resigned as premier and was replaced by Frank Moores, leader of the Progressive Conservative party. This event ended almost 23 years of Liberal party government and Smallwood's personal dominance.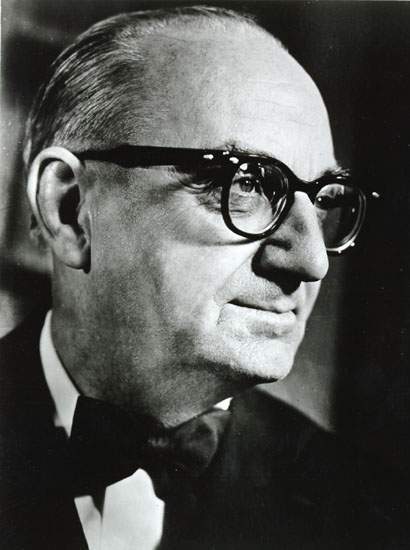 Joseph R. Smallwood (1900-1991), n.d.
Courtesy of Archives and Special Collections (J.R. Smallwood Collection 075, 5.05.061), Queen Elizabeth II Library, Memorial University of Newfoundland, St. John's, NL.
The change did not come about easily. The October 1971 general election resulted in a near-tie that gave neither party enough seats in the House of Assembly to form a government. Two months of recounts and court action followed, and it was finally determined that Moores had a slim majority. While this was going on, both parties tried to persuade elected members to change their political allegiance.
When the House finally opened in March, the two parties were tied and, upon Moores's advice, the Lieutenant Governor dissolved the legislature. A general election later that month gave the Conservatives a clear majority.
Smallwood's Weakening Influence
Smallwood dominated the province's politics for decades. He led Newfoundland into Confederation with Canada in 1949 and subsequently won six consecutive general elections. But by the time he called the seventh in 1971, his power and influence had begun to weaken.
Failed megaprojects, controversial resettlement plans, labour disputes, and his autocratic leadership style all helped to turn public opinion against him. Also, for the first time Smallwood faced strong opposition from of the Progressive Conservatives. Led by young, accomplished, and well-respected politicians such as Frank Moores and John Crosbie, the party presented a striking and credible alternative to the Smallwood Liberals.
Social changes also undermined Smallwood's appeal. By the late 1960s, many people took for granted the material improvements that had accompanied Confederation and boosted Smallwood's popularity. A new generation of voters had come of age; well-educated and weary of the government's industrialization and resettlement schemes, the Conservatives seemed to be a fresh and more modern alternative.
The 1968 federal election delivered the first substantial blow to Smallwood's political power. While Pierre Trudeau led the federal Liberals to an easy victory elsewhere in the country, Newfoundland and Labrador sent six Conservatives and only a single Liberal to the House of Commons. The results were viewed as an expression of discontent with Smallwood, not the federal Liberals.
Provincial Election
On 6 October 1971, Smallwood announced that a provincial election would take place on the 28th of that month. An earlier election had been expected. Although early polls gave the Liberals a slim lead, they also suggested the Tories were gaining ground and that Smallwood's popularity was in decline. If the trend continued, there would be a PC victory.
Aware that Liberal support was weakest in urban centres, Smallwood focused his efforts on the outports. A little more than half of the House of Assembly's 42 seats were in rural areas and boosting support there could secure a Liberal majority. Smallwood worked hard to court the rural vote, visiting dozens of communities, and once delivered 25 speeches in a single day, but Conservative momentum continued to build. Campaigning under the slogan "The Time Has Come" (to remove Smallwood from power), Frank Moores and his team tapped into the electorate's new mood.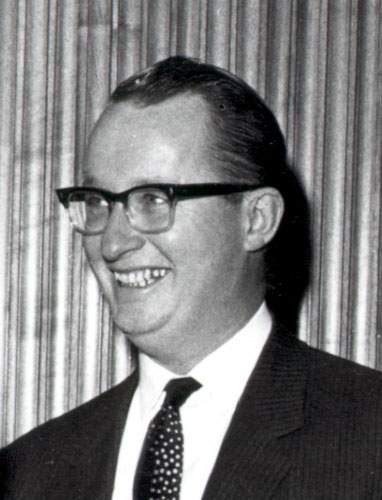 Frank Moores (1933-2005), n.d.
Moores campaigned under the slogan "The Time Has Come" during the 1971 election.
Photo by Valerie Lilly Studios. Courtesy of Archives and Special Collections(Coll - 75, 5.04.840), Queen Elizabeth II Library, Memorial University of Newfoundland, St. John's, NL
When the count ended on 29 October, the result was close to a tie. The PCs had 21 seats, the Liberals 20, and the New Labrador Party one. The Conservatives had won 51.33 per cent of the popular vote and the Liberals 44.47 per cent. Six districts had been decided by less than 100 votes and one (St. Barbe South) by a margin of eight. Recounts were requested in all of them. In the meantime, the narrowness of the results meant that no clear winner had emerged.
Whichever party formed a government would have to elect one of its own members to serve as Speaker of the House, thus decreasing its number of seats by one – the Speaker is viewed as an independent member, and only votes in the case of a tie. The Conservatives had more seats than any other single party, but if they elected a Speaker, they would be reduced to 20 seats and face an opposition of 21 (20 Liberals and one New Labrador Party member). The Liberals had fewer seats and were also incapable of forming a government.
Smallwood made it clear on the evening of 29 October that he would not resign as premier until the recounts were completed. His decision met with opposition from both the Conservatives and the press, but was supported by the constitutional expert Senator Eugene Forsey, who told the Evening Telegram on 2 November that Smallwood "would look foolish if he resigned now and then the recounts gave him an extra two or three seats."
Smallwood announced on 2 November that he would leave office if the recounts confirmed a Liberal minority. He went even further on 11 November, stating that no matter what the outcome, he would step down as both premier and leader of the Liberal Party. A leadership convention was scheduled for 4-5 February, 1972.
Confusion and Political Wrangles
In the meantime, the narrowness of the election result encouraged confusion and political intrigue. Both Moores and Smallwood sought support from Tom Burgess, the New Labrador Party member for Labrador West, who held the balance of power. If Burgess supported the Conservatives, they could form a government; if he supported the Liberals, then they would be tied for seats with the Conservatives and Smallwood would have valuable time to maneuver – perhaps he could gain a majority by convincing one or two elected Conservatives to join his party; if not, he could declare a hung parliament and call another election.
Smallwood's hopes were thwarted on 12 November, when Burgess announced that he would support the Conservatives, giving them a majority of seats pending recounts. Ten days later, though, it became known that the St. Barbe South recount could not be completed; the ballots cast at a polling station in Sally's Cove had been mistakenly burned by the deputy returning officer. The Liberals then asked the Supreme Court to declare the St. Barbe South election void. The Conservatives countered that the election of their candidate, who had an eight-vote lead after the October count, should be confirmed. All the other recounts confirmed election night results.
Smallwood stayed on as premier until, on 11 January 1972, the court ruled in favour of the Conservatives. Chief Justice Furlong wrote "I have little difficulty in arriving at the conclusion that this election was properly conducted and there are no grounds upon which it should be set aside and declared void. The electors freely made their choice known, they voted and their votes were counted in all the polling stations in the District, including Polling Station No. 13 at Sally's Cove."
Smallwood announced his resignation as premier at a press conference on 13 January. He explained the two-day delay by claiming that two members of opposition parties – Burgess and an unidentified Conservative – had expressed interest in joining the Liberals, but later decided to stay put. Smallwood formally stepped down on 18 January 1972, the same day that Moores and his PC government were sworn in to office.
Unstable Conservative Government
Uncertainties surrounding the province's political future did not end there. Burgess had withdrawn his support for the Conservatives on 15 January, arguing that Moores had backed down on a promise to give him a cabinet position if he formed a government. The party lost another seat on 24 January when St. John's South MHA Hugh Shea quit the Conservative caucus to sit as an independent. On 2 February, both Burgess and Shea joined the Liberals.
The Liberals also suffered losses. On 21 January, the Liberal member for Fortune Bay, W. Augustus Oldford, announced he would relinquish his seat to return to his previous work as a judge. A final change came on 28 February, when William Saunders, Liberal MHA for Bay de Verde, also decided to give up his seat.
When the House finally opened on 1 March 1972, 20 Conservatives faced 20 Liberals, including Burgess and Shea. Tory James Russell was appointed speaker, leaving a government of 19 against an opposition of 20. That evening, Premier Moores asked Lieutenant Governor E. John A. Harnum to dissolve the Assembly and call an election, arguing that neither the Tories nor the Liberals – now led by Edward Roberts – could elect a Speaker and form a government.
Harnum agreed, and the ensuing election on 24 March returned a solid majority of 33 Conservatives against nine Liberals. Burgess and Shea lost their ridings. Smallwood did not run, but did try to return to politics in 1974 by challenging his successor, Edward Roberts, for leadership of the Liberal Party. A convention was held that October, which Roberts won on the second ballot.
Smallwood formed the breakaway Liberal Reform Party the following year, which won four seats in the September 1975 general election, including Smallwood in Twillingate. Many Liberal supporters argued Smallwood helped deliver a second victory to the Conservatives by splitting the Liberal vote. The Smallwood faction rejoined the Liberals in November 1976, and Smallwood resigned his seat in June 1977 at the age of 76. The Liberals remained in opposition until 1989, when they returned to power under the leadership of Clyde Wells.