F. Gordon Bradley
Born St. John's, 1886; Methodist (United Church)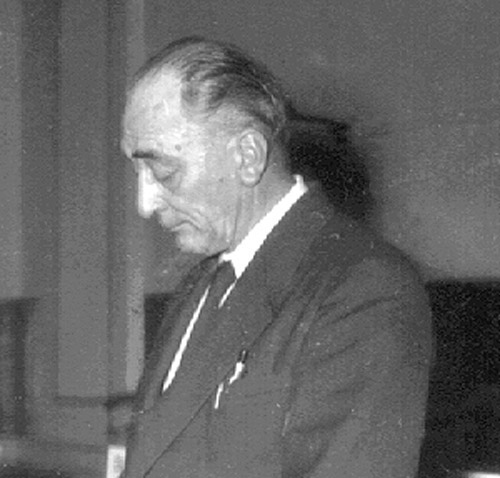 F. Gordon Bradley speaking at the National Convention
Courtesy of Archives and Special Collections (J.R. Smallwood Collection 075, Photo 5.05.285), Queen Elizabeth II Library, Memorial University of Newfoundland, St. John's, NL.
Gordon Bradley's father was a cabinet-maker, a profession that placed him in the higher end of the working class. The young Bradley studied at the Methodist College in St. John's, and then taught at the Methodist high school in Bonavista for three years. He the worked with a law firm in St. John's and went on to attend Dalhousie Univeristy Law School in Nova Scotia. He was called to the bar in 1915. Bradley was an active member of the Orange Lodge, the most influential Protestant fraternal organization, and served as its Grand Master.
In 1924 he was elected to the House of Assembly. Bradley was one of the few people who opposed the creation of Commission of Government. He felt that the government was sacrificing the best interests of the Newfoundland people to protect the financial interests of British, who had loaned money to Newfoundland. Bradley was disillusioned with the island's political life and was happiest living in Bonavista, where he took up the position of magistrate. He led a Royal Commission into the standard of living of woods workers, and he condemned the low pay and harsh conditions under which those men had to work. In 1939 he resigned as magistrate and engaged in the fish business.
Bradley was a liberal who believed in democratic government. He was not a socialist, but he felt the government should take care of those most in need. He was also pessimistic about Newfoundland's ability to survive on its own, and he became convinced that confederation would bring benefits, although the public did not know his views. He also distrusted the St. John's business community, which he felt put its own interests ahead of the interests of the country.
During the immediate post-war period Bradley began working with Joseph Smallwood to promote confederation. He tried to keep Smallwood from hurting confederation's chances by moving too aggressively. Bradley was elected to the National Convention and, as one of the few members with parliamentary experience, was elected speaker of the Convention after the death of the first chairman. He helped negotiate terms of union with Canada, for which he received much criticism from anti-confederates. Bradley allowed Smallwood to be the front man in the confederation campaigns.
After Confederation, Bradley became a federal politician.