Alfred Valdmanis
One of the more bizarre aspects of the Smallwood government's early attempts at economic diversification was the involvement of the Latvian émigré Alfred Valdmanis (1908-1970). An economist, Valdmanis had played a prominent role in Latvian business and politics during the 1930s, and had managed to survive his country's occupations by cooperating — up to a point — with the German authorities.
The end of the war in 1945 found him in Germany. He worked with the British and American forces as a refugee consultant and then, in 1948, left for Canada. He became a visiting professor at McGill and Carleton universities, and advised the federal government on displaced persons, immigration and industrial development.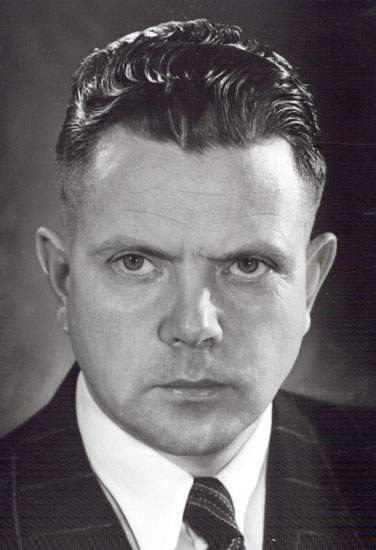 Alfred Valdmanis, n.d.
Caption on back of the image reads "A.A. Valdmanis." Valdmanis was Newfoundland's Director-General of Economic Development from 1950 to 1953.
Courtesy of Archives and Special Collections (Coll. 075, 5.05.081), Queen Elizabeth II Library, Memorial University of Newfoundland, St. John's, NL.
Director of General Economic Development
The Smallwood government was looking for expertise to help implement an economic diversification plan. C.D. Howe, the federal Minister of Trade and Commerce, recommended Valdmanis. Smallwood went to Ottawa, met Valdmanis, and returned to the province "…convinced he had found the savior for Newfoundland." (Bassler, 249)
Smallwood was fascinated by Valdmanis' life, and his stories about once being groomed as the next 'economic czar' of Latvia before the war. If nothing else, the "Soviet torture scars" (a German official attributed them to a childhood operation) on his back were proof of the hardship he endured on his political journey, and he came highly recommended.
Smallwood hired Valdmanis in 1950 with a $10,000 annual salary — a large amount in those days — as Director General of Economic Development. Valdmanis chose the title, and Smallwood stipulated that he would serve directly under the premier. According to Valdmanis, "'I was no civil servant. There were no rules, no regulations, no contracts. I had to make a fast start, and together we would succeed,'". (Bassler 250)
In 1951 Valdmanis demanded (and received) an even higher salary and a substantial budget, claiming that he would eliminate unemployment in the province. He argued that Newfoundland needed a five-year plan to catch up to the rest of Canada, and promised to build flour and feed mills, a fur processing plant, a leather tannery, a marine oil processing plant, a fish cannery, two 500-ton paper mills (one in Labrador and one in Bay d'Espoir), and a steel or chemical industry. This was in addition to the cement and gypsum plants built on the west coat between 1951 and 1953. Naïvely, Smallwood seems to have believed him, and depended on him absolutely.
With the help of Valdmanis' Latvian and German contacts — and of course, provincial government money — Atlantic Gypsum, Atlantic Hardboards, Newfoundland Tanneries, North Star Cement, Superior Rubber, and United Cotton Mills had all opened their doors for business by 1952, and others followed. But Valdmanis had begun to see that there was trouble ahead, and encouraged Smallwood to discontinue the industrial programme. The Premier did not share this view, and Valdmanis ceased to be Director of Economic Development in 1953.
Another cause of friction was Valdmanis' behavior as chairman of the Newfoundland and Labrador Company (NALCO), which had the task of finding buyers for the cement and gypsum plants, and promoting the development of the province's natural resources. Smallwood was infuriated by Valdmanis' decision to set up a NALCO office in Montréal, among other things, but he was also becoming impatient with NALCO's apparent failure to deliver tangible results. He forced Valdmanis to "retire" from NALCO early in 1954.
Suspicious Actions
There had always been suspicions about Valdmanis. He found jobs in Newfoundland for some old friends, which was a contentious issue within the cabinet. In 1951 The Canadian Jewish Weekly alleged that he was instrumental in killing Jews in Latvia, an allegation that threatened to drag the Newfoundland legislature through the mud alongside him. The final blow to Valdmanis' career came with charges that he had taken kickbacks from the builders of the cement and gypsum plants, for which he was arrested on April 23, 1954.
Harold Horwood, a former member of Smallwood's cabinet, claimed that when Valdmanis was released on bail, he phoned Smallwood and asked to come and see him. Smallwood refused - he felt personally betrayed, since he had placed great faith in Valdmanis.
Valdmanis was convicted and sentenced to four years in prison (he served 27 months). Apparently Smallwood was not happy about the lenient treatment Valdmanis received in prison, and refused to support his application for parole. After Valdmanis' release, he was employed by firms in mainland Canada. On August 11, 1970, he was killed in an automobile accident near Edmonton, Alberta. After hearing the news, Smallwood remarked that Valdmanis was, "'a brilliant but tragic figure.'"(Bassler 380)