The Early Settlement of St. John's
St. John's has a long history. Whether or not Cabot actually visited the harbour in his voyage of 1497, it is likely that he coasted the area. A series of expeditions to Terra Nova by Portuguese in the Azores followed in the early 16th century, and by 1540 French, Basques and Portuguese crossed the Atlantic annually to fish the waters off the Avalon Peninsula.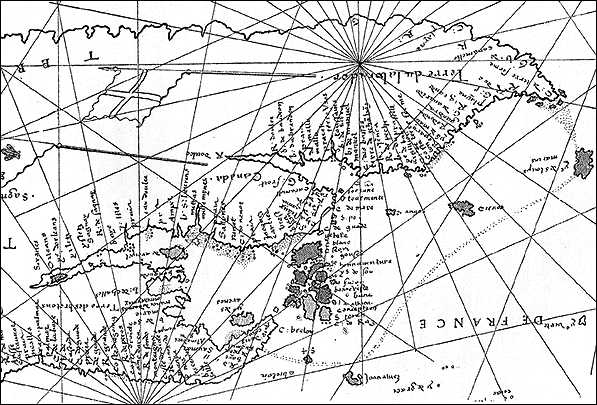 Desliens World Map, with North-up Orientation, Showing a Portion of North America, ca. 1541
In the middle of the 16th century French chart making was concentrated in Normandy and particularly in Dieppe. Nicholas Desliens' world map of 1541 was among the earliest productions of the Dieppe school. In addition to the 1541 map, two world maps created in 1566 and 1567 are also credited to Desliens.
From Henry Harrisse, Découverte et évolution cartographique de Terre Neuve et des pays circonvoisins 1497-1501-1769: essais de géographie historique et documentaire (London: Henry Stevens, Son & Stiles, 1900).
"St. Jehan" is shown on Desliens world map of 1541 and "San Joham" in Freire's Atlas of 1546. When John Rut visited St. John's in 1527 he found Norman, Breton and Portuguese ships. In 1583 Sir Humphrey Gilbert found 16 English ships with 20 French and Portuguese vessels using the harbour and by 1620 the fishermen of England's West Country had excluded other nations from most of the east coast. Since the Beothuk do not seem to have regularly frequented the Avalon Peninsula south of Trinity Bay, the early history of St. John's is, essentially, the story of a gradually intensifying European presence marked in the late 16th century by the dominance of England's West Country fishermen and in the 17th century by the beginnings of settlement by these fisherfolk.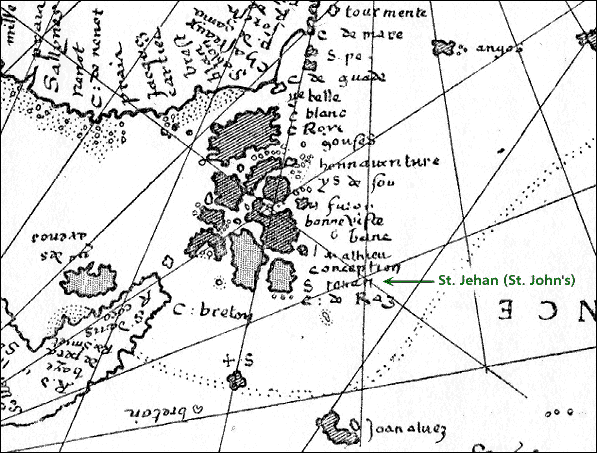 Detail of Desliens World Map, ca. 1541
Detail shows Newfoundland and "St. Jehan" (highlighted with green text and arrow).
From Henry Harrisse, Découverte et évolution cartographique de Terre Neuve et des pays circonvoisins 1497-1501-1769: essais de géographie historique et documentaire (London: Henry Stevens, Son & Stiles, 1900). Green text and arrow added by Duleepa Wijayawardhana, 1998.
Colony Establishment
In 1627, William Payne, who was involved in a failed attempt to establish a colony there, called St. John's "the principal prime and chief lot in all the whole country". By this time St. John's had "plantations" and "some houses already built", which might have dated to the previous decade. Unfortunately few records have survived to shed light on the activities of Payne and his associates John Slany and Sir Percival Willoughby.
The resident population grew slowly in the 17th century, but St. John's was by far the largest settlement on the English Shore when British naval officers began to take censuses around 1675. Most of the 29 planter heads of households recorded in 1680 said they had been in St. John's for many years and several reported they were born there. There are reasons to doubt, then, that planters were as transient as some historians have suggested. These early censuses enumerated property-owning householders and ignored most others. A report that about 50 or 60 families lived at St. John's in 1674 may have been based on a broader sense of who was worth counting.
Surviving Censuses
The surviving censuses are gold mines of information about material conditions as well as population. William Poole's census for 1677 is especially detailed. Each plantation had a dwelling house, fishing stage, boats, flakes and vats for rendering cod liver oil. Besides these structures there were 80 lodging houses for crews. Most planters kept gardens and raised pigs, some kept cattle and there were a few horses and sheep.
Every summer the population swelled with the arrival of migratory fishermen. In 1680, for example, 24 fishing ships (mostly from Dartmouth in South Devon) set up fishing rooms at St. John's, bringing at least 600 men into the port to operate over 120 inshore fishing boats. In addition 42 migratory bye-boat keepers employed about 450 men and 100 boats. Finally, 33 sack ships called to buy fish for sale, mostly in Spain and Portugal.
The town's first significant defences were probably erected by commercial interests, following the temporary seizure of St. John's by the Dutch admiral de Ruyter in June, 1665. At any rate, the inhabitants were able to fend off a second Dutch attack in 1673. The British government began to plan fortifications around 1689, but as late as 1693 local fortifications were the work of residents. Government-sponsored fortification followed the retaking of St. John's after the French captured and destroyed the town late in 1696. The French attacked St. John's again in 1705 and 1708, and devastated civilian structures with fire. The harbour remained fortified through most of the 18th century.
The 18th century saw major changes in Newfoundland: population growth, beginnings of government, establishment of churches, reinforcement of commercial ties with North America and development of the seal, salmon and banks fisheries. St. John's grew slowly, reaching about 3250 souls in the early 1790s. It was still primarily a fishing station, although it was now also a garrison, a centre of government and, increasingly, a commercial hub.