Military Garrisons
In 1870 an important chapter in the history of Newfoundland came to a close when the British government withdrew the military garrison at St. John's. European garrisons had been stationed in Newfoundland since the middle of the 17th century. They were usually to be found at St. John's and Placentia, though smaller detachments were stationed from time to time at several other locations. Until 1815 their purpose was primarily one of protecting the fishery; thereafter the role of the military became increasingly one of providing aid to the civil authorities in maintaining public order and suppressing civil unrest. However, both before and after 1815, the significance of the garrisons extended far beyond their assigned role.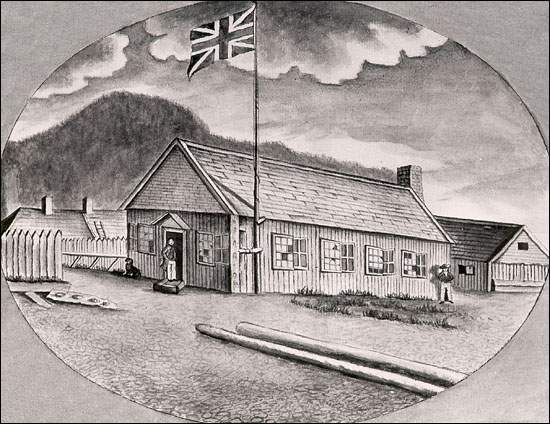 Fort Frederick, Placentia, ca. 1789
From the logbook of H.M.S.Pegasus. Plans for Fort Frederick were approved in 1715 and construction began in 1717.
Courtesy of the National Archives of Canada, C-2532.
From the beginning, the officers and soldiers were an important component of local society, providing emergent communities with leadership and pageantry as well as stimulating the local economies. The presence of the military also had its dark side, for the absence of civil authority before 1729 and the neglect with which the military of that era was often treated by distant governments led to frequent abuses of power; the documentary record is filled with complaints directed against local garrison commanders. Nevertheless, as the permanent population on the island grew, so did the administrative structure, with the result that such complaints gradually diminished. By the 19th century, the military garrison was thoroughly subordinated to the authority and needs of the civil power in Newfoundland. Ironically, this transformation contributed to the decision to withdraw the garrison in 1870. By the middle of the century, the British government had become convinced that the police function of the garrison should be provided by the government of Newfoundland and not by that of the Empire. The withdrawal of the garrison therefore also signified something of a beginning, since it paved the way for the establishment of a civilian police force.