William Keen Witnessed the Capture of St. John's
From the files of The Gazette August 21, 1997.
Little is known of William Keen's life before he came to Newfoundland in 1704. He is believed to be from Boston, Mass., and was probably born in the 1680s. He came to St. John's as an agent for New England merchants who traded with Newfoundland. Within 10 years he had established his own trading business, and soon became one of the largest suppliers in Newfoundland. He shipped fish and other local products to North American and European markets in return for manufactured goods needed by people who lived in Newfoundland. He was a strong promoter of English settlement of northeastern Newfoundland, an area usually left to the French.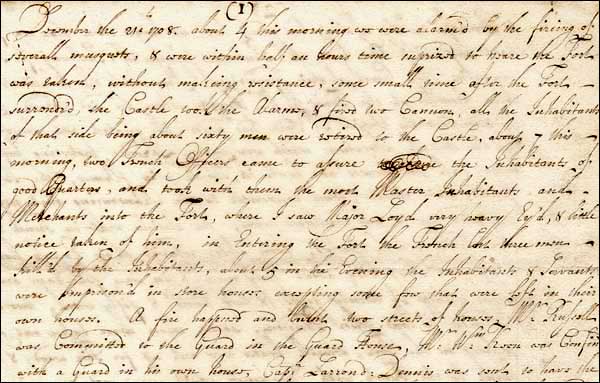 A sample of William Keen's Report, 1709
Courtesy of Archives and Special Collections (MF - 059), Queen Elizabeth II Library, Memorial University of Newfoundland, St. John's, NL.
Keen was a resident of St. John's during the fall of 1708 when the French forces under Saint-Ovide de Brouillan captured St. John's and burned the fort and most of the town. He was one of several inhabitants of St. John's transported to the French garrison at Placentia in March 1709 where he was kept prisoner until June. Keen later wrote a report of his imprisonment.
Pushed for Justice
Keen was a driving force behind the establishment of a formal and effective judicial system in Newfoundland. For some years prior to Keen's arrival in Newfoundland, fishing admirals, with the authority of the British government, provided a crude form of "justice," often favoring the "criminal" who could provide the largest bribe. Their power lasted only during the seasonal fishing while they were in Newfoundland. The rest of the year, often October to May, anarchy reigned.
Residents made repeated requests for year-round justices in the decades before 1730, but the British government refused to act, even after a number of people were murdered. Keen had been at the forefront of the residents' demands and sent a number of accused criminals and witnesses to England for trial at his own expense, the only recourse available for those charged with capital crimes. Keen gained an ally in Lord Vere Beauclerk, the commander of the naval convoy in 1728. He urged Keen to keep up the lobbying effort and Keen did so. In 1729, Henry Osbourne, the convoy commander, was appointed first governor of Newfoundland. He was given authority to appoint justices of the peace (magistrates) who were empowered to hear petty offences, but only in the absence of the fishing admirals. Keen was one of five men appointed for the area including St. John's, Quidi Vidi, Petty Harbour, Torbay and Bay Bulls.
While the fishing admirals still retained much power, the local officials gradually began to erode this power, and to increase their own jurisdiction and influence. Keen served as justice of the peace for over 20 years. His business flourished and so did his influence. Governors came to depend upon him and he was able to avail of the slowly increasing spoils of office. He was appointed commissary of the Vice-Admiralty Court in 1736, and health officer and naval officer for St. John's in 1741-1942. In 1750 the British government gave Newfoundland justices the right to hear all criminal cases except treason; Keen became the first commissioner of oyer and terminer, giving him the power to judge such cases.
A Victim of Thieves?
Keen was reputed to be a fairly wealthy man. He had made a success of his business ventures in Newfoundland and owned extensive property and land along the St. John's waterfront, at Bonavista and Greenspond. Rumors had it that he kept his money hidden under his bed. On Sept. 9, 1754, Keen was attacked, ostensibly for his money stash; he was severely injured; the weapons used included a scythe and a musket. He died on Sept. 29 from his wounds. Nine people (three soldiers, five fishermen and a woman) were charged with the crime; four were hanged, ironically from gallows erected on the end of Keen's wharf; the other five were reprieved but banished from Newfoundland. Keen's property devolved to his son, William, who moved to England the following year.
Records are Scarce
Very little of William Keen's papers and business records are known to have survived, except for official correspondence to the British government included in the records of the Council for Trade and Plantations, which was responsible for the administration of Newfoundland from 1672 to 1782. There may also be correspondence and reports written by Keen in other British government records and in the private papers of British officials. A small amount of original material remains in Newfoundland, in particular the report Keen wrote of his imprisonment by the French during the winter of 1708-1709.
This document, together with accompanying documentation, was acquired by the Centre for Newfoundland Studies from an auction of personal property of Richard Crewe in November 1996. Crewe had inherited these papers from his father, Nimshi C. Crewe, who had purchased them from British rare book dealer Francis Edwards Ltd. for six pounds in 1949.
**************
Excerpts from the opening paragraph of Keen's report,
dated July 5, 1709.
December 21 1708. about 4 this morning we were alarmed by the firing of several musquets, & were within half an hours time reprized to heare the Fort was taken, without making resistance, some small time after the Fort surrender'd the Castle took the Alarm, & fired two Cannon. All the Inhabitants of that side being about sixty men were retired to the Castle. About 7 this morning, two French Officers came to assure the Inhabitants of good quarters, and took with them the most Master Inhabitants and Merchants into the Fort, where I saw Major Loyd very heavy ey'd, & little notice taken of him. ...about 5 in the Evening the Inhabitants & servants were imprison'd in store houses excepting some few that were left in their own houses. A fire happen'd and burnt two streets of houses, Mr. Russell was Committed to the Guard in the Guard House, Mr. Wm. Keen was confin'd with a Guard in his own house, Capt. Larrond Dennis was sent to have the Castle Surrender, which was at first refused, the next day December 22'd the People gave up the Castle with their Cannon charg'd, ...the 24th St. Ovide du Brouillian Comissr of the French forces sent four hund'rd seventy seven men prisoners to the Church and the House of Mr. Collins allowing them for their Subsistance, one pound of bread, four ounces of pork & four ounces of pease p'r diem, the Prisoners were set in Ranks & counted by the Indians, who threatened if they found any to absent themselves, they would kill as many more in their roome...