Drawn by the Lure of Labrador
From the files of The Gazette January 22, 1998.
In the early 1990s, while researching the ill-fated 1903 Hubbard Expedition into the interior of Labrador, James West Davidson and John Rugge located Dillon Wallace III, son of Dillon Wallace (junior) who had been part of Hubbard's expedition. Living in Beacon, New York, the younger Wallace was in possession of what had survived of his father's papers, an eclectic collection of diaries, correspondence, handwritten and typewritten manuscripts, newspaper clippings, photographs and glass lantern slides, much of it related to the older Wallace's three expeditions to Labrador.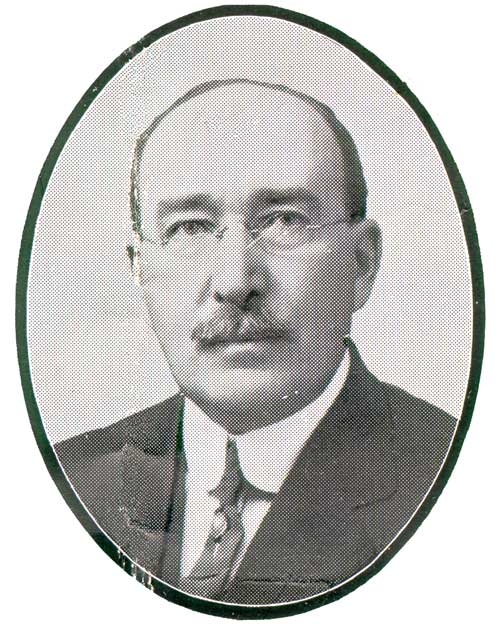 Dillon Wallace
Courtesy of Archives and Special Collections (Coll - 244, 7.01.00s), Queen Elizabeth II Library, Memorial University of Newfoundland, St. John's, NL.
Dillon Wallace (junior) was born in Craigsville, New York, on June 24, 1863, the son of Dillon Wallace (senior) and Ruth Ann Ferguson. After completing high school and spending the intervening years working in a variety of occupations, he entered New York Law School in 1892. He graduated in 1896, was called to the bar in 1897 and practised law in New York for several years.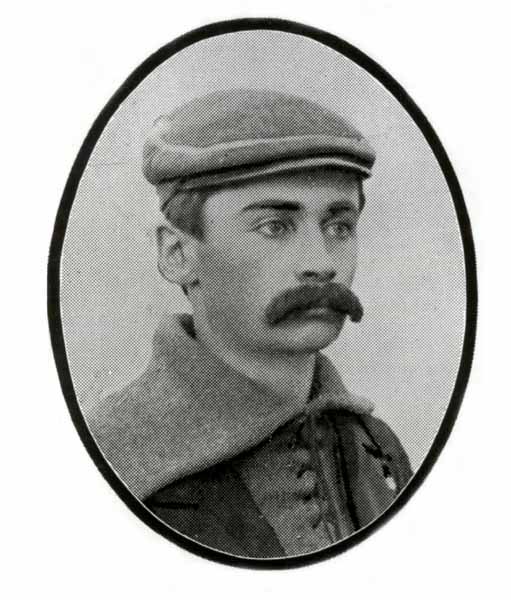 Leonidas Hubbard
Courtesy of Archives and Special Collections (Coll - 244, 7.01.00s), Queen Elizabeth II Library, Memorial University of Newfoundland, St. John's, NL.
In 1900 Dillon Wallace met Leonidas Hubbard, an assistant editor with Outing magazine. Hubbard was interested in exploration and adventure and had soon convinced Wallace to join him in an expedition to the interior of Labrador. Arriving in North West River, Labrador, in mid-July 1903, Hubbard and Wallace, together with George Elson, a Scots-Cree from northern Ontario whom they had hired as a guide, soon began their trek, which they hoped would take them, via the Naskaupi River, to Lake Michikamau, and thence to the George River where they would arrive in time for the annual Naskaupi caribou hunt. Inexperience and a mapping error resulted in the party taking the wrong river, requiring a much longer and more strenuous journey than they had planned. Inadequate food supplies and the approaching winter added to their problems.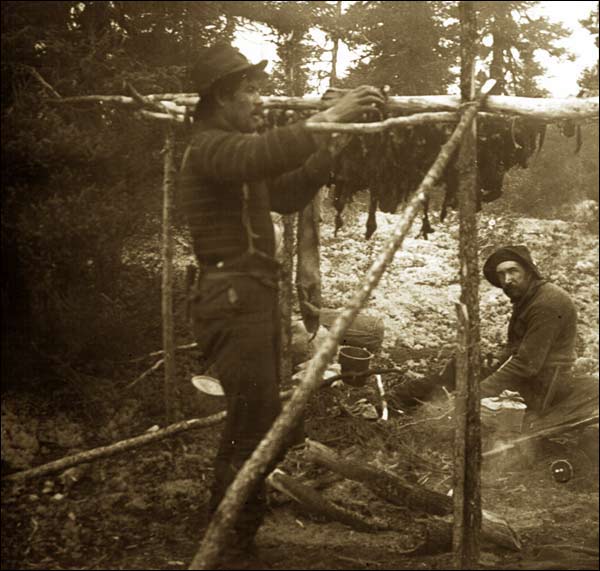 George Elson (L) and Dillon Wallace on their ill-fated trip to Labrador
Courtesy of Archives and Special Collections (Coll - 244, 8.01.154), Queen Elizabeth II Library, Memorial University of Newfoundland, St. John's, NL.
By mid-September, with their food almost gone and Lake Michikamau still many miles distant, they turned back for North West River. On the way Hubbard succumbed to starvation, and Wallace almost died, before Elson managed to locate four native trappers who helped transport Wallace to Northwest River.
After Wallace returned to New York the following spring he entered into an agreement with Mina Hubbard, Leonidas's widow, to write an account of the expedition. The resultant book, The Lure of the Labrador Wild, was published in 1905; it was an immediate best-seller but caused an irreconcilable rift between Wallace and Mina Hubbard, as she felt he, unfairly, placed the failure of the expedition on her husband's shoulders and had sullied his name.
One result of this rift between Wallace and Mina Hubbard was "the great race of 1905." After his book was published, Wallace announced plans to complete the aborted expedition of 1903. To counter this move, Mina Hubbard decided to make a similar trip, in hopes of clearing her husband's name. George Elson joined her. The press had a field day.
Both parties left North West River, just days apart, in late June 1905. Mina Hubbard followed closely to her husband's original river-based route, while Wallace opted for a more overland route, which may have been a serious error on his part. The Hubbard party reached the George River Hudson Bay Company post six weeks before Wallace's did.
Despite the failure of the first expedition and losing this race to Mina Hubbard, his two excursions into Labrador resulted in a change of career for Dillon Wallace. He enjoyed the public recognition he received as the author of The Lure of the Labrador Wild and his account of the second expedition, The Long Labrador Trail (1907), was also well received. He joined the staff of Outing magazine, which sponsored him on other expeditions to other parts of the world. He wrote about his adventures and also branched out into fiction and stories for younger readers.
Over the next 30 years he published 26 more books and wrote many articles for Outing, National Sportsman, American Boy and other magazines. He made a third, successful expedition to Labrador, in 1913, in part to place a memorial marker at the site of Hubbard's last campsite. He practised law intermittently but for the remainder of his life he earned his living mainly through his writing and speaking tours.
Wallace married Leila Greenwood Hinman in 1917; his first wife, Jennie Currie, died in 1900 of consumption after only three years of marriage. Dillon and Leila had two children, Leila Ann and Dillon III. Dillon Wallace died at Beacon, New York on Sept. 28, 1939.
Dillon Wallace III allowed Davidson and Rugge access to his father's papers. The papers included the diaries kept by Dillon Wallace on each of his three expeditions to Labrador, financial records, and a large number of photographic images documenting the trips. Davidson and Rugge found this material to be very beneficial to their research, and used excerpts from the diaries and some of the images in their book Great Heart.
They also encouraged Dillon III to find a more permanent home for the papers than the trunk they were being stored in in his basement. Wallace thought that was sound advice and the papers eventually found their way to Memorial University, where, with the assistance of a grant from the Department of Canadian Heritage and the National Archives of Canada through the Canadian Council of Archives Control of Holdings Program, the papers have been catalogued and are available to interested researchers at Archives and Special Collections.