Spring
The transition from late winter conditions to early summer tends to be a protracted and erratic process over much of Newfoundland. Purely from the standpoint of climate and weather, "spring" in this region implies an overall rise of mean daily temperatures through the melting point, causing gradual disappearance of snow and ice.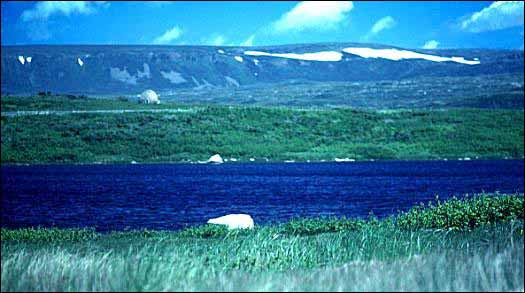 Snow Line and Forest Limit, Near Grand Bay, Southwestern Newfoundland
© 1998, Geological Survey of Canada, Natural Resources Canada.
The average daily air temperature reaches 0° C near April 1st over the Avalon and Burin peninsulas, but not until about a month later near the Strait of Belle Isle and lowland southeastern areas of Labrador (including Lake Melville). North of a line from the Hopedale area to Schefferville (Québec) this degree of warming is delayed until mid or late May.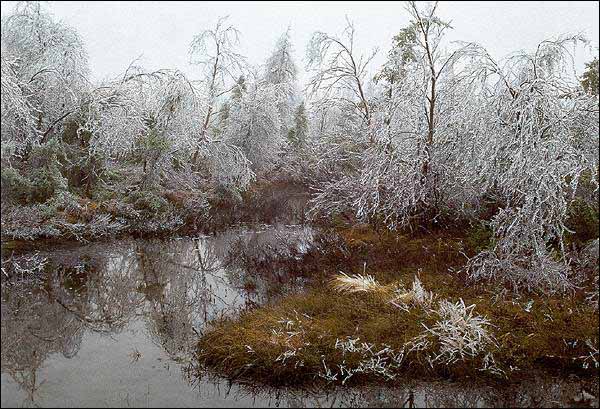 Ice Accretion From Freezing Rain
Often referred to colloquially as "glitter", "glaze" or "silver thaw".
Reproduced by permission of Ben Hansen. From Ben Hansen, Newfoundland Gems (St. John's, NL: Vinland Press, ©1996).
Freezing rain periods produce accumulations of dense, clear "glaze" ice on ground surfaces and objects. This can be dangerous for ground and air transport, and for power/telephone lines and equipment. This hazard is most likely over eastern areas of the island, because air circulation patterns bring relatively mild, above freezing, air and rain across surfaces whose temperature is still below freezing.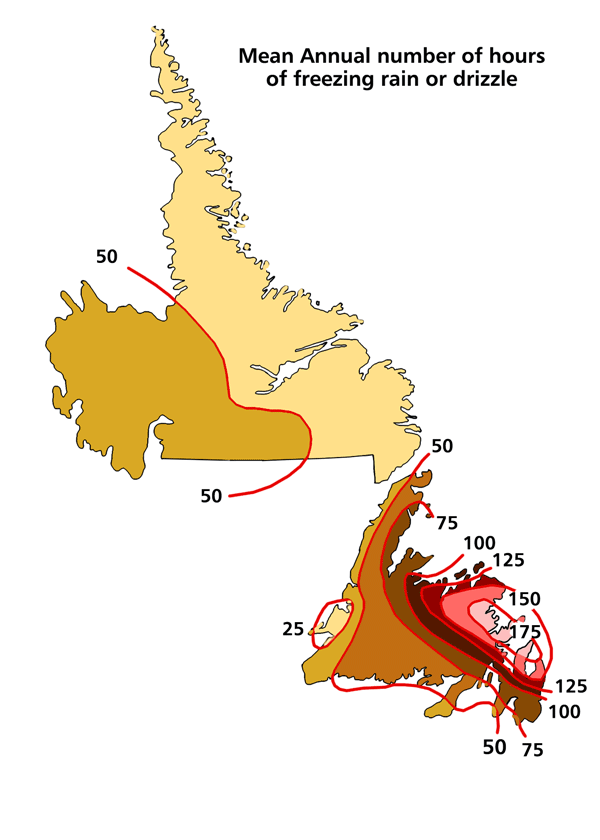 Annual Average Number of Hours with Freezing Rain and Freezing Drizzle.
From Joyce and Alan Macpherson, The Natural Environment of Newfoundland and Labrador, Past and Present (St. John's, NL: Department of Geography, Memorial University of Newfoundland and Labrador, © 1981) 118. Adapted by Duleepa Wijayawardhana with permission of MUNCL, 1998.
From April until June stormy weather is less frequent. Fair and dry weather periods occur with slowly increasing frequency, but occasional bouts of wintry precipitation occur until at least mid May in most years. The risk of slight frost continues until late May or early June over low-lying sections of the island, and a couple of weeks later over much of Labrador.
Eastern coastal districts, especially, usually endure a number of spells of cool, damp weather with occasional light rain, drizzle or wet snow (temperatures of 0-6°C). This comes from onshore airflow off a mixture of open water and sea ice. However, this same airflow pattern will bring dry, fair and mild daytime conditions (8-15°C) to western sections of both the island and Labrador.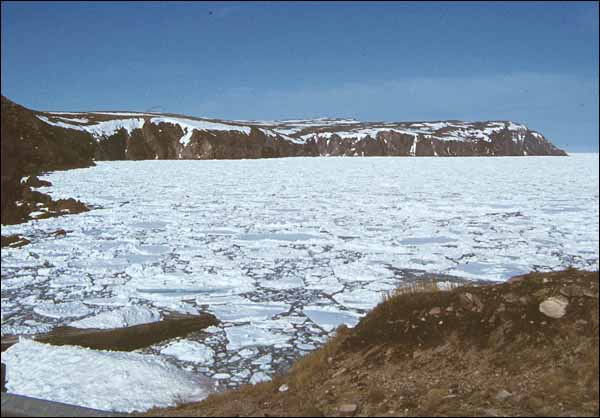 Sea Ice off the Coast of the Avalon Peninsula
Reproduced by permission of Trevor Bell. Photo ©1984.