Fall
By September, as daylight hours diminish and the solar elevation angle decreases, the reduced energy absorption at the surface leads to its gradual cooling. At the same time the warm Bermudan anticyclone recedes to the south, allowing cooler air masses to invade more frequently from the west and northwest. The first slight dawn frosts have usually already occurred by the first week of September over northern and central Labrador, and these areas will often see a few snow flurries at this time, especially over higher terrain. However, as was the case with spring, this transitional period usually brings brief reminders of the preceding season over a period of several weeks, as the atmosphere goes through a major adjustment in circulation patterns.
Anne Meredith Barry's "October Yellow"
Etching with Sugar-lift and Colour-roll, A. P. 3/4, 39.8 x 50.2 cm.
Reproduced by permission of Anne Meredith Barry. Etching with Sugar-lift and Colour-roll, A. P. 3/4. ©1993. Courtesy of the Art Gallery of Newfoundland and Labrador, Arts and Culture Centre, St. John's, NL.
Furthermore, the open Atlantic waters to the east and south of the island are initially slow to release heat gained during the summer, so that adjacent coastal sections on the island become relatively mild compared to areas further north. Hence the first occurrence of frost is normally delayed until the first or second week of October around all southwestern, southern and eastern coasts. A weakened form of "Indian Summer" (i.e. anticyclone weather with daytime temperatures reaching 15-20°C under clear skies and light winds), can usually be enjoyed for at least one or two periods in September and/or October.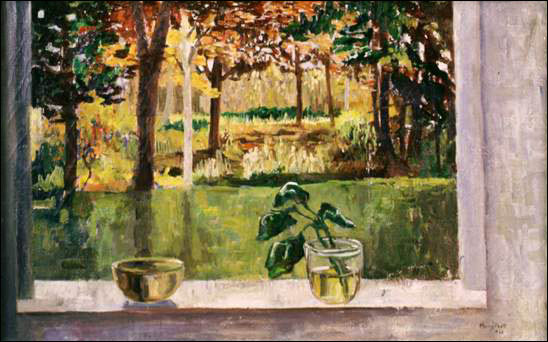 Mary Pratt's "October Window"
Oil, 40.5 x 66 cm.
Reproduced by permission of Mary Pratt. ©1966. Courtesy of the Art Gallery of Newfoundland and Labrador, Arts and Culture Centre, St. John's, NL.
This is followed by another significant fall event, the first snowfall to cover the ground (to a depth of at least 2.5 cm), which is, on average, witnessed within the first two weeks of October over northern and western Labrador, by late October over northern and central parts of the island, but not until mid-late November over the southernmost Avalon and Burin peninsulas.
During October and November the increasing temperature contrast between the freshly snow-covered northern areas, and the much milder southern coastal districts and offshore waters, results in an intensification of the mid-latitude cyclone storm systems that approach the province from the southwest.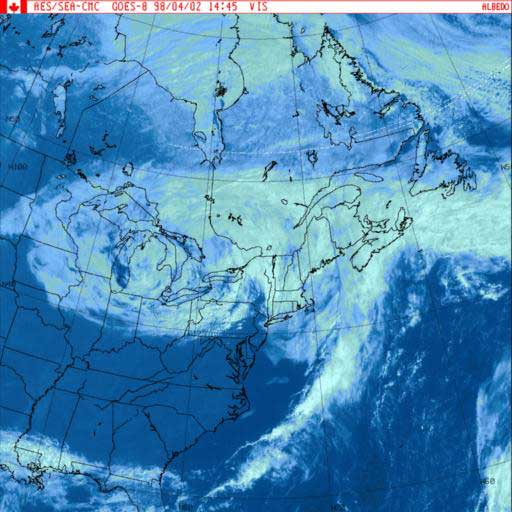 Frontal Low Pressure System.
The cloud patterns visible on this GOES satellite image illustrate features typical of mid-latitude frontal low pressure systems affecting eastern Canada, including Newfoundland, throughout the year, particularly during fall, winter and spring.
©1998, Environment Canada.
Consequently, this period is characterized by a marked upswing in the frequency of strong winds and precipitation, with regular moderate to heavy daily rainfalls in the 20-50 mm range.