Descendants
It was his sons' ambition that persuaded R.G. Reid to extend his family's commitments in Newfoundland well beyond the initial construction phase. Due in equal part to his previous successes and a general decline in his health, the elder Reid was no longer the "outside man" and field engineer that he had been while his reputation was in the making. By 1892 his transition to "inside man" and eminence grise was already underway. In that year G.H. Middleton was dropped from the construction partnership, it being assumed that the two elder Reid sons (William being then 25 and Harry 23) would oversee much of the family's day-to-day operations in Newfoundland, and would bring their younger brother (R.G. Jr.) into the business in the coming years.
By 1898, when the line was completed, the younger Reids were completely taken with the untapped potential of a country that they now knew in a way that very few did - from the inside out. They convinced their father to enter into a 50-year contract to operate the railway as their best bet to develop the Reid lands into a commercial empire.
William Reid
It was William (1867-1924) who became his father's outside man in 1892, and who took the leading role in construction. William also substantially negotiated the Contract of '98, and remained general manager and then president of the Reid Newfoundland Company, until 1917. W.D. Reid saw the potential of the forest resources of central Newfoundland and was a prime mover in promoting a pulp and paper mill for Grand Falls. Politically, W.D. also had a major impact on Newfoundland, persuading his good friend (and company lawyer) Sir Edward P. Morris to break away from the Liberal party in 1908, to form the People's Party and eventually a government which realigned Newfoundland politics for a generation.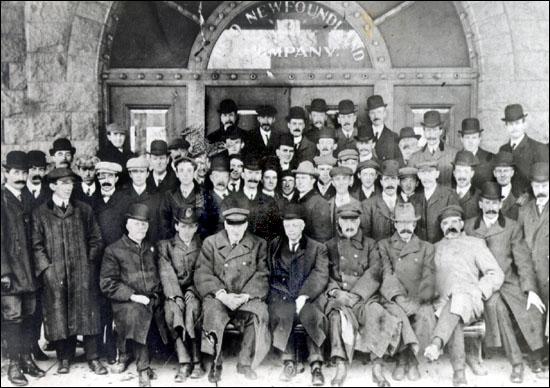 Reid Newfoundland Company Employees, n.d.
Employees of the Reid Newfoundland Company outside the Riverhead Station, St. John's. William and Harry Reid are sitting in the centre of the first row.
From the A.R. Penney Collection. Courtesy of Harry Cuff Publications.
Harry D. Reid
Harry (1867-1929) was in personality much more like his father, a man of few words, but also one who spent most of his railroading career immersed in the business side. H.D. eventually engineered his own succession as president, in 1917, having determined that the family empire and his elder brother had both become unmanageable. H.D. Reid took a more calculating approach, conducting a proper inventory of the Reid lands, and realistically assessing losses from railway operations. He became increasingly determined to extricate the Reid Newfoundland Company from railway operations and to pursue the most promising development projects (pulp and paper mills at Grand Lake, Corner Brook and on the Gander). In 1917 H.D. brought his own son, Angus, into management, as secretary of the Reid Newfoundland Company.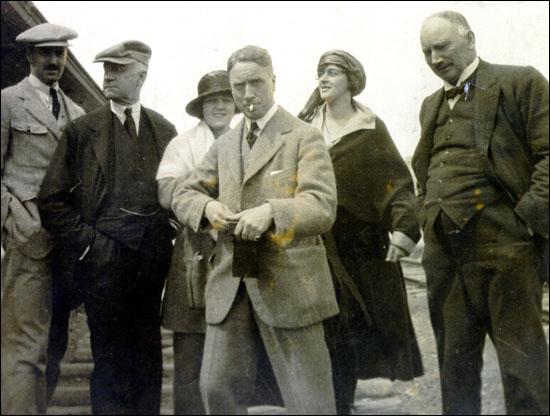 Harry Reid (Second from Left) and his Wife, ca. 1924
This photograph was taken shortly after the "Humber Deal" and the Railway Settlement Act of 1923. Also pictured are Prime Minister William R. Warren (centre) and Sir William Coaker (right).
From the A.R. Penney Collection. Courtesy of Harry Cuff Publications.
It is the line of Harry D. Reid that has remained the most closely associated with Newfoundland. Even after the Reid Newfoundland Company was placed in receivership during the Great Depression, his son W. Angus Reid (1895-1961) and grandson Ian J. Reid (1925- ) became prominent figures in Newfoundland business circles in their own right. A great-grandson, I.A. Ross Reid (1952- ) rose to prominence in federal backroom politics before being elected MP for St. John's East in 1988.
Robert G. Reid Jr.
Robert G. Reid Jr. (1875-1947) was general superintendent of railway operations 1908-23, remaining active in the affairs of the Reid Newfoundland Company and a resident of St. John's until his death. R.G. Jr. was popular with railway employees, his duties bringing him the most contact with day-to-day management of the line. He also occupies a prominent place in the sports history of Newfoundland. Having become an avid hockey player and fan at McGill University, in 1898 he not only played for and recruited railway employees for one of the first organized teams, but also solicited support for the construction of the first proper hockey rink in St. John's, the Prince's Rink. R.G. Jr. further was instrumental in introducing that other great North America sport, baseball, to Newfoundland in 1913. It might also be mentioned that the Reid family were, over the years and generations, among the most prominent supporters in Newfoundland of those quintessential "Scottish" sports, curling and golf.
There are very few corners in Newfoundland's modern history where the investigator will not find a Reid connection. Combining interests in recreation and economic diversification, the Reid family can also lay claim to having pioneered sporting and adventure tourism in Newfoundland. Drawing on his Scottish heritage, the elder R.G. Reid was an angler and hunter, while his sons were enthusiastic outdoorsmen, seeking out and promoting Newfoundland's scenic and sporting attractions as the railway "opened up" the country. The Reid Newfoundland Company incorporated the encouragement of tourist traffic into its broad schemes and took a direct interest in promoting hotels and hunting and fishing camps along the line. Of the third generation, Angus Reid was a long-time president of the Newfoundland Tourist Board, while Robin Reid (a son of R.G. Jr.) for many years owned and operated "Gleneagles," a tourist lodge on the Gander River.