Growth of the Frozen Fish Industry in Newfoundland
In spite of government assistance and market demand, by 1939 only a few Newfoundland companies, including Job Brothers and Company, and Harvey's Limited owned frozen fish plants or fishing trawlers. In that year, Newfoundland produced 1.5 million pounds of frozen groundfish. With the outbreak of World War II, however, the industry took off.
There was an instant demand from Great Britain, which needed new sources of food, not only to feed its own population but to support the war effort. It quickly turned to North America for a supply of frozen fish, including Newfoundland. The steady British demand encouraged other companies to move into the frozen fish business. By the end of the war Newfoundland had 12 fish plants and was producing 35 million pounds of frozen groundfish annually. The companies involved in this early period included Job Brothers, Harvey's, and Fishery Products Limited of St. John's, John Penny and Sons of Ramea, and North Eastern Fish Industries of Harbour Grace. Many of the earliest plants were located either in St. John's or on the south coast of the island, mainly because ice-free harbours made it easier to use trawlers.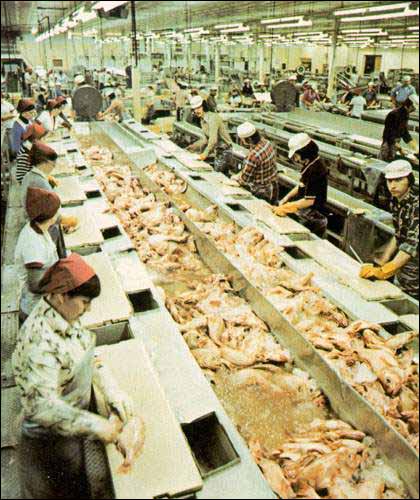 A Newfoundland Fish Plant
Workers at a large processing plant in St. John's prepare fish for sales.
Reproduced by permission of the Department of Trade and Technology, Government of Newfoundland and Labrador. From Newfoundland Dept. of Fisheries, Fish is the future: the development program for the Newfoundland and Labrador fishing industry to 1985. (St. John's, ©1978) 13.
Throughout the 1950s and 1960s, the frozen fish industry continued to grow. Production rose steadily and the number of processing plants and offshore trawlers increased. Almost all of Newfoundland's frozen groundfish was sold to the United States. Saltfish production did not drop off immediately.
Many inshore fishers did not live near a frozen fish plant and continued to salt their own fish. Fewer people, however, chose to make the light-salted, hard-dried, "shore cure" fish as they had in the past. By the 1960s, the majority of salted fish was sold "green," packed in barrels as "saltbulk." Fishing companies with mechanical drying machines bought the saltbulk and used it to make saltfish.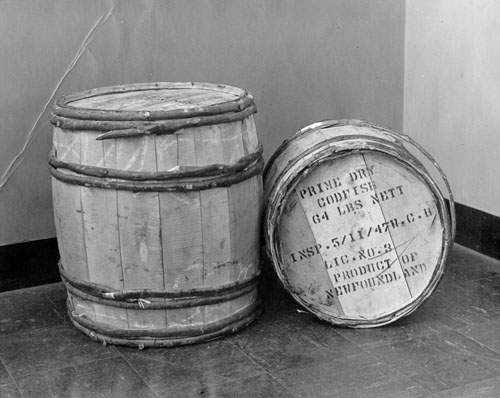 Salt Cod Barrels
Wooden barrels containing dried salted cod, labelled "Prime dry cod fish 64lbs nett...product of Newfoundland."
Courtesy of the Maritime History Archive (
PF-003.035
), Memorial University of Newfoundland. NAFEL Photographs.