Wally Brants
My attitude toward the landscape is portrayed in a realistic style. I like to capture the peace and the timeless beauty of Newfoundland's landscape, the land and sea, the lonely roads, the sky and clouds.
- Wally Brants, 1985
Excerpt from artist statement in 12 Newfoundland Painters exhibition publication organized by Memorial University Art Gallery, 1985.
Woldemars (Wally) Brants was born in Latvia on 16 January 1909, and studied fine art at the Roman Suta Studios in the capital city of Riga. His training led to an interest in painting, film, and set design.
By the late 1930s, Brants was working for a state-run newsreel unit. Following the outbreak of the Second World War in 1939, the country entered a period of political turmoil. Latvia was occupied by the Soviet Union from 1940-41 and by Nazi Germany from 1941-1945. Brants and his colleagues continued to produce newsreels, but authorities relocated the film unit to Germany in 1944. After peace was restored in 1945, Brants spent two years in a British camp for displaced persons at Blomberg, Germany.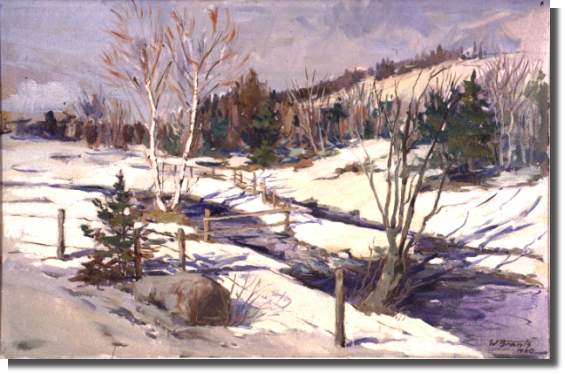 Early Spring
1960
Oil on Linen
51 x 79.7 cm
In 1947, he emigrated to Melbourne, Australia, where he met his future wife, Anna, a Latvian nurse. The two were married in 1954. By then, several of Brants's former colleagues were living in St. John's, NL, where they had established the film production company Atlantic Films and Electronics Limited. They offered Brants a job. He and Anna moved to the province in 1955 and made it their permanent home. Brants worked for Atlantic Films until the late-1960s, when he became a set designer for CBC Television.
All the while, Brants continued to paint. Watercolour was his favoured medium, but he was also skilled with oils and acrylics. He won several provincial government Arts and Letters Competition awards and the Memorial University Art Gallery (now The Rooms Provincial Art Gallery) held a 25-year retrospective of his artwork in 1981. In 1996, the gallery organized a solo exhibit of Brants' watercolours of Newfoundland churches. Each of the paintings had appeared on an official CBC Christmas card between 1969 and 1991. In addition to painting, he was an active member of the Art Association of Newfoundland and Labrador.
Brants's work is represented in public and private collections, including The Rooms Provincial Art Gallery's Permanent Collection, the Government of Newfoundland and Labrador, the Memorial University of Newfoundland, and the Canadian Broadcasting Corporation.
Brants died of stomach cancer on 15 October 1998 at the age of 89.