Tish Holland
I'm very interested in Newfoundland, obviously. I love the place and I want to stay here. I'm really interested in the livelihood of the people but at the same time I'm very interested in the health of the ocean and sometimes they're not in tune, especially when it comes to the desperation of the fishermen trying to make a livelihood.
-Tish Holland, 1997
From "Where Land and Sea Collide," by Mark Vaughan-Jackson, The Evening Telegram, June 20, 1997, p.16.
Education and Personal Life
Tish Holland was born in St. John's, NL, in 1959. In 1982, she received a Bachelor of Fine Arts degree from the Nova Scotia College of Art and Design (NSCAD). She has also studied printmaking at York University in Toronto and at St. Michael's Printshop in St. John's.
Upon graduation, Holland spent a year travelling through Western Canada, the United States, and Mexico. During this period, she began to focus more on painting than on printmaking.
In 1983, Holland returned to Newfoundland to practice her art fulltime. From 1983-1993, she also worked as an art instructor at Memorial University's School of Continuing Studies.
Artwork
By 1989, her work had been exhibited in three solo shows and many group exhibitions. She had also accumulated multiple Arts and Letters Competition Awards and illustrated the acclaimed children's book Amanda Greenleaf Visits a Distant Star (published in 1986) by the Newfoundland writer Ed Kavanagh.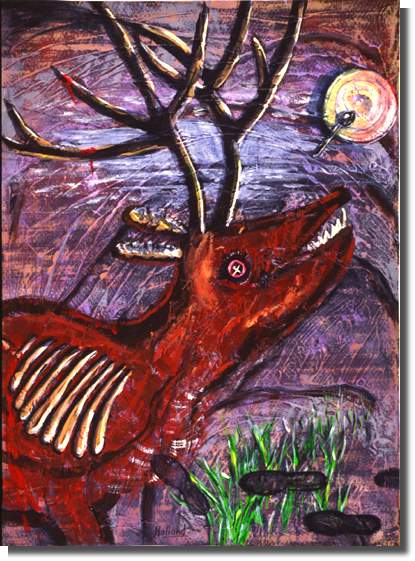 The Chain
1986
Acrylic on Paper
75.7 x 55.8 cm
Holland's work during this period displayed strong environmental concerns. Paintings like Bark at the Blast, a critique of NATO's low-level flying tests in Labrador, or Last Tree, criticizing deforestation, explore the conflict between humans and the environment. Her work was also noted for occasional flashes of humour. While reviewing Holland's 1989 solo show, The Earth Emerges: A Journey in Time, the arts reporter Peter Gard wrote that she had a "thick, Neo-Expressionist style and a passion for sea subjects" (Arts Atlantic 9.2, 1989: 19-20).
In 1998, Holland had a solo exhibition, Sea Dreams and Ancestral Shore, at the House of Commons Reading Room in Ottawa in honour of World Fisheries Day. She wrote in her artist statement that her work has been "motivated by [her] deep interest in helping maintain a flourishing marine ecosystem along with the livelihood and health of the people of our coastal communities."
Since then, her art has been exhibited in many solo and group shows across Canada, the United States, and Japan. These include the group exhibitions Ice at the Polyanna Gallery in St. John's (2010) and Festival of the Atlantic Provinces at the Ottawa City Hall Art Gallery (2003), and the solo exhibitions A Sense of Place at the Spurrell Gallery in St. John's (2000) and Living Waters at the Selma Barkham Town Centre at Red Bay, Labrador (2000). From 2008-2013, she also worked in the art department of CBC's popular television show, Republic of Doyle.
Holland's work is represented in many private and public collections, including The Rooms Provincial Art Gallery's Permanent Collection, the National Gallery of Canada, the Canada Council Art Bank, the Banff Centre, Parks Canada, Kyoto Gallery (Japan), the Canadian Council of Professional Fish Harvesters, and Breakwater Press.
Holland creates murals, paintings, serigraphs, prints, and works on paper from her studio in Conception Bay South. Her work draws inspiration from the natural world, and from Newfoundland's coastal communities, cityscapes, and its seafaring history.
For more information, visit her website: https://www.tishholland.com.