Tickle Harbour:
Battery Included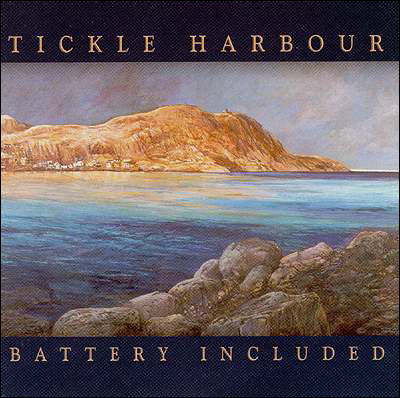 Battery Included
Battery Included
was released in 1998. All tracks are presented here with the permission of Tickle Harbour. Music and liner notes © 1998, Tickle Harbour, all rights reserved, unauthorized duplication prohibited.
Vonnie Barron
- Vocals
Patrick Moran
- Fiddle
Fergus O'Byrne
- Vocals, Bodhran, Concertina
Gerry Strong
- Tin Whistle, Flute
Francesca Swann
- Cello, backing vocals
Don Walsh
- Guitar, Bouzouki
Additional Musicians:Patrick Boyle
- Trumpet (tracks 4,10)
Seamus Creagh
- Fiddle (tracks 6)
Jim Fidler
- Percussion (track 10)
Rick Hollett
- Saxophone (track 4,10)
Paddy Keenan
- Uilleann pipes (track 12)
Frank Maher
- Accordion (track 1)
Tracks:
01. Reels: Teetotalers/ The Ships are Sailing (3:09)
02. Song: Maurice Kelly (2:17)
03. Waltz: The Reunion (3:06)
04. Polkas: I Didn't Drink the Rum/ Jum Keefe's/ Gortnatubrid (3:22)
05. Song: The Banks of Newfoundland (3:46)
06.Jigs: Paddy Fahey's/ The White Petticoat (3:10)
07. Song: The Warlike Lads of Russia (4:32)
08. Jigs: Water Street Jigs (3:02)
09. Song: The Pretty Ploughboy (2:46)
10. March/Jig: Prince Rupert's March/ Trippin' Up Samaria (4:06)
11. Song: The Valley of Kilbride (5:17)
12. Reels: Julia Delaney/ Farewell to Erin (4:52)
(From the liner notes)

Produced by Don Walsh

Engineered by Don Walsh. Mixed by Neil Bishop. Recorded, Mixed and Digitally Mastered at Dadyeen Studios, St. John's, NL

All tracks arranged by Don Walsh except The Banks of Newfoundland arranged by O'Byrne / Walsh.

All tracks traditional except The Reunion written by Don Walsh, Gortnatubrid written by Seamus Creagh and Trippin' Up Samaria written by O'Byrne / Walsh.

All songs registered with SOCAN except Gortnatubrid registered with EMRO.
The Music and its History:
(From the liner notes)

Teetotalers / The Ships are Sailing (Track 1)
Here are a couple of great session tunes that the band has been playing for as long as we can remember. Locally, in St. John's, this set has become synonymous with Tickle Harbour. Frank Maher, the great accordion player who grew up in "The Battery", joined us on these tunes.
(Reels: Traditional)
Maurice Kelly (Track 2)
Vonnie learned this song from Jean Hewson in St. John's. Frank Maher tells us the tune is an old Irish jig called St. Patrick's Day in the Morning. A verse that Frank quoted us goes;
"The last time you had it
You put a hole in it
You'll not get a loan of
Me kettle no more."

To confuse the issue even further the band changed the rhythm of the tune from 6/8 to 4/4.
(Song: Traditional)
The Reunion (Track 3)
Since the resettlement of so many Newfoundland outport communities, reunions have become a way for displaced families to return to their homes and cut back the ever-encroaching weeds from their loved ones headstones.
(Don Walsh)
I Didn't Drink The Rum / Jim Keefe's / Gortnatubrid (Track 4)
Patrick learned the first tune from Chris Kavanagh in Flatrock, Newfoundland. The second polka is from the playing of Seamus Creagh and Jackie Daly, while the third is one of Seamus' own compositions. We were fortunate to have Seamus Creagh play with the band for the five years that he lived in Newfoundland (see Tickle Harbour - The Brule Boys in Paris). When we played our arrangement of The Gortnatubrid for Seamus his initial response was "I'm mesmerized!"
(Polkas: Traditional / Traditional / Creagh)
The Banks of Newfoundland (Track 5)
This is one of the many songs collected in Newfoundland by Kenneth Peacock and can be found in his major volume of work, Songs of the Newfoundland Outports. The song describes the seasonal nature of fishing on the Grand Banks. During the early days of its settlement, fishermen would leave their homes in Ireland and England for Newfoundland and spend their summer months fishing "The Banks", returning to their loved ones in the fall year. Fergus wrote a new melody for every third and fourth line, thereby taking the liberty to evoke a sentiment that he feels adds to the pathos of the song.
(Song: Traditional - PEA 16, #98, collected from Jim Rice, Cape Broyle, 1952)
Paddy Fahey's / The White Petticoat (Track 6)
Seamus Creagh and Scott Schillereff, who both played with the band during the Brule Boys In Paris days, joined us on this set of jigs. It was a delight to work with the lads again.
(Jigs: Traditional)
The Warlike Lads of Russia / Caisleán nOr (Track 7)
The lyrics are from one of the many broadsheets of the 17th and 18th centuries that describe Napolean Bonaparte's military endeavours. Nick Jones, a stalwart of the folk revival scene in England during the 1960s and 70s, is generally believed to have had a hand in the present version of this song.
(Song: Traditional)
Water Street Jigs (Sean Ryan's / Cliffs of Moher) (Track 8)
In 1975, Don and fiddle Jamie Snider were busking on Water Street in St. John's when a policeman walked up to Jamie and said "All right, Elvis, the party's over!" Until recently, we never knew the names of the tunes and had christened them The Water Street Jigs.
(Jigs: Traditional)
The Pretty Ploughboy (Track 9)
Another song from the Peacock collection, this is a version of the classic tale of a woman of a "higher degree" falling in love with a lower class male. As usual, the couple are separated, but happily enough, they are reunited to enjoy everlasting love and happiness for the rest of their lives. (Hmm just imagine!)
(Song: Traditional - PEA 196, #1156, collected from Mrs. Mary Ann Galpin, Codroy, 1961.)
Prince Rupert's March / Trippn' Up Samaria (Track 10)
We wanted to do something out of the ordinary on the recording. Don had a tape of Hungarian music from which we chose this first piece. Gerry inquired about the piece on the Internet and found it was not Hungarian but indeed, an English folk tune. Gerry's mother tells us it was probably named for Prince Rupert, first cousin of Charles II. Fergus started to write the basic tune to the second piece while thinking about a hike through the Samaria Gorge on the island of Crete. Don took the 6/8 jig and reworked some notes so he could change the timing to three bars of 12/8, followed by a bar of 6/8, to give the tune a sense of tripping over itself.
(March / Slide: Traditional / O'Byrne, Walsh.)
The Valley of Kilbride (Track 11)
On Saturday, 1 July 1916 at 7:30 a.m., the Royal Newfoundland Regiment, part of the 29th British Division, was virtually annihilated at Beaumont Hamel. In less than 30 minutes, as they advanced into point-blank fire from enemy machine guns, the men were cut down. Of the 801 who went into battle, only 68 were able to answer the roll call the next day. The tragic story of the Newfoundlanders who died in wars overseas is personalized in this beautiful song.
(Come and I will Sing You. Eds. G. Lehr & A. Best, Collected from Dorman Ralph) (Song: Traditional)
Julia Delaney / Farewell To Erin (Track 12)
The Bothy Band was a great influence on all of us from the very beginning. Back then, when we heard Paddy Keenan play the Uilleann pipes on Farewell to Erin, we were blown away. We learned the tune and have been playing it ever since. It was a great honour to have Paddy sit in with the band on this tune.
(Reels: Traditional)