Stewart Montgomerie
Drawing is an important part of my work for both sculpture and painting. In painting more so as it allows me to explore and get to know my subject in depth before loosening up to express my feelings and how I relate to the subject. In sculpture I seldom work from drawings, preferring to work directly, but I use drawings to explore possible variations; basically it's sort of a decision-making process.
- Stewart Montgomerie, 1983
Excerpt from artist statement in Drawings From the Permanent Collection exhibition publication, organized by the Memorial University Art Gallery, 1983.
Personal Life and Education
The sculptor and painter Stewart Montgomerie was born in Glasgow, Scotland, in 1941.
His family moved to Corner Brook, Newfoundland in 1952, when Montgomerie was 11 years old. In 1959, Montgomerie won a scholarship to the Nova Scotia College of Art and Design. He studied there for a year before moving to Toronto to work with the sculptor Gerald Gladstone and study welding.
Montgomerie returned to Corner Brook in 1961 and became artist-in-residence for Bowaters Newfoundland. The pulp and paper company provided him with a studio, from which he painted landscapes for visiting VIPs, produced illustrations for safety posters and promotional brochures, and created murals for the Glynmill Inn. He also had significant time to work on his own art.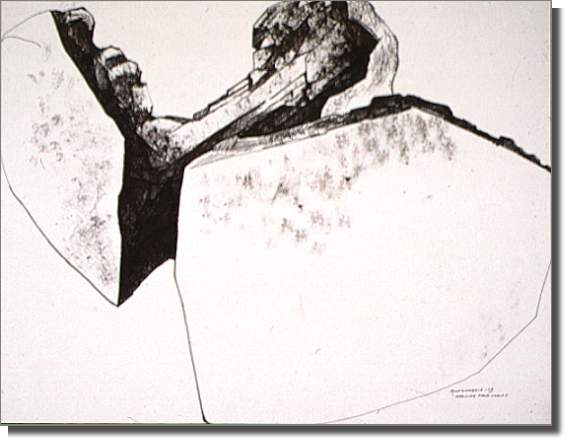 Maritime Form Series
1975
Ink Drawing
48.2 x 63.2 cm
Sculptures and Paintings
Montgomerie later moved to Ferryland, on the Avalon Peninsula, where he built a home and studio to paint and sculpt in. Among his most notable sculptures are Maritime Form, an eight-foot high stainless steel and alloy piece, which he created for the 1976 Olympics and is now on display at Lawrence College in St. John's; and the Ocean Ranger Memorial, a permanent monument to the 84 people who died when the rig sank on 15 February 1982. The memorial statue is located on the grounds of the Confederation Building.
Montgomerie is also an accomplished painter. His works have been exhibited at the Atlantic Pavilion at Expo 67 and at the Picture Loan Gallery in Toronto in 1972. In the early 1980s, he created the Osteofoam Series a collection of abstract paintings based on whalebones which was exhibited at the Memorial University Art Gallery (now The Rooms Provincial Art Gallery) in 1983. Montgomerie later created a series of landscapes using acrylic.
His sculptures and paintings have toured nationally and Montgomerie is represented in private and public collections including those of The Rooms Provincial Art Gallery's Permanent Collection, the New Brunswick Museum, the Irish Embassy in Ottawa, and Bowaters Newfoundland Limited.