Scott Goudie
I paint my landscapes devoid of human figures because that's what I enjoy most. It's my quiet environmental statement. My travels in the rest of the world have given me a deeper sense of appreciation for the pristine wilderness held within the rugged periphery of this province. They are landscapes rich with light and void of human interference and that is what I want to have reflected in my work.
- Scott Goudie, 1983
Excerpt from artist statement in Drawings from the Permanent Collection exhibition publication, organized by the Art Gallery of Memorial University, 1983
Scott Goudie is a visual artist and musician. He was born in St. John's, Newfoundland in 1955.
Goudie's artistic talent became evident at a young age and was nurtured by his private studies with prominent local artists. From 1962-1972, he studied drawing, watercolour, and oil painting with Paul Parsons. From 1968-1972, he studied with the artists Gerald Squires, Don Wright, and Frank LaPointe. He also audited courses in printmaking, drawing, watercolour, and ceramics at Memorial University Extension Services.
After graduating from high school, he worked briefly as a commercial artist and silkscreen printer before leaving Newfoundland in 1972 to enroll in the Vancouver College of Art. He also studied jazz and blues guitar while living in Vancouver. Between 1974 and 1977, Goudie lived in Ottawa, Ontario, and the state of Alabama. During this period, he worked and studied privately, concentrating on his artwork and the jazz guitar.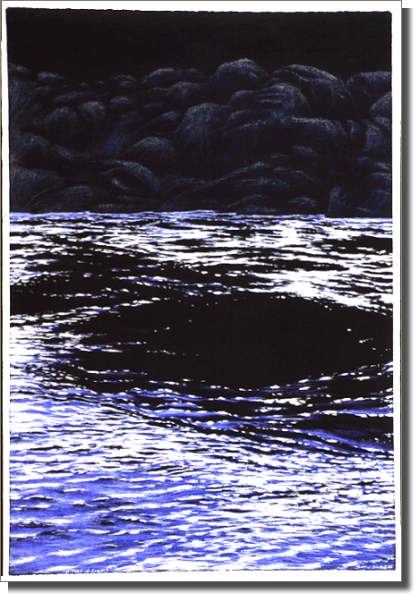 A Play of Light
1988
Chalk Pastel on Black Arches Paper
112.8 x 76.3 cm
Goudie returned to St. John's in 1977 and received a grant from the provincial Department of Tourism to develop The St. John's Series a collection of 21 prints showing some of the city's most historic places. It toured Newfoundland and Nova Scotia from 1977-1978. He was also working at St. Michael's Printshop.
In 1980, Goudie worked and travelled in India. He returned to Newfoundland in 1981 and continued with his printmaking at St. Michael's, and then at the Sword Street Press in Toronto. In 1983, he was an artist in residence at Sir Wilfred Grenfell College in Corner Brook and two years later spent time in Cape Dorset, Baffin Island, as a visiting artist for the Baffin Eskimo Co-operative. In 1995 he had an artist residency in Berlin. Goudie is also a frequent visitor to Labrador and the northern wilderness is a recurring theme in his work.
Goudie experimented with different subjects in the 1970s including portraits, animals, architecture, and landscapes, but by the early 1980s, his work dealt with the natural environment almost exclusively.
His art has been exhibited extensively nationally and internationally. In 2012, the Christina Parker Gallery in St. John's organized a retrospective of his work, Scott Goudie: Celebrating 35 Years. The show consisted of scores of prints, drawings and watercolours dating from 1977 to 2012.
In addition to being part of The Rooms Provincial Art Gallery's Permanent Collection, Goudie's artwork is represented in private and public collections such as the Canada Council Art Bank; the Art Gallery of Nova Scotia; the Owens Art Gallery at Mount Allison University, New Brunswick; the Nickle Arts Museum at the University of Calgary; and the Simon Fraser University Art Gallery in British Columbia.
Goudie is also a skilled musician. He has played with such blues legends as Muddy Waters, Johnny Shines, and Albert Collins, and is today considered one of the best blues musicians in the province.
As of 2013, Goudie continues to work as a visual artist and blues musician both locally and internationally.