Popular Music
For most, the phrase "Newfoundland music" suggests shanties and ballads and jigs and reels, a spirited sound descended from the ancient folk traditions of England and Ireland. But the people of Newfoundland and Labrador have always enthusiastically embraced the contemporary music of Europe and North America, have absorbed it and made it their own.
Choirs, Bands, and Operatic Troupes
In the late 19th and early 20th centuries many communities had choirs, bands and operatic troupes performing the popular music of the day: church music, light opera and instrumental favourites of the great composers. Local composers contributed marches and other band numbers (a typical title being Henry Tillman's Newfoundland Camp Gallopade, 1853) and theatre companies in St. John's presented "parody operas," in which the text of a popular opera would be rewritten to reflect local tastes and references. Prominent musical personalities included Charles Hutton, who staged Gilbert and Sullivan musicals and other shows in St. John's from the 1880s up until the 1930s, and Johnny Burke, who wrote songs reflecting both local and outside influences. Audiences in the St. John's and Conception Bay areas also enjoyed frequent visits by performers and musicians from Europe and the United States.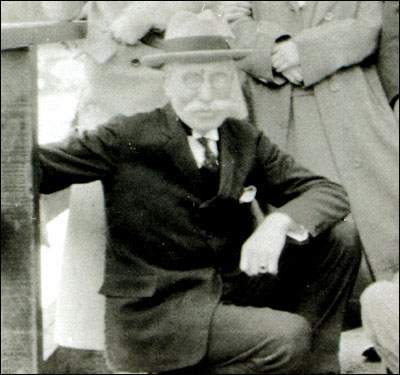 Charles Hutton, March 27, 1924
Charles Hutton was a prominent musical personality in Newfoundland.
Courtesy of Archives and Special Collections (MF-287, 1.06), Queen Elizabeth II Library, Memorial University of Newfoundland, St. John's, NL.
American Influence
The rapid expansion of radio in the 1930s is credited with popularizing the classics of Irish and traditional Newfoundland music among local listeners. But radio also brought the infectious sounds of America's most popular performers into kitchens and sitting rooms around the island. The American influence gained momentum as US troops populated military bases in Newfoundland and Labrador during World War Two, bringing country and western and swing music with them. The Americans established VOUS radio to entertain soldiers at bases in Goose Bay, Stephenville, St. John's and Argentia, and local listeners picked up the signal as well. Civilians and soldiers mingled at clubs and dances, and local musicians formed several dance bands to provide the music. Asked to recall the most popular songs of their youth, many Newfoundlanders who grew up in the 1930s and 1940s would name Gene Autry's South Of The Border or Glenn Miller's American Patrol along with the Irish and Newfoundland favourites of the day.
The military bases remained after the war and VOUS radio continued to bring the latest American hits to Newfoundlanders. But people were also hearing the music live. Jazz and swing reached new levels of popularity through groups lead by Ed Goff in Gander and Ralph Walker in St. John's (Walker was one of several American musicians who settled in Newfoundland after a military posting on the island). Local radio stations, meanwhile, aired live performances by local entertainers. In the 1950s, a show called "The Great Eastern Oil Bargain Hour" turned Jimmy Linegar into Newfoundland's first country and western star, touring the island to great acclaim.
The rhetoric of the early post-Confederation years portrayed Newfoundland as Canada's vibrant young province, its people ready to push aside the old ways and join the modern world. The baby boomers of the new province needed no such encouragement, as they were swept up in the mercurial rise of rock and roll music, buying and dancing to the same hit records that thrilled teenagers all over the western world. VOUS radio was the first place many young Newfoundlanders heard rock and roll, but by the mid-1960s rock and pop hits dominated radio, clubs and dances. St. John's television programs such as High Teens and Art Andrew's Dance Party featured early local groups like the Ravens and the Sandels. West coast bands included the Shindigs and the Ducats, one of the province's most popular acts for several years. The Keatniks of Labrador City were likely the first pop group in the province to record a full-length album, released in 1964. Not content to simply parrot hits from England and America, some of these bands also wrote songs of their own. The emphasis on original material would become one of the hallmarks of local rock music.
Many of the same musicians would continue playing in the late 1960s and early '70s, forming groups like the Philadelphia Cream Cheese Band, Garrison Hill, Mantis and Lukey's Boat. Those bands kept pace with the current trends of rock music, playing electric blues and psychedelic rock. By this time the drinking age had been lowered from 21 to 19, and the club scene was thriving. Memorial University, with its growing student population, had also become a key venue for local and international acts.
Though more closely associated with traditional music, groups like Figgy Duff and the Wonderful Grand Band emerged from the early days of Newfoundland rock and roll, and those roots show in their combination of original and traditional material, played with electric instruments and modern production techniques. Other bands of the 1970s played contemporary pop and rock styles, with original songs dominating the set lists more than ever before. The music of TNT, a Stephenville band that also operated a recording studio, might not be "Newfoundland" music in the traditional sense, but for several years the band filled clubs and dances with songs written, recorded and performed by Newfoundland musicians for Newfoundland audiences.
Developing Musical Diversity
As the 1970s gave way to the '80s, the province's contemporary music scene developed a new diversity. Blues music proved hugely popular in the bars of St. John's and other towns, lead by local players like Roger Howse and Dennis Parker. The province made a small but significant impact on the Canadian jazz scene, with the emergence of the Jeff Johnston Trio and John Nugent from St. John's. The popularity of "Newfoundland country" peaked with Simani, a duo from the Bay d'Espoir area who became one of the province's top selling acts. Meanwhile, far from the mainstream audiences of bars and nightclubs, bands like Da Slyme, the Black Auks and Dog Meat Barbeque produced independent recordings of experimental music, punk rock and soundscapes. Though not widely popular, these acts would be highly influential among future generations of artists and musicians.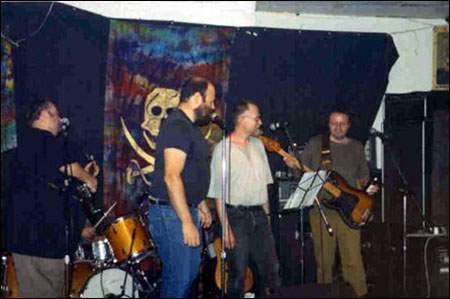 Dog Meat BBQ Performing at the Ship Inn, August 27 1998
Left to right: Wallace Hammond, Mike O'Brien, Tony Richards, and Doug Ivey (Justin Hall is hidden in the back on drums. Missing from photo are Craig Squires and Duncan Snowden).
By the late 1980s Newfoundlanders were promoting their music at the East Coast Music Awards and other music industry events. Remarkable advances in recording technology made it more feasible for artists to record and market their material on compact disc and cassette. Rock groups like Dead Reckoning and The Thomas Trio and The Red Albino lead a new wave of independently released, locally produced recordings. The Thomas Trio subsequently relocated to Toronto, where they became one of the city's most popular bands before dissolving a few years later.
Recent Years
In the last decade Newfoundlanders have released more recordings than ever before. Contemporary acts to emerge have included singer-songwriters like Chris Ledrew, Sean Panting, Damhnait Doyle and Colleen Power, and the rock groups Fur Packed Action, Timber and the Lizband. The boundaries between traditional Newfoundland music and pop music continue to dissolve. Songwriters like Pamela Morgan and Ron Hynes mix modern and ancient influences. The Punters recently recorded an album that included original pop songs, a few old time Newfoundland favourites and a song borrowed from the English rock band The Kinks. Great Big Sea has become one of Canada's most popular bands by combining traditional music with original songs that have become pop hits.
Labrador artists have also fashioned unique sounds by mixing traditional and folk music with more contemporary influences. The region's most popular singer, Harry Martin, presents his songs of Labrador in a modern folk music setting. Selby Mesher writes country and western songs and David Penashue leads bands that perform rock music with Innu lyrics. The Flummies have become one of the region's best-known acts by playing a hybrid of folk, blues and aboriginal music. Happy Valley-Goose Bay is home to a core of bluegrass musicians who entertain regularly at clubs and community concerts.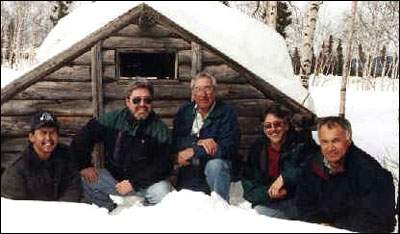 The Flummies, 2000
Cover of Labradorimiut, the Flummies' latest album, released in 2000. Left to right: Simeon Asivak, Tunker Campbell, Alton Best, Leander Baikie and Richard Dyson.
Courtesy of the Flummies. From Kenamu Records, Happy-Valley Goose Bay, Labrador.
Conclusion
The traditional music of Newfoundland is widely and legitimately viewed as a voice of the Newfoundland spirit and identity, a statement of cultural self-definition. But several generations of young Newfoundlanders have found an equally powerful means of self-expression in the many varieties of popular music that have thrived here. For the thousands who have been thrilled by the sounds of the Ravens, TNT, the Thomas Trio, the Dennis Parker Band, Great Big Sea or Timber, rock and roll and other forms of pop music do not represent an "outside" cultural influence, but a sound that is as much a part of Newfoundland as anything created with fiddles and accordions.