Peter Bell
Painting is, for me, a consummation of joyful spiritual experience. And that experience comes to me most vibrantly through intimacy with nature.
-- - Peter Bell, 1990
From "The Peter Bell Mural - A Living Chromatic Fantasy" by James Wade, The Evening Telegram, June 3, 1990.
Peter Bell was an artist, curator, and art critic who played an influential role in the development of the visual arts in Newfoundland and Labrador.
Personal Life, Education and Career
Bell was born at Grantham, Lincolnshire, England in 1918. As a young adult, he worked briefly for an insurance firm before enlisting in the British Armed Forces during the Second World War. When hostilities ended, he moved to South Africa. He studied architecture at Cape Town University from 1947 to 1949, and then completed a Bachelor of Fine Arts at Rhodes University in Grahamstown. Upon graduation in 1952, he accepted a teaching position at the Ndaleni Art School in Natal. He became head of that institution in 1959.
Bell left South Africa in 1963, after his vocal opposition to apartheid led to a brief arrest. He moved to Newfoundland to teach art at Memorial University and to curate the institution's Art Gallery (now The Rooms Provincial Art Gallery). During Bell's tenure, the gallery's collection grew considerably and in 1967 it was relocated from the Henrietta Harvey Building on Memorial University campus to the more spacious Arts and Culture Centre. Bell stepped down as gallery curator in 1972 and became Memorial University's Artist in Residence.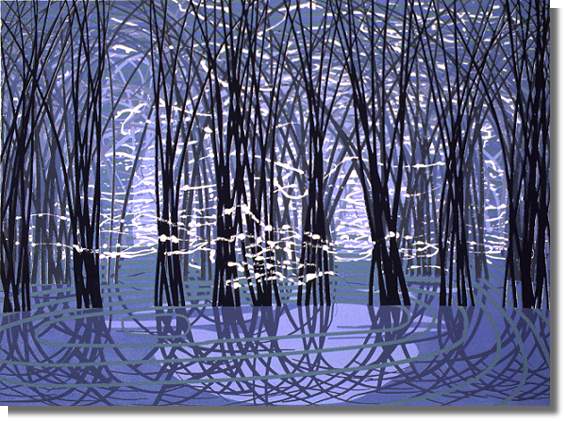 The Return of the Fireflies
1972
Serigraph, 11/30
44.7 x 61.3 cm
From 1973-1980, he was the visual arts critic for the Evening Telegram. Bell became noted for his blunt, and sometimes scathing, reviews and for his thorough knowledge of the field.
Artwork
All the while, he worked steadily on his art. Bell painted in oil and acrylic on masonite and made serigraph prints. He differed from most Newfoundland landscape artists at the time in that he did not focus exclusively on the Newfoundland environment. He drew inspiration from his private greenhouse, which he stocked with huge exotic plants and small tropical birds. View From My Studio, a series of paintings about his home in Outer Cove, depicts the lush ecosystem in which he lived and worked. Another of his better-known works, Day Haunt of the Siffleur Montagne, was inspired by the Caribbean island of Dominica, which he and his family frequently visited.
Bell and Botany
Botany was another of Bell's passions. He and his wife, the artist Charlotte Macnee, established an orchid business in Outer Cove, where they built the first geodesic dome house and greenhouse in Newfoundland. For several years they published the nationally distributed Canadian Orchid Journal. They eventually abandoned the orchid business and journal to devote more time to their art.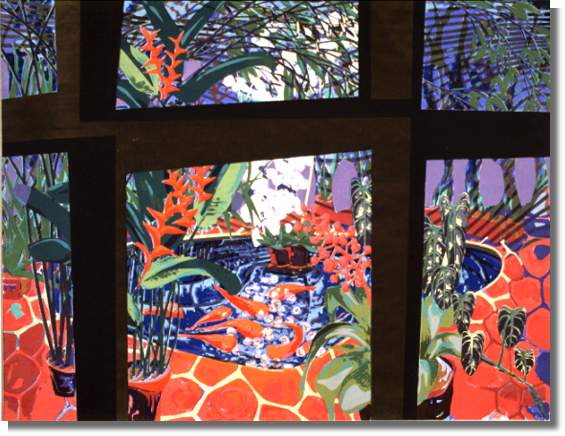 Studio View No. 1
1970
Serigraph, A. P. 4
44.5 x 58 cm
Exhibitions and Collections
Bell exhibited his work internationally, as well as across Canada and the province. In 1985, he was commissioned to paint a mural for the West Block of the provincial government's Confederation Building. In 1987, the Memorial University Art Gallery organized a retrospective of his work, and in 2001 and 2002 he participated in the Toronto International Art Fair. In 2008, The Rooms Provincial Art Gallery launched a solo exhibit of his work, entitled Peter Bell's Alternative World's. It consisted of 25 works that were produced from the early 1960s until 2006. The exhibit was the first in a series that The Rooms organized to highlight important figures in the development of the visual arts in Newfoundland and Labrador.
Bell's work is included in many private and public collections, including The Rooms Provincial Art Gallery's Permanent Collection; the National Gallery at Cape Town, South Africa; the Canada Council Art Bank; and the Simon Fraser University at Burnaby, BC.
Bell and Macnee moved to Scotland in 1987, but they returned periodically to Newfoundland to visit relatives and friends. Bell died in September 2015 at the age of 97.