Paul Parsons
To create something is just expressing the fact that you are alive. Art is a spiritual thing. It's the expression of a human being. I think a human being is like an iceberg. The physical you see is only ten percent of it ­ the rest is spiritual.
- Paul Parsons, 1979
From The Newfoundland Herald, April 18, 1979, p.39.
Paul Parsons was born in St. John's, NL, in 1925. Parsons' father was poet R.A. Parsons, and his sister, Helen Parsons Shepherd, is a distinguished portrait painter. Parsons has become well-known for his watercolours and oil paintings, as well as for his poetry.
From 1949-56, Parsons attended the Newfoundland Academy of Art, which was the province's first art school. It was owned and operated by his sister, Helen, and her husband, Reginald Shepherd. Parsons then moved to London, England, where he studied for a year at the Central School of Arts and Crafts.
On his return to Newfoundland in the mid-1960s, he worked briefly for the Newfoundland Government Planning Board, where he produced a popular illustrated map of Newfoundland. During the late 1960s, Parsons opened the Art Shop Gallery and later established the St. John's Art School.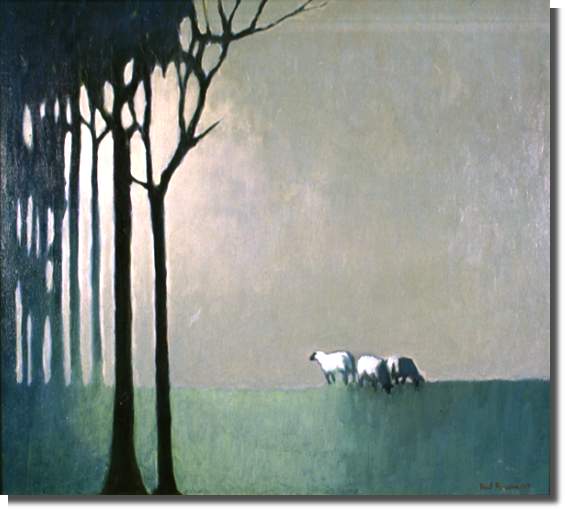 Foggy Morning
1970
Oil on Masonite
61 x 68.7 cm
Parsons experimented with various media, but in the 1980s he began to focus exclusively on watercolours of nature scenes and studies of people engaged in everyday activities, usually painted on location and often combined with his poetry.
His work has been exhibited in commercial and public galleries, including the exhibition Paul Parsons: A Retrospective, organized by Memorial University Art Gallery in 1983. His work has been repeatedly recognized by the annual provincial Arts and Letters Competition. Parsons' artwork is part of private and public collections including that of The Rooms Provincial Art Gallery's Permanent Collection and the Government of Newfoundland and Labrador.
For the last several years of his life, Parsons lived at various locations in Conception Bay, where he continued to sketch local scenes and people. He died on April 29, 2010 at St. Clare's Mercy Hospital in St. John's.