Manfred Buchheit
Living and working as an artist in Newfoundland, it's difficult not to be affected by the impact of the sea on both the culture and the natural landscape: you come face to face with it every day. ...It gets into your art, whether directly or indirectly. Travel any road on this island, and at the end of it there will be a distinct community, a wharf, and a people who have been formed by the sea.
-- - Manfred Buchheit, 1999
Excerpt from artist statement in Merchants, Mariners and the Northern Seas exhibition publication, organized by Sir Wilfred Grenfell College Art Gallery, 1999.
Manfred (Mannie) Buchheit is a photographer, photohistorian, and educator who lives in Holyrood, Newfoundland and Labrador.
Born in Alsace, France in 1943, Buchheit showed an early interest in photography. He received his first camera at the age of seven and built his own darkroom when he was 14.
In 1950, his family moved to the Canadian province of Ontario. Buchheit studied at the Ontario College of Art and found work as a medical graphic artist.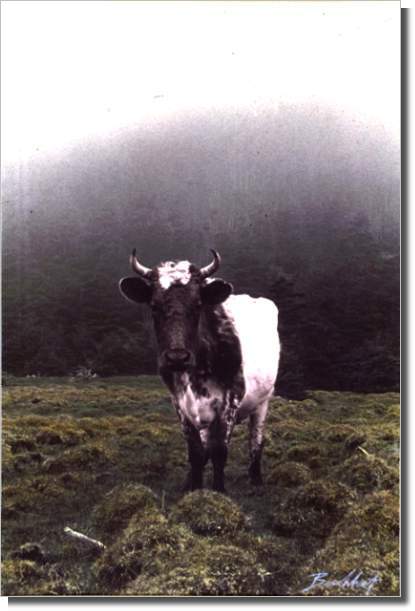 Manjo Simon's Cow, Lucy -
Cape St. George
1987
Hand Coloured Silverprint Photograph
46.5 x 31.2 cm
In 1971, Buchheit moved to Newfoundland, where he lived for a number of years in St. John's before settling at Holyrood, Conception Bay. Buchheit worked as a professional photographer and from 1975 taught art and photography with the Memorial University Extension Service. In 1977, he was awarded a Canada Council Arts Grant as an Artist-in-the-Community.
Buchheit became noted for his work with pinhole and other experimental photographic mediums. His initial focus was on urban settings, largely the streets of historic downtown St. John's, but this expanded to include rural settings after he moved to Holyrood. In 1984, Buchheit won first prize in the Newfoundland and Labrador Arts and Letters Competition. In 1996, the Art Gallery of Newfoundland and Labrador (now The Rooms Provincial Art Gallery) organized a 25-year retrospective of his work.
Buchheit also works extensively with archival photographs. In 1980, he became the master printer for the Newfoundland Museum's exhibit, Newfoundland Photography 1849-1949. (The museum has since been renamed to The Rooms Provincial Museum Division). He subsequently organized Homage to Holloway in 1997. The exhibit combined British photographer Robert Holloway's (1850-1904) scenes of Newfoundland with Buchheit's own photographs of the same sites 100 years later. In 2007, Buchheit curated The Holloways: Newfoundland and Labrador's First Family of Photography for The Rooms Provincial Archives. He expanded the exhibit in 2010 to include a series of photographs Holloway took of Labrador.
Buchheit's work has toured across the province and the country, and has appeared in various publications, including the Canadian literary journal Geist. His photographs are a part of many private and public collections, including The Rooms Provincial Art Gallery's Permanent Collection, the Canadian Museum of Contemporary Photography, Fishery Products International, the Government of Newfoundland and Labrador, and the Newfoundland Teachers Association.