Kathleen Knowling
As a Newfoundlander I see a small and fragile culture that is threatened. Other voices easily drown ours. We stand constantly in danger of being overwhelmed by the slick of urban culture flowing toward us from mainland North America. My drawings are a way, one way, of stating who we are and where we have come from. A Newfoundland woman's art based on a Newfoundland woman's traditional craft.
- Kathleen Knowling, 1991
Excerpt from artist statement in The Sparrow's House exhibition publication, organized by Memorial University Art Gallery, 1991.
Education and Personal Life
Kathleen Knowling was born in St. John's, NL, in 1927. She studied history at Columbia University in New York City and graduated with a Bachelor of Arts degree in 1950. She spent the next two years in Paris, France, studying museum collections to expand her practical studies in fine arts and art history.
Knowling married in 1959 and focussed on raising her three children during the 1960s. In the 1970s, she began to study and practice art fulltime. She spent a term at the Nova Scotia College of Art and Design (NSCAD), and studied at the Newfoundland Academy of Art, Mount Allison University, and at Memorial University's Extension Service. She also began exhibiting her work professionally in Newfoundland, New Brunswick, Ontario, and British Columbia. Knowling initially worked with watercolour, but later turned to oilsticks and coloured pencils.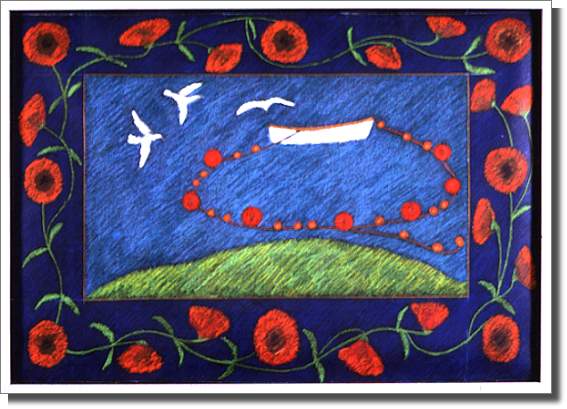 The Boat from Bacon Cove
1990
Mixed Media on Paper
76 x 110.8 cm
Artwork and Career
She earned acclaim for her Hooked Mats series, which pays homage to the traditional Newfoundland art form and the outport women who practiced it. The pieces are created using oilstick and coloured pencil on watercolour paper that has been coated with black acrylic paint. The series was inspired by the designs of hooked mats crafted by Newfoundland outport women, a tradition that continues today. In 1991, the Memorial University Art Gallery (now The Rooms Provincial Art Gallery) held an exhibition of Knowling's mixed media versions of traditional hooked mats, The Sparrow's House.
Knowling is a prolific artist whose work has been exhibited in numerous solo and group shows. Recent exhibitions include the solo show My Town, Your Town (2011) at the Emma Butler Gallery in St. John's, and the group shows Honest Beauty (2008) at the Emma Butler Gallery and Traditions in Transition: Contemporary Hooked Rugs of Newfoundland and Labrador, which appeared at The Rooms Provincial Museum and toured the province in 2006-2007.
In addition to her work as a visual artist, Knowling has taught art history for Memorial University's Extension Service and has conducted bookmaking workshops in Labrador and at the artist-run Eastern Edge Gallery in St. John's. She has curated exhibitions and written art reviews and poetry.
She has also been active in the local arts community through the St. John's chapter of the Canadian Federation of University Women, the Newfoundland Grenfell Association, and the Canadian Artists Representation Newfoundland and Labrador (now the Visual Artists Newfoundland and Labrador).
Her artwork is part of many private and public collections, including The Rooms Provincial Art Gallery's Permanent Collection, The Canada Council Art Bank, the Government of Newfoundland and Labrador, and the Department of Foreign Affairs.
Knowling continues to live and work in St. John's.