Jim Hansen
My art, since emigrating to Newfoundland from Ohio in 1970, has been the production of graphic thought knots, clots in a virtual Mediascape. These silk-screen prints, photocollages and, for the last 12 years, digital-photo constructs for computer, have taken shape as an idea log. The work is a jaundiced journal, reflections in a private I.
- Jim Hansen

From artist statement in his retrospective exhibition, X-Rated Vision, curated by Bruce Johnson, The Rooms Provincial Art Gallery, 2000.
Personal Life and Career
Jim Hansen was born in Warren, Ohio, in 1939. The son of two artists, he grew up watching his parents paint and going on frequent family trips to art galleries. His early influences include Matisse, abstract expressionist works of the 1950s, and comic books.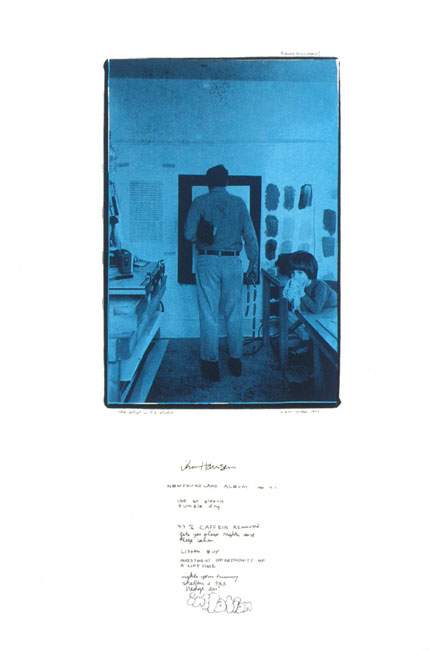 Newfoundland Album
No.41
1974
Serigraph
96.5 x 62.8 cm
©1999, CARfac©Collective
In 1959, Hansen had a summer job bussing inner-city kids to a day camp near Hiram, Ohio. There, he photographed black and white children playing in the wooded campgrounds a stark contrast to the racial tensions bubbling in many American cities at the time. Hansen and his friend Lyle Linville self-published the photographs and some poetry in a book called Tiger. It never found a commercial publisher, but did lead to some subsequent work for Hansen as a photographer. The images from Tiger were later shown at The Rooms Provincial Art Gallery in 2011.
Hansen also worked for a brief period as a graphic designer at an advertising company before serving in the United States Army Medical Corps from 1962-65. In 1969, he graduated from Kent State University with a major in studio arts and a double minor in biology and chemistry.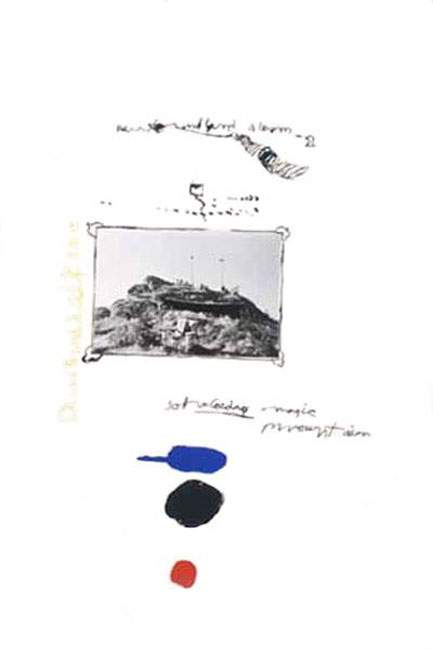 Newfoundland Album
No.2
1970
Serigraph with Collaged
B & W Photograph
96 x 63.5 cm
©1999, CARfac©Collective
Artwork
He moved to Newfoundland in 1970 and began working on The Newfoundland Album - an ambitious series of more than 160 silkscreen prints that combined text, drawings, and photographs to create a visual journal. Hansen has referred to these prints as "thought machines" which allow him to process his ideas, propositions, reactions, and experiences.
In the 1980s, he began to explore themes of sexuality, masculinity, and domesticity, and to place images of himself in his art. His work became noted for its complex and often ambiguous imagery, and for its quirky sense of humor. He has used collage, photography, print and, more recently, digital imaging and Photoshop. Bruce Johnson, the curator of several of Hansen's exhibitions, describes his work as a "visual paper trail of his life" with which "he seeks to assemble and document himself and his universe."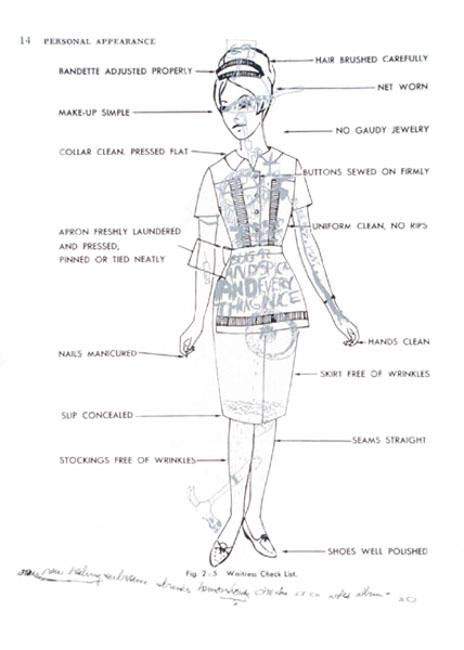 Newfoundland Album
No.30
1973
Serigraph
96.5 x 63.7 cm
©1999, CARfac©Collective
Hansen's art has appeared in solo and group shows in Canada, the United States, and Europe. Recent exhibitions include the solo show Jim Hansen at The Rooms Provincial Art Gallery (2007-2008) and the group show Beauty Queens, which travelled across Canada from 2004-2006. In 2001, a 30-year retrospective of his work, Private Eye: The Art of Jim Hansen, showed at The Rooms Provincial Art Gallery.
Hansen's artwork has been included in many public and private collections, including The Rooms Provincial Art Gallery's Permanent Collection, the National Gallery of Canada, The Canada Council Art Bank, the Museum of Modern Art (MoMA) in New York, and Kent State University.