Jean-Claude Roy
Look at Newfoundland. It's wild and I love it, that is all. You cannot find anything else like it in the world. I love the wilderness. Everything is different. The wind, the flowers, the sea.
- Jean-Claude Roy, 1994
From Sun Scrapes: French Artist Drawn to Muse of Newfoundland's Landscape, article in The Evening Telegram, August 19, 1994, p.16.
Jean Claude Roy is one of Newfoundland and Labrador's most prominent and prolific painters.
Personal Life and Career
Jean Claude Roy was born in Rochefort-sur-Mer, France, in 1948. After graduating from the Lycée Technique de Saintes in 1966, he joined the merchant marine and took his first job as an apprentice electrician on a cable-repair boat. He spent the next five years working largely at sea. Roy's work took him frequently to the port of St. John's, NL, where he developed an interest in landscape painting. He moved to the city in 1971.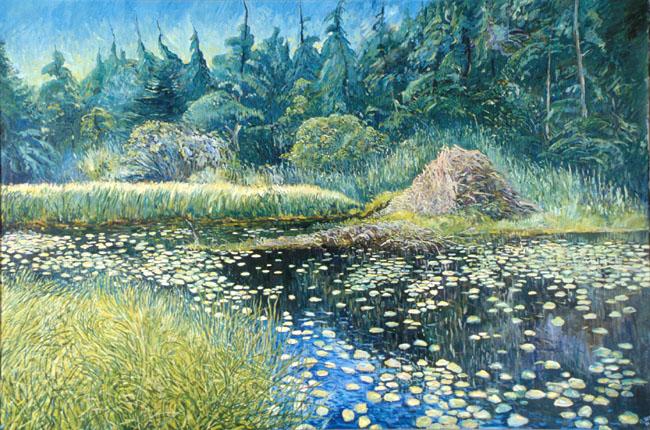 Gully With Beaver House
1980
Oil on Canvas
122.1 x 183 cm
From 1971-1981, Roy worked as a marine electrician by day and a painter by night. He sold his first paintings in 1973, had his first group exhibition in 1974, and his first solo show in 1975. More exhibitions followed in the coming years, including two solo shows at the Memorial University Art Gallery (now The Rooms Provincial Art Gallery) in 1978 and 1981. His work also travelled across the country and to St. Pierre et Miquelon during this period.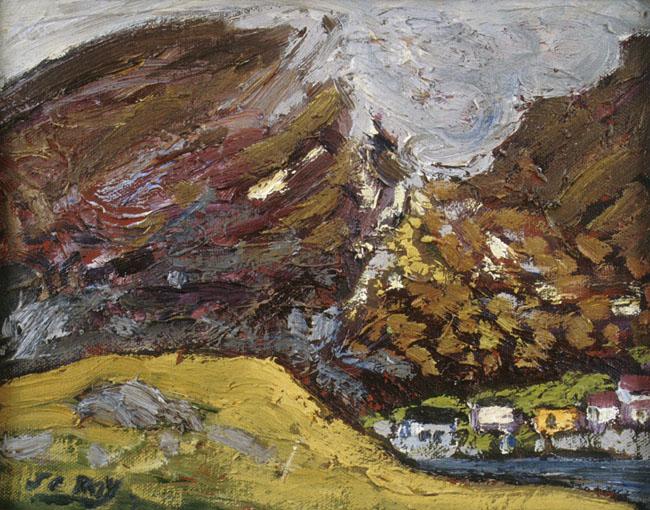 Study for Petty Harbour
n.d.
Oil on Canvas
20.5 x 25.5 cm
In 1982, Roy returned to France to work fulltime as a painter. His work was exhibited widely in France and Canada. In 1994, he decided to maintain two studios: one in St. Philip's, Newfoundland and the other in the village of La Clisse, on the west coast of France. As of 2013, he continued to divide his time between Newfoundland and France.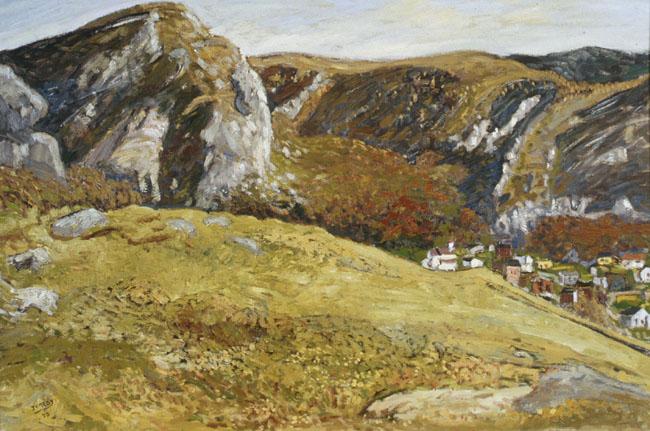 Petty Harbour
1978
Oil on Linen
60.6 x 91.5 cm
Artwork, Collections and Exhibitions
Roy is a prolific, largely self-taught, and widely acclaimed artist. He works mostly with oils and describes his style as "expressionist-colourist." He applies paint thickly, with a brush or palette knife, and the resulting marks convey a sense of motion, energy, and texture. Roy paints almost exclusively on site and his usual Newfoundland subjects are landscape and small communities. He travels the island by car in search of striking locations to paint and will work outside in every kind of weather. While painting in Trinity, for example, he once had to tie himself to a telephone pole because of the high winds.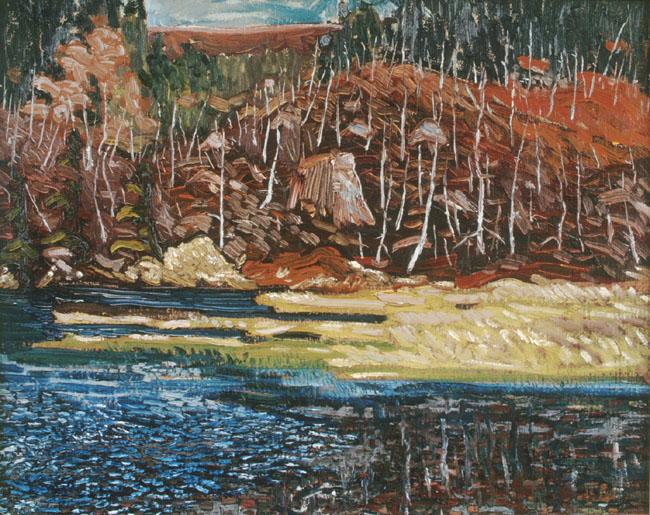 Landscape in Spring,
Butterpot Park
1978
Oil on Canvas
41 x 51 cm
Roy has produced hundreds of paintings, which have been shown in scores of solo and group exhibitions across the province, the country, and the globe. His work is the subject of the book Fluctuat Nec Mergitur (a Latin phrase meaning "it floats and doesn't sink"), which features 808 of Roy's paintings, each one of a different Newfoundland community. The book was published in 2012 by Breakwater Books. In 2010, Roy had completed another large project "the 216-foot-long French Shore Tapestry." The work was a collaboration between Roy, his wife Christina, and the French Shore Historical Society.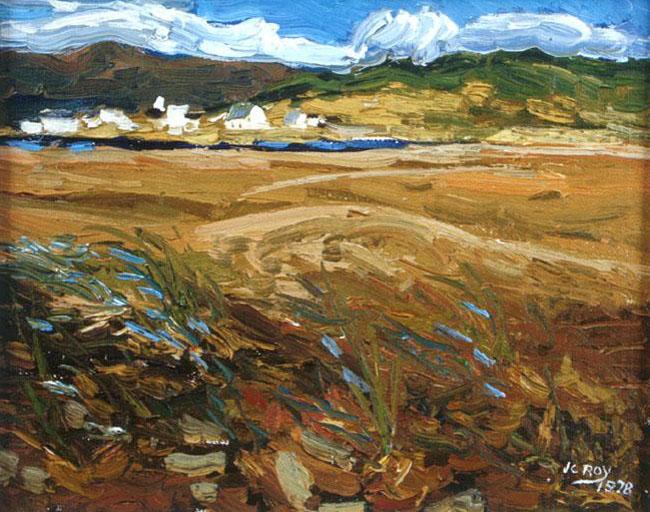 Ile de Langlade
1978
Oil on Canvas
20.4 x 24.8 cm
In addition to being part of The Rooms Provincial Art Gallery's Permanent Collection, Roy's work can be found in many private and public collections, including the Government of Newfoundland and Labrador; Courvoisier - Cognac, France; Musée Archive, St. Pierre et Miquelon; the Saintes City Hall in France; and the Christopher Pratt Gallery at Bay Roberts, Newfoundland and Labrador.