Gerald Squires
I didn't know about art as a child; culture and religion but no art. Art needs to be bought therefore we need wealth. Wealth didn't really exist in Newfoundland then, we were too poor.
- Gerald Squires, 1987
From Art as Expression: Creativity and Madness, An Interview With Gerald Squires. Newfoundland Lifestyle vol.7, no.4, 1987, p.18.
Gerald Squires was one of the province's most distinguished artists. He was noted for his landscapes, surrealist paintings, portraits, and sculptures.
Education and Personal Life
Squires was born in Change Islands, Newfoundland, in 1937, but spent much of his childhood on Exploits Island. When he was 12, his family moved to Toronto, Ontario, where he soon developed an interest in art. He went on weekend painting excursions with art instructors and was encouraged to develop his skills at the Danforth Technical School.
Upon graduation from high school, Squires found work as a newspaper artist for the now defunct Toronto Telegram. Among other things, the newspaper published a series of his line drawings of historic Toronto churches and street scenes. He also took night classes at the Ontario College of Art and Design and painted on weekends. His work was well-received and Squires had several solo exhibitions in Toronto galleries. He was also a founding member of the Oshawa Art Gallery (now the Robert McLaughlin Gallery).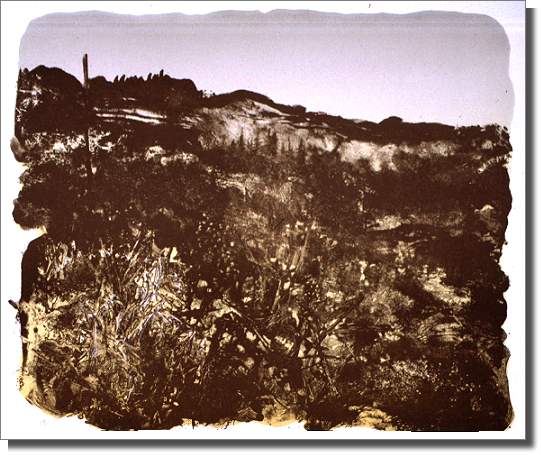 Ferryland Downs #4
1978
Lithograph, 13/18
48 x 56.8 cm
In the late 1960s, he quit his newspaper job to work on his studio art fulltime. He moved back to Newfoundland in 1969, where he found inspiration from the province's landscape, culture, and history. He lived at Exploits Island and Bonne Bay before settling at Ferryland in 1971, where he lived in an abandoned lighthouse with his wife and two daughters. There, he completed three major series of work "Boatman, the Ferryland Downs Series, and Cassandra" which established his reputation as an important landscape artist and surrealist. In 1983, he relocated to Holyrood.
Art and Recognition
Squires was known for his dramatic Newfoundland landscapes in oil and acrylic, and for his portraits and surrealistic paintings. He was also a noted printmaker and sculptor. During his life had more than 300 solo and group exhibitions, including Gerald Squires: Journey, a major retrospective of four decades of his work, which the Art Gallery of Newfoundland and Labrador (now The Rooms Provincial Art Gallery) organized in September 1998. He was also an artist in residence and teacher for Memorial University of Newfoundland.
He received many honours for his work. In 1984, he received the Ted Drover award for Achievement in the Visual Arts from the Newfoundland and Labrador Arts Council, and in 1992, he was awarded an honourary doctorate from Memorial University. In 1999, he was elected to the Royal Canadian Academy of Arts and appointed to the Order of Canada. In 2003, he received the Queen Elizabeth II Golden Jubilee Award, and in 2007, he received the Newfoundland and Labrador Arts Council's Hall of Honour Award. His work was also the subject of the 1995 publication, Gerald Squires: Newfoundland Artist.
His work can be found in many private and public collections, including those of The Rooms Provincial Art Gallery's Permanent Collection, the National Gallery of Canada, the Canadian Catholic Conference of Bishops, York University, and the Montreal Museum of Fine Arts. Several of his works have been deemed 'national treasures' and collected through the Certified Canadian Cultural Properties Act.
Squires died on October 3, 2015 at the age of 77.