George Noseworthy
The island of Newfoundland, being well out into the Atlantic Ocean, is equal toplacing an object on a mirror under a lamp. The surface of the sea acts as themirror which causes an underlight or backlight. An incident of blue from sea and sky is quite prominent on most objects in this environment. Add to this, wind, energy and tidal energy and the result is an effect on all objects which makes the island and environment quite unique.
- George Noseworthy, 1978
Excerpt from artist statement in Newfoundland Rhythmics exhibition publication, organized by the Memorial University Art Gallery, 1978.
George Noseworthy was born in the Bronx, New York on July 24, 1929. His parents were originally from Newfoundland.
Noseworthy studied at the New York State University Institute of Applied Arts and Sciences (from which he graduated in the top 10 in his class) and at the Art Students League of New York. After graduation, he worked as an artist and art director for major advertising agencies and publishers in New York.
Newfoundland Influence
In 1966, Noseworthy and his wife, Margaret, visited Newfoundland for a vacation and decided to settle permanently at the fishing community of Hibbs'Hole (now Hibb's Cove), Conception Bay. Noseworthy wrote in his journal that "the rugged coastline, colorful houses, boats, wharves, fish flakes, and the deep blue color of the ocean, blew me away. I felt as if I had fallen into another time, and I knew this was where I wanted to be."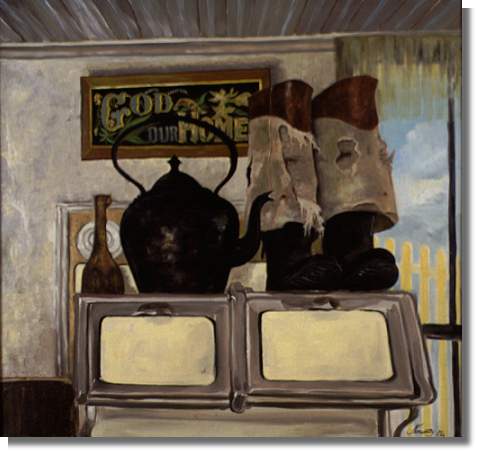 Fishermen's Boots
1968
Oil on Linen
71.1 x 76.2 cm
The new surroundings influenced Noseworthy's paintings. "In New York in the last few years I did a lot of abstract painting", he told The Muse in 1971. "When you're in a society as artificial as New York's, it's difficult to be natural and to be pleasant." But in Hibb's Cove, Noseworthy produced landscapes and seascapes which suggested that the people, land, and sea all lived in harmony.
His early paintings were realistic interpretations of his new home, but he developed a more expressive style in the 1970s. Expansive vistas replaced his representational landscapes. Fluid, curving swaths of colours depicted the sky, sea, and land, and produced a pleasing impression of movement and harmony. Inspired by the rhythms of nature, Noseworthy called his new style "Rhythmics".
In 1970, Noseworthy became the first artist to paint the annual North Atlantic seal hunt on location. During the voyage, he created a series of 43 oil paintings, which are among his most well-known pieces. Known collectively as The Hunt collection, they were on display for decades at the St. John's City Hall before being transferred in 2013 to the Home From the Sea Sealers Memorial in Elliston. The series also formed the basis for the book Blue Ice: The Sealing Adventures of Artist George Noseworthy, published in 2010.
Community Involvement and Exhibitions
Noseworthy was also deeply involved in the community. In 1968, he founded the Fisherman's Museum at Hibb's Cove. It was the first of its kind in the province and documented the lifestyles of fishers from the 1700s onwards. He also taught art to the local children and in the 1970s helped to establish music and art centres for the area's youth.
Noseworthy produced more than 450 paintings during his career and participated in more than 30 solo and group exhibitions. His artwork can be found in The Rooms Provincial Art Gallery's Permanent Collection, St. John's City Hall, the Home From the Sea Sealers Memorial in Elliston, and in private and public collections across Canada, the United States, Japan, and Europe.
Noseworthy passed away in 1985. His body was cremated and his ashes were scattered over the sea and land he loved to paint. He composed the epitaph inscribed on his urn: "Say not, that you viewed my art and saw life, but say you again viewed life and saw my art."