Gary Saunders
Exploring Nature through drawing, painting and writing has fascinated me since childhood. Like a schooner under sail, I've tacked between Art and Science all my working life. While this hasn't made for rapid progress or artistic acclaim, it has paid the bills and blessed me and mine in other ways.
-Gary Saunders, 1998
Excerpt from artist statement in AGNL Permanent Collection file, 1998.
Gary Saunders was born in Clarke's Head, Gander Bay, Newfoundland, in 1935.
In 1953, Saunders attended the Newfoundland Academy of Art, which was owned and operated by the artists Helen Parsons Shepherd and Reginald Shepherd. He was also interested in science and nature, and decided to study forestry at the University of New Brunswick. He graduated in 1959 with a Bachelor of Science.
Saunders returned briefly to Newfoundland to work in the forestry industry and teach courses in wood technology and dendrology at Memorial University. He again departed in the early 1960s to study art at Mount Allison University in Sackville, New Brunswick. He graduated in 1965 with a Bachelor of Fine Arts.
Saunders then moved to Truro, Nova Scotia, where he became a writer and illustrator for the Nova Scotia Department of Lands and Forests. He also conducted art workshops at Mount Allison University. He produced a number of publications for woodlot owners and was instrumental in helping to establish a Natural Resources Education Centre in Middle Musquodoboit.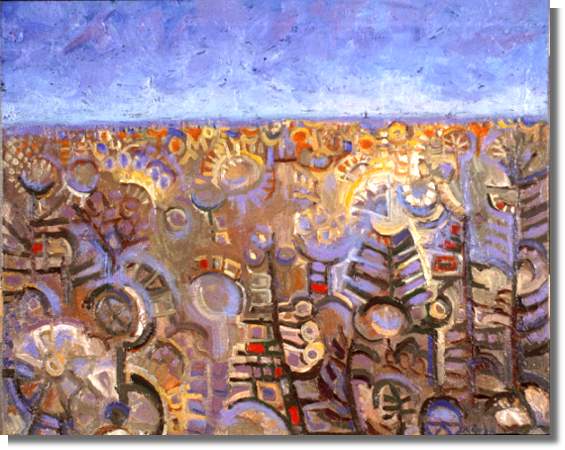 Plant Scape Autumn
1968
Oil on Masonite
50.6 x 61 cm
While residing in Nova Scotia, Saunders frequently visited his childhood home of Clark's Head, Gander Bay, where he painted landscape-based abstracts. Some of his work was exhibited across Canada, including at the Atlantic Pavilion at Expo '67. Private galleries also expressed interest in selling his work, and the Memorial University Art Gallery (now The Rooms Provincial Art Gallery) added several of his paintings to its permanent collection.
Saunders is also a writer and his publications include the books: Trees of Nova Scotia (1970), The Brook and the Woodcutter (1979), The Man Who Couldn't Stop Sneezing (1982), Rattles and Steadies: Memoirs of a Gander River Man (1986), Alder Music (1989), September Christmas (1992), Doctor Olds of Twillingate: Portrait of an American Surgeon in Newfoundland (1994), Discover Nova Scotia: The Ultimate Nature Guide (2001), So Much Weather!: Facts, Phenomena and Weather Lore from Atlantic Canada (2002), and Free Wind Home: A Childhood Memoir, 1935-1948 (2007). He has also written for numerous journals, including Canadian Geographic, Reader's Digest, Canadian Living, Nature Canada, Atlantic Provinces Book Review, and The Journal of Forest History.
In addition to The Rooms Provincial Art Gallery's Permanent Collection, Saunders's work can be found in private and public collections, including the Hudson's Bay Company, Mount Allison University, and The Canada Council Art Bank.