Don Wright
I have always felt the urge to point out to others those qualities of nature which delight me.
- Don Wright, 1984
Excerpt from artist's statement in Coastal Images exhibition publication (Guelph, Ontario: Macdonald Stewart Art Centre, 1984).
Don Wright (1931-1988) was an artist and a teacher who played an influential role in the development of the visual arts in Newfoundland and Labrador.
Teaching and Practicing Art
Wright was born in Timmins, Ontario, in 1931. He spent much of his childhood drawing and painting and, as an adult, decided to teach and practice art. In 1954, he moved to Toronto, where he attended a teacher's college and then worked as an elementary school art teacher for 11 years. From 1959 to 1966, he also intermittently studied printmaking at the Ontario College of Art.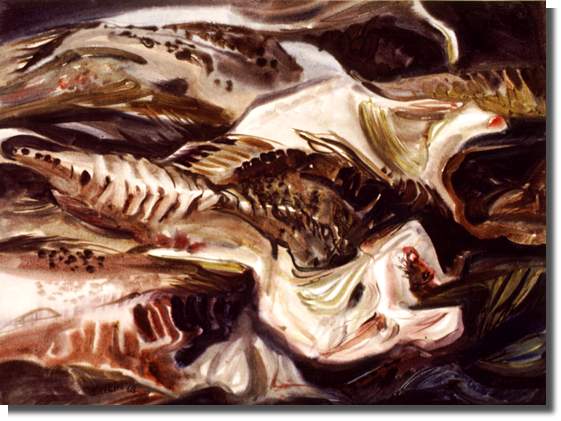 Split Fish Stage Floor
1969
Watercolour
56.5 x 76 cm
In 1967, he moved to Newfoundland to work as an art specialist with the Memorial University of Newfoundland's Extension Service. He conducted art classes for children and adults, both on the St. John's campus and in communities throughout the province. In 1969, he developed a Summer Art Program for school students. It operated for eight years before funding ran out. After that, he conducted summer classes from his studio in Port Kirwan. Wright's instruction provided an important bridge for young artists between their graduation from high school and acceptance into an art college.
In 1972, Wright co-founded St. Michael's Printshop with Heidi Oberheide. The printshop not only provided a workspace for local professional artists, but also attracted many leading printmakers from Canada, the United States, and Europe.
Focusing on Artwork
In 1983, Wright resigned from his position at Memorial University to work on his art fulltime. He was primarily a printmaker, but also produced drawings, watercolours, and sculptures. He drew upon the natural environment for inspiration and his work almost always dealt with landscape and people's relationships to it. He depicted outport communities and their traditional activities, as well as aspects of the inshore fishery and the natural environment.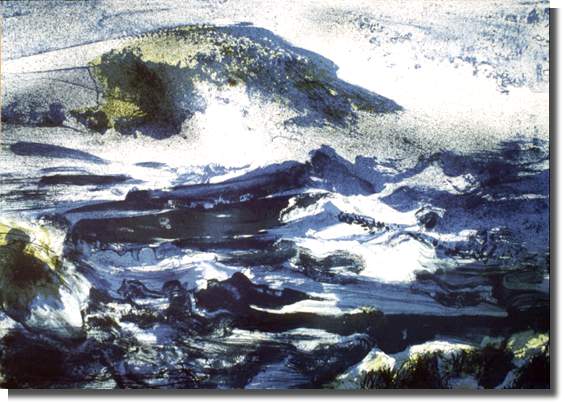 Storm 2
1975
Lithograph, 3/9
55 x 75.8 cm
In the 1980s, Wright's art became increasingly introspective as he focused more on internal themes rather than the external world. How to integrate the self with nature was a recurring theme. His work also reflected on the relentless cycle of birth, life, and death, and on people's place in the natural world. These themes were the basis of the 1987 exhibition Falling at Memorial University Art Gallery (now The Rooms Provincial Art Gallery).
A hemophiliac, Wright contracted HIV through a blood transfusion sometime in the mid-1980s. He died in 1988.
In 1990, the Memorial University Art Gallery mounted a nationally-touring retrospective of Wright's work. It was the first exhibition of Newfoundland art to be presented at the National Gallery of Canada in Ottawa.
Wright's work can be found in private and public collections including The Rooms Provincial Art Gallery's Permanent Collection, the Canada Council Art Bank, Mount St. Vincent University Art Gallery, and the Government of Newfoundland and Labrador.