David Blackwood (1941-2022)
While talent and hard work might prove sufficient to get you through art school, survival as an artist in our contemporary world demands much more. To produce anything of lasting value requires a strong belief and love for what you do, and great patience. Establishing one's identity as a serious artist takes time, and then it requires fortitude to maintain that identity with any kind of integrity.
-- - David Blackwood, 1992
Excerpt taken from Blackwood's convocation address at Sir Wilfred Grenfell College, Corner Brook, Newfoundland, May 9, 1992.
David Blackwood was one of Canada's leading printmakers and visual storytellers. His iconic etchings of outport life illuminated Newfoundland and Labrador's history, legends, and society.
David Blackwood was born in 1941 in the outport community of Wesleyville on the island's northeast coast. His family has a long seafaring history and Blackwood spent his childhood summers fishing off the Labrador coast aboard his father's schooner, the Flora S. Nickerson. Blackwood's upbringing in outport Newfoundland deeply influenced the kind of art he would later produce.
Early Success
His talent was evident at an early age. He opened his own studio in 1956 and produced award-winning art while still a teenager. In 1959, he was awarded a Government of Newfoundland Centennial Scholarship to study at the Ontario College of Art in Toronto. After graduating in 1963, he moved to Port Hope, Ontario and became Art Master at the Trinity College School. The part-time position gave Blackwood ample time to practice his studio work.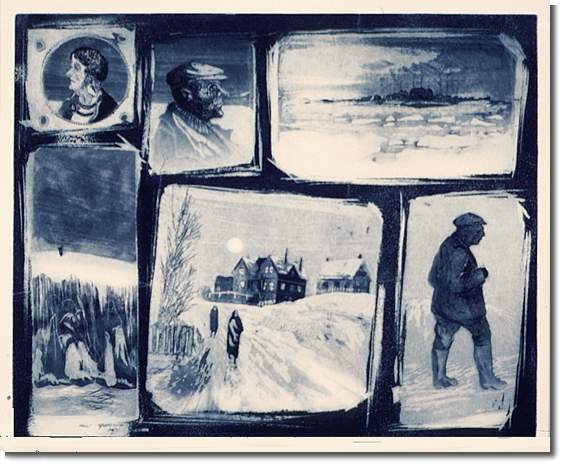 Wesleyville Remembered
1968
Etching, A. P.
40.5 x 50.5 cm
During the 1960s and early 1970s, Blackwood developed one of the largest thematically linked series of prints in Canadian history, The Lost Party. This famous series of 50 etchings focussed on the Newfoundland sealing disaster of 1914. He was also involved with establishing an art gallery at Erindale College, an affiliate of the University of Toronto. As a sign of gratitude to Blackwood, the gallery was named The Blackwood Gallery when it officially opened in 1992.
Newfoundland Focus
Despite his long Ontario residency, Blackwood's art continued to focus on Newfoundland and Labrador. His output was prolific, and his subject matter included the fisheries, the seal hunt, resettlement, shipwrecks, mummers, and other aspects of outport life. While known for his stark blue-black etchings, in later years he experimented with watercolours and oil tempera. He became one of the most successful and respected artists in Canada.
Recognition
In 1974, the National Film Board of Canada produced the documentary Blackwood, which won 10 international awards and was nominated for an Academy Award. His work has been featured in four major publications: The Wake of the Great Sealers (1973); The Art of David Blackwood (1988); David Blackwood: Master Printmaker (2001); and Black Ice: David Blackwood Prints of Newfoundland (2011).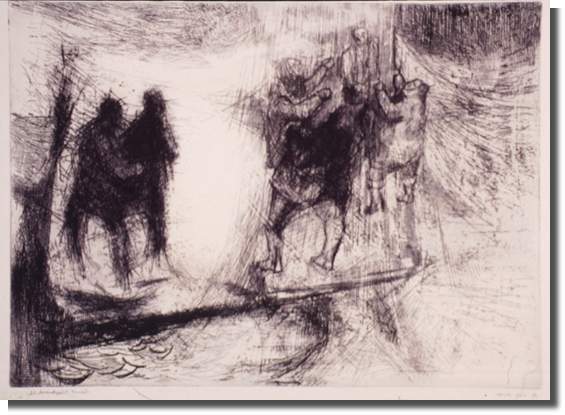 Lost Party
1963
Etching, 4/10
50.3 x 70.7 cm
Blackwood's art has been extensively exhibited nationally and internationally in scores of solo and group exhibitions. Recent shows include Black Ice, which toured Canada from 2011-2012; Illumination: Ephraim Kelloway's Door (2010); Recent Watercolours (2009); and Flowers for Siromani (2005).
Blackwood was a member of the Royal Canadian Academy of Arts and has honorary doctorates from several universities, including the Memorial University of Newfoundland. He received the Order of Canada in 1993 and the Order of Ontario in 2003. Also in 2003, Blackwood was named Honorary Chairman of the Art Gallery of Ontario.
In addition to being a part of The Rooms Provincial Art Gallery's Permanent Collection, Blackwood's art is in many private and public collections, including the National Gallery of Canada; the Royal Collection at Windsor Castle; the National Gallery of Australia; Uffizi, Florence, Italy; and the Montreal Museum of Fine Arts. In 2000, the Art Gallery of Ontario acquired a major collection of Blackwood prints and created the Blackwood Research Centre.
Blackwood retired from teaching, but continued to work on a full-time basis as an artist. He continued to live in Port Hope, Ontario while maintaining a studio in Wesleyville, Newfoundland and Labrador.
David Blackwood died in Port Hope in July 2022.
For more information on the artist and his work, visit his website: http://www.davidblackwood.com/.