Colin Macnee
Sadly, it is not just Colin Macnee who has died, but also the wonderfully unique and moving way he reached out to people as both an individual and an artist. Colin Macnee produced fearless paintings and drawings. And he lived life fearlessly and with amazing conviction. For this and for the rarity of his talent he will be long remembered and sorely missed.
- Peter Gard, 1989
Essay written by Peter Gard for Colin Macnee 1959-1989: A Retrospective exhibition publication, organized by the Memorial University Art Gallery, 1989
Colin Macnee was born in 1959 at Assam, India, where he spent his early childhood living on the tea plantation his father managed. The local landscape, wildlife, and the colourful festivals he attended influenced some of his future art. Macnee exhibited an early artistic talent, which his parents encouraged. As a boy, he produced beautifully intricate drawings based on the poetry and fairy tales his mother read to him.
Macnee and his family moved to St. John's, NL in 1968. In 1971, he relocated to Oxford, England, with his mother, sister, and brother. There, Macnee continued drawing and began to experiment with printmaking and animated film.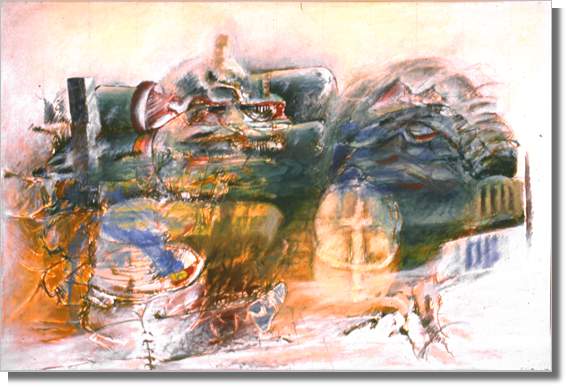 Jug Band Afternoon
1985
Oil on Canvas
60.5 x 91.5 cm
He studied for a year at the Oxford and Cherwell Valley College in Banbury, before being accepted into England's Wolverhampton Polytechnic (now the University of Wolverhampton) in 1979. He spent that summer in St. John's, where he completed a printmaking workshop at St. Michael's Printshop. By then, his mother was also living in St. John's and married to the local painter and art critic, Peter Bell.
While at Wolverhampton, Macnee specialized in sculpture and developed an interest in surrealist painting. He graduated with a Bachelor of Fine Art (Honours) in 1981 and moved permanently to St. John's, where he quickly gained a reputation as one of the province's finest young artists. Macnee's work was shown in at the Newfoundland and Labrador Arts Council Gallery in 1982, and in group exhibitions at the Memorial University Art Gallery (now The Rooms Provincial Art Gallery) in 1983 and 1986. His first major solo show, Atlantic Crossing, was at the Eastern Edge Gallery in 1986. In 1988, he won a scholarship to study at Banff's winter Visual Arts Studio Program.
Macnee worked with various media, including oil, woodcut, lithography, and photography. The arts reporter Peter Gard wrote that "Macnee's two favourite subjects as an artist were his living quarters and the view from his studio window and he produced innumerable intricately shaded drawings of the carefully designed domestic chaos in which he lived. He liked to overlay things, to show how simple things shifted position over time, to stretch the edge of the eye and create a fish-eye view of a deeply textured domestic scene" (Arts Atlantic 11.2, 1992: 26).
Aside from his work as a visual artist, Macnee also earned a living by designing sets for the Elysian Theatre troupe between 1984 and 1989.
On October 7, 1989, a fire broke out in Macnee's apartment building while he was inside. He died from the injuries in a hospital on October 12, two days before his first commercial show was scheduled to open at the Christina Parker Gallery. The unexpected death of such a promising young artist was a significant blow to the local arts community.
Macnee's artwork can be found in private and public collections including those of The Rooms Provincial Art Gallery's Permanent Collection, the Newfoundland and Labrador Arts Council, and the Government of Newfoundland and Labrador.