Christopher Pratt
At first I make very quick, very rough sketches ­ tiny little things about the size of postage stamps, three by four inches or so. Then I develop them, getting more conscious of the design, of the formal elements, and becoming more specific.
- Christopher Pratt, 1970
Excerpt from artist statement in Christopher Pratt exhibition publication, organized by Memorial University Art Gallery, 1970.
Christopher Pratt is one of Canada's most respected painters and printmakers.
He was born in 1935 in St. John's, NL, but spent many boyhood summers in the Bay Roberts area.
Education
Pratt began to paint watercolours in 1952, and the following year won the provincial government's Arts and Letters Competition for Shed in a Storm. Despite this early recognition, Pratt did not immediately set out to become a professional artist. In the fall of 1952, he enrolled in Memorial University's pre-engineering program. Although he only remained there for a year, the training he received in surveying, drawing, and precise measuring would influence his future artwork.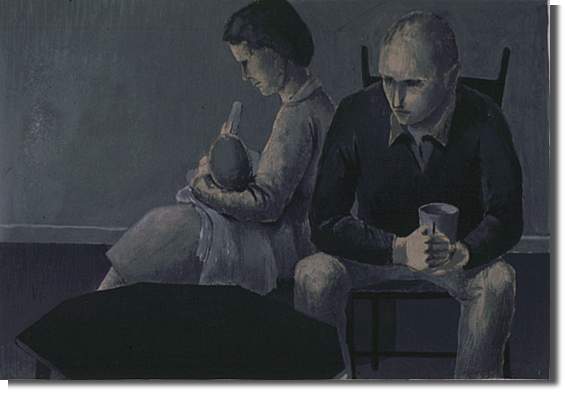 Study for Family Portrait
1960
Gouache on Paper
Unknown Dimensions
In 1953, Pratt moved to New Brunswick to study pre-medicine at Mount Allison University, but soon became interested in the institution's highly renowned Fine Arts Department. Pratt showed some of his paintings to the art instructors Alex Colville and Lawren P. Harris, who encouraged him to develop his talent. He abandoned his medical studies and in 1957 moved to Scotland to study at the Glasgow School of Art. Pratt was accompanied by his new wife, the artist Mary (West) Pratt. The two were studying at Mount Allison University when they met.
In 1959, the Pratts returned to Mount Allison. They both graduated with Bachelor of Fine Arts degrees in 1961 and then moved to Newfoundland, where Christopher accepted the position of curator at the newly opened Memorial University Art Gallery in St. John's (now The Rooms Provincial Art Gallery).
Artwork and Recognition
He resigned in 1963 to work on his art fulltime and moved to the community of Salmonier in St. Mary's Bay. Pratt's work received early acclaim and his first solo exhibition was at the Memorial University Art Gallery in 1965. That same year, he became an Associate of the Royal Canadian Academy of Arts and a member of the Canadian Society of Graphic Art.
Pratt has become one of the most successful and respected artists in Canada. His art has been extensively exhibited nationally and internationally and collected by prominent galleries. He has been the subject of several major publications, including Christopher Pratt (1982), Christopher Pratt: A Retrospective (1985), The Prints of Christopher Pratt: 1958-1991 (1991), Christopher Pratt: Personal Reflections on a Life in Art (1995), and Christopher Pratt: Six Decades (2013).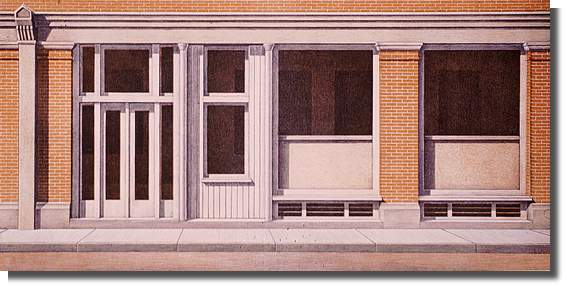 On Water Street - Sunlight
1988
Lithograph, 2/8
33.2 x 66.3 cm
In 1973, he was named an Officer of the Order of Canada and was elevated to the level of Companion in 1983. He has received honorary degrees from Memorial University (1972), Mount Allison University (1972) and Dalhousie University (1986); and was made an Honorary Fellow of the Ontario College of Art (1990). In 1980, he designed the provincial flag of Newfoundland and Labrador.
A strong sense of place permeates Pratt's art, and he explores many themes: Newfoundland's physical landscape and distinctive architecture, the ocean, boats, interior spaces, socio-political realities affecting the province, and the human figure. He works primarily with oil paints, watercolours, lithography, and silkscreen, but occasionally uses other media, such as woodcut and collage.
Pratt's work is part of many private and public collections including The Rooms Provincial Art Gallery's Permanent Collection, the National Gallery of Canada, Mount Allison University, the Art Gallery of Ontario, the Canada Council Art Bank, and the Vancouver Art Gallery.
He continues to work from his home in St. Mary's Bay.