Arthur Scammell
At the age of 15, Arthur Scammell (1913-1995) wrote one of Newfoundland's most famous and enduring folk songs, Squid Jiggin' Ground. When Gerald S. Doyle included it in his popular songbook, the song became an immediate favourite thanks to its lively tune and colourful, irreverent lyrics:
Oh this is the place where the fishermen gather,
With oilskins and boots and cape-anns battened down.
All sizes of figures with squid lines and jiggers,
They congregate here on the squid jiggin' ground.
Scammell's recording of Squid Jiggin' Ground, released in 1943, is generally considered the first commercial recording of a Newfoundland folk song. Scammell reported that between 1942 and 1979, sales of the record and sheet music earned him $35,000 in royalties.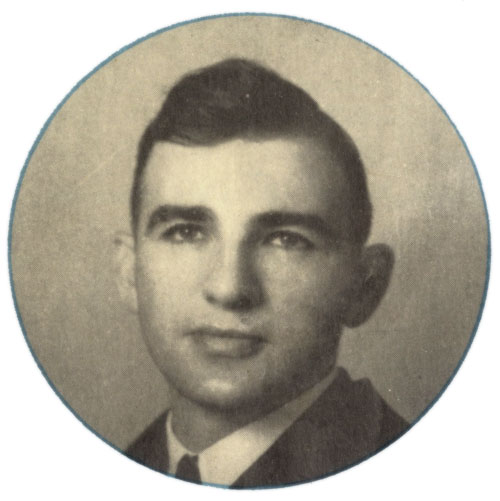 Arthur Scammell, ca. 1944
Scammell wrote Squid Jiggin' Ground when he was 15.
From A.R. Scammell, Squid Jiggin' Ground (St. John's, NF: A.R. Scammell, 1944) 1.
Born in Change Islands, Notre Dame Bay, Scammell spent much of his adult life working as a teacher in Montreal. But he continued composing songs about the traditional Newfoundland outport life. The Shooting Of The Bawks is a defence of the right of rural people to kill seabirds for food, written after the introduction of controversial wildlife regulations in 1938. The Newfoundland Come Home Song was the official theme song of the province's "Come Home Year" in 1966. A Sealer's Song, which appeared in 1977, satirizes the controversy surrounding the seal hunt. Scammell also published books of short stories, poetry and memoir, and in 1973 recorded an album of verse and songs called My Newfoundland.
Scammell retired from teaching and returned to Newfoundland in 1970. In 1977 he was awarded an honorary degree by Memorial University and in 1988 was named a member of the Order of Canada. He died in St. John's in 1995 at the age of 82.