Masonic Temple
(Cathedral Street, St. John's)
The Grand Lodge of Boston issued the first Freemasonry warrant for Newfoundland on December 24, 1746. In the early years, the Masons in the city were forced to meet at various places in the city as they did not have a formal hall.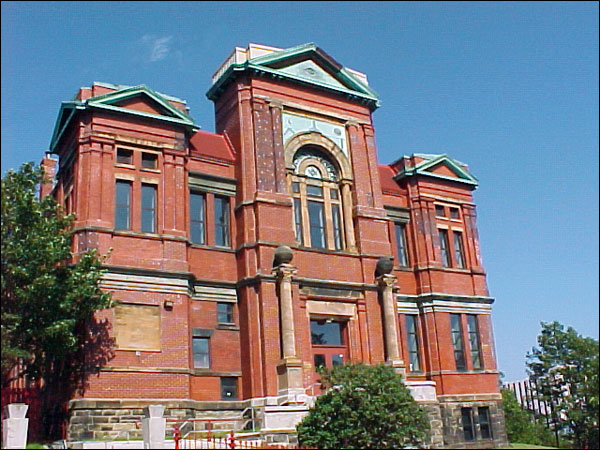 © 1998 Heritage Foundation of Newfoundland and Labrador
They built the first formal Masonic building in St. John's on Long's Hill in 1885. The wooden building was one of the many victims of the Great Fire of 1892 which ravaged much of the city. The $28,000 the Masons received in insurance money was used to help finance the current Masonic Temple. The Masons decided to replace the burnt wooden structure with a large Accrington brick building, with internal brick support, a stone foundation, and wooden roof and flooring.
Freemason and former Newfoundland prime minister Sir William Whiteway laid the cornerstone on August 23, 1894. Whiteway served as prime minister longer than any other individual in Newfoundland's history as an independent nation - 17 years in total. His first stint as prime minister lasted from 1878 to 1885. He held office again from 1889 to April 1894. Whiteway's final tenure as Newfoundland's leader lasted from 1895 to 1897. Newfoundlanders probably know him best for his economic policies and the building of the Newfoundland Railway.
The three-storeyed building, an excellent example of Victorian lodge construction, contains several classical motifs. The structure includes pilasters, free-standing columns and multiple pediments. The Freemasons held the first Masonic meeting in the structure on November 1, 1896, but the order did not consecrate the building until April 23, 1897.
The main room of the lodge has an elaborate pipe organ, which was dedicated on April 28, 1916. Subscriptions from members and a large contribution by Sir John C. Crosbie paid for the instrument. Crosbie was a prominent St. John's merchant and the grandfather of former federal cabinet minister John Crosbie.
The main room also has paintings of William Whiteway and Alexander M. MacKay. MacKay was a prominent engineer who played a major role in developing electrical and telegraphic systems in Newfoundland at the turn of the century. He was also a politician who served in Whiteway's government from 1879-1885 and was a cabinet minister for part of that time. In 1885 MacKay split with Whiteway and aided in the election of Robert Thorburn as prime minister. The government subsequently appointed MacKay to the Legislative Council until 1896 when a controversy over the use of public funds for private purposes forced him to resign. He later returned to politics as a conservative member for Port de Grave.
The Masonic Temple was designated a Registered Heritage Structure by the Heritage Foundation of Newfoundland and Labrador in April 1995.