Traditional Song
Many folksongs begin with the phrase "Come all ye...," inviting listeners to pay attention or lend an ear. The songs which begin in this way have been commonly known as "come-all-ye's." Traditional song has appealed to researchers lured to Newfoundland and Labrador by old British folksongs in the first half of the 20th century, and remains popular today.
Musical Genres
Folk ballads, folksongs that tell a story, were collected by English folklorist Maud Karpeles when she visited Newfoundland in 1929 and 1930. Specifically, Karpeles prized classical ballads, taken to be the oldest type of English ballads, which had spread to Newfoundland and Labrador and other parts of the world through emigration from Britain.
Classical ballads were products of oral English tradition. The distinguishing qualities of the genre include a dramatic plot and a certain detached objectivity in narration, despite the intensity of topic. Subgenres of the classical ballad include marvelous and magic ballads, historical ballads, and romantic and tragic ballads. Karpeles and other collectors, including MacEdward Leach (who visited Labrador in 1960) and Kenneth Peacock (who visited Newfoundland from 1951 to 1961), have been able to identify a remarkable number of classical ballads in Newfoundland and Labrador, attesting to the vitality of the British folksong repertoire. These include the supernatural ballads "The Unquiet Grave" and "Lady Margaret" and the humourous ballad "Bar the Door-O."
While Karpeles, Peacock and Leach each demonstrated some bias in favour of classical ballads and others folksongs of non-native origin, other major collectors of Newfoundland and Labrador folksongs, including Elisabeth Greenleaf (who visited Newfoundland in the 1920s), Genevieve Lehr and Anita Best (both of whom collected between 1975 and 1983), were as interested in locally-composed vernacular songs. In this respect, their collections provide us with a better idea of the range of folksongs in the Newfoundland and Labrador repertoire. An examination of folksong collections reveals genres spanning broadside ballads, ballads composed in North America, Gaelic folksongs, francophone folksongs, aboriginal folksongs, including those sung by Innu and Inuit and printed in Songs of Labrador, and a goodly number of local folksongs in English.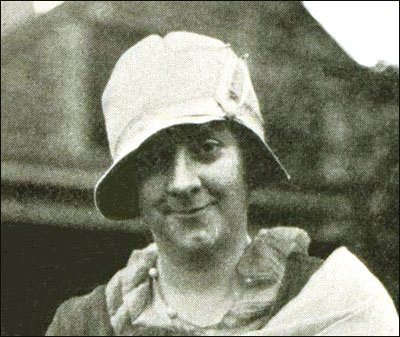 Elisabeth Greenleaf, ca. 1930
Greenleaf began collecting Newfoundland folksongs when she came to Newfoundland in the 1920s as a summer volunteer teacher for Dr. Wilfred Grenfell's Mission.
From Elisabeth Bristol Greenleaf, Ballads and Sea Songs of Newfoundland (Cambridge, Massachusetts: Harvard University Press, 1933) 20.
Distribution
The invention of the printing press allowed the distribution of ballads upon sheets of paper known as broadsides. Many of these printed ballads entered oral tradition, transmitted through performance and, like classical ballads, made their way to Newfoundland and elsewhere in North America. Broadside ballads are distinguished from classical ballads by their tendency towards subjective editorializing or commentary in their narration, their poetic style and their inclusion of more literal detail. The ballad "Mary of the Wild Moor" or "Mary Across the Wild Moor" is a well-known example of the genre.
Of course, folksongs composed in North America also entered the Newfoundland repertoire. Among them is "The Jam on Jerry's Rock," a popular ballad about a logging accident, which is believed to be of Canadian origin. Versions of this song appear in the collections of Peacock and Lehr.
A great number of local or native vernacular songs, including ditties, sentimental songs, lyric songs and those that are considered modern ballads, are in existence in Newfoundland and Labrador. Modern ballads commonly use plain language and could be called ballads of folklife. They can be based on a wide range of events or situations ranging from occupational accidents and political goings-on, to hunting trips, dances and wedding celebrations. Innumerable aspects of family, community and occupational life are fodder for an eager songmaker, who will often construct a song using a familiar tune and structure. In fact, Newfoundland is believed to have one of the most vital modern ballad traditions in North America. Mark Walker's "Tickle Cove Pond" is among the most well-known Newfoundland modern ballads. Its first-person narrator poignantly relates how his neighbours came to his aid when his mare fell through a frozen pond while hauling firewood.
Native Newfoundland folksongs have fared well in terms of continued popularity. This is due in part to their appearance in widely-circulated publications such as Gerald S. Doyle's songsters. Doyle, an innovative Newfoundland businessman, appreciated and understood the commercial value of Newfoundland folklore. His company published five free and popular collections of Newfoundland songs, the first in 1927, as a means of promoting his patent medicine business. This contributed to the establishment of a recognizable canon of traditional local Newfoundland songs including "Tickle Cove Pond," "Jack Was Every Inch A Sailor," "Old Polina," "I'se the B'y," "The Ryans and the Pittmans," and "Lukey's Boat."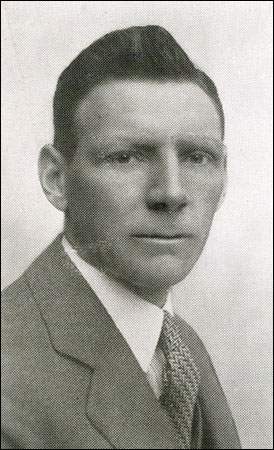 Gerald S. Doyle (1892-1956), n.d.
Doyle's company published five popular collections of Newfoundland songs.
From Richard Hibbs, Who's Who in and from Newfoundland 1930 2nd ed.(St. John's, NL: R. Hibbs, 1930) 215.
Traditional Meets Contemporary
Professional musicians who record and perform traditional material often rely on the recognizability and enduring appeal of songs such as those in Doyle's collections to draw audiences. They may adapt the songs to incorporate contemporary musical sounds from Celtic rock to country or dance club mix. The commercially successful group Great Big Sea has included the Newfoundland songs "I'se the B'y" (Great Big Sea, 1993) and "Lukey" (Up, 1995), among others, on its albums. Band member Alan Doyle has said, "We started out with the simple goal of playing the old songs but picking them up where need be with modern tempos." Doyle's bandmate, Bob Hallett, has called Great Big Sea an "aggressive folk band that marries traditional Celtic music with modern rhythms," and also, "A lot of this music has four or five hundred years of history behind it so when you marry that to modern ideas, you've got something that's already a proven product" .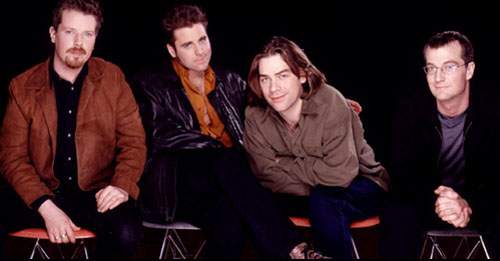 Great Big Sea, ca. 2000
Left to right: Bob Hallett, Séan McCann, Alan Doyle, and Darrell Power.
Photo by Andrew MacNaughtan.
In manners such as this, traditional songs, whether they be classical ballads, local songs or Irish standards, may be transformed and transmitted. Yet the kernel of their original appeal, that which helped them to "catch on" in the first place, seems to remain intact. Other groups who have taken a similar approach in recent years include the Irish Descendants, the Fables and Celtic Connection, the latter of whom released a club mix of the traditional Celtic song "Peter Street" in 1997.
Authorship
The authorship of many popular Newfoundland folksongs is unknown, though others have been identified. For example, the prolific songwriter John Burke (1851-1930), known as the "Bard of Prescott Street" after his St. John's home, is known to be the composer of "The Kelligrews Soiree" and other favourites. But the authorship of many folksongs is up for debate, and indeed the whole issue of folksong authorship can be contentious. Folksong composers are often said to "make" a song rather than write one, and a song's lyrics or music may never be recorded on paper or by other means when a songmaker composes. The issue is further complicated by perceptions of what it means to compose or make a song. It is not uncommon for folksong makers to claim authorship of a particular song when in fact they have altered it, thereby creating a version of the song. Even when lyrics are indeed original, folksong tunes are frequently reused, so that new words are put to old music.
While an identifiable, established canon of traditional Newfoundland and Labrador song does seem to exist, it is equally important to recognize local community song traditions and the continued vitality of vernacular songmaking. Almost every community may be expected to include people who are known to be good musicians or singers, with folksong makers amongst them, to be found at house parties or community concerts. While these singers will likely have popular folksongs in their repertoires, it is also likely that they will know songs which may not be well known at all outside their own communities. In this sense there are many Newfoundland song traditions, just as there are many cultures within "Newfoundland culture." Overlapping with community traditions, song traditions defined by language and heritage, such as those of French Newfoundlanders and aboriginal groups, are distinct.
Performance Settings
Traditional settings for folksong performances include occupational sites, homes and community halls or schools. Traditional informal "times," or veillées to French Newfoundlanders, typically took place on winter evenings and could include card playing, storytelling, music, food and drink. Although female singers have been known, men have traditionally dominated folksong performance, and most communities include a couple of star singers. During the evening these singers would be coaxed out of their assumed reluctance and into performance, rewarded with appreciative comments. In some areas it was common for the singer to hold the hand of the person next to him, swinging arms to the time of the music. A particular performance convention associated with the Irish singing tradition, noted in several parts of Newfoundland, is the speaking of the final line of a song (declamando).
The song traditions of Newfoundland and Labrador have continued to be of academic and public interest. The cultural revival of the 1960s and 1970s brought traditional song even further out of the communities of Newfoundland and Labrador and onto the airwaves and the stages of folk festivals and other performance venues. Since then a number of local professional musical groups have met with considerable success performing traditional songs, attesting to their continuing and wide appeal. Folksongs still command the attention that "come-all-ye's" amongst them request.